Brian Esperon And Juan Gutierrez Team Up With Olmeca Altos For Date Nights - Exclusive Interview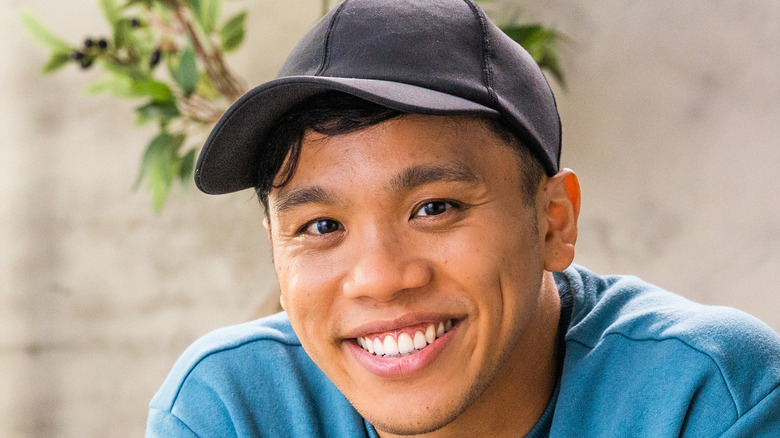 courtesy of Olmeca Altos
Have you run out of fun date ideas? Constantly going out can be expensive and tiring, but staying in and watching a movie can get old fast. That's why Pastry Chef and Chocolatier Juan Gutierrez and professional choreographer and viral-dance creator Brian Esperon partnered with the beloved tequila brand Olmeca Altos to create the perfect night in for you and your partner. You may know Gutierrez as the winner of Netflix's "School of Chocolate" and Food Network's "Chopped Sweets," and Esperon is best known for creating the viral TikTok WAP dance.
For the series, Altos Juntos, which translates to "better together," partnered with the creatives to host two complementary experiences that couples can participate in from the comfort of their home while enjoying an Altos Juntos cocktail kit. For one of the curated dates, you can take a chocolate-making class from renowned chocolatier Gutierrez. In his free 30-minute class, the chocolate maker takes you through creating three types of truffles and a refreshing Olmeco Altos Sparkling Paloma, one of Mexico's most popular cocktails. Then, you can follow choreographer Esperon through a beginner's pop dance class in your living room. 
Guiterrez and Esperon sat down for an exclusive interview with The List to discuss their partnership with Altos. During their conversation, they shared their best advice for cooking and dancing, as well as what makes the perfect date night and how to enjoy trying new things.
Why coming together for this project made perfect sense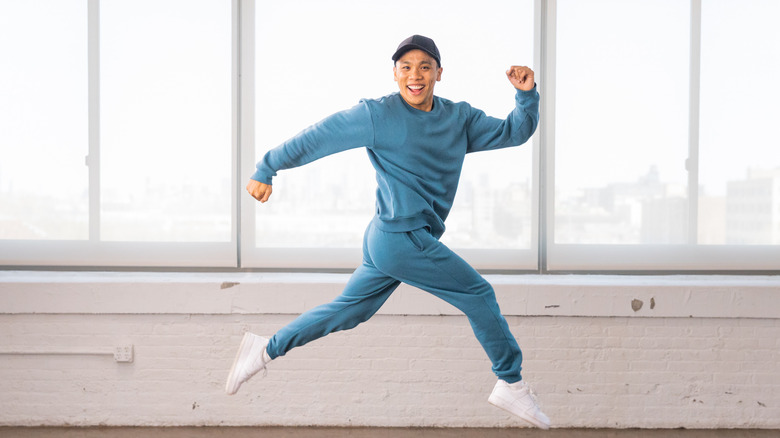 courtesy of Olmeca Altos
So what made both of you want to partner with Olmeca Altos for this project?
Juan Gutierrez: It was such a fun opportunity because I really believe in what we're trying to achieve with this project, which is to bring people together and create memories. Pairing it up with dancing and chocolate, what better way could that be? I was like, "I need to be part of this, whatever it takes," and I was so lucky and honored to be part of it right now, so it's been insane.
And what about for you, Brian?
Brian Esperon: Same with me. I like their whole campaign of the Alto Juntos that it's better together and bringing people together. Having couples and giving them new opportunities to experience date nights at home was really important to me, especially since the last two years, we've been at home, and I started my TikTok journey at home. I was dancing at home, and so when they reached out to start a virtual dance class, I was like, "Oh, for sure." It was a fun opportunity, and I enjoy drinking margaritas and I was like, "Let's do this."
Why taking a class is the perfect date night idea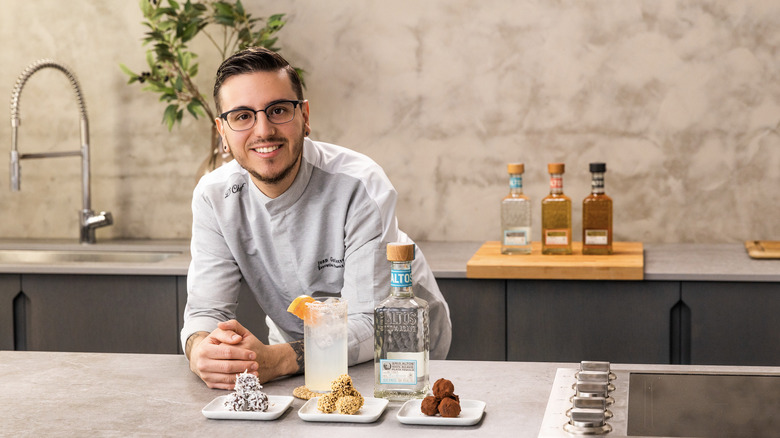 courtesy of Olmeca Altos
Why do you think learning something new like your classes is a fun idea for couples to do for date night?
Esperon: Being at home, it's hard to go out all the time based on schedules and everything. Finding new things to do at home other than sitting home and watching Netflix and ways to spice up your relationships was a good thing for me. [Having access to everything] on the Internet [makes things] so much easier. Having the ease and the accessibility of learning things online is fun. I feel like dance classes — throughout quarantine, I was doing a lot of Zoom classes, especially for dancing because I'm actually based out of Guam. I couldn't go out to the States or anything to take those classes, so having the opportunity to work with me as a choreographer or Juan as a chocolate maker, it's such a fun opportunity, and it's good to learn new things all the time.
Gutierrez: The way that I see it is that, for example, when you go out, you go to the traditional dates. Let's think. We have movies. We go to the park or play mini-golf. All of those, even though you're still together, you have [other] people around you, and with Altos Juntos, you get to create those memories just with the person next to you, the person that has a value [to you], and you are sharing that moment and that feeling with. For me, it was [about] having that personal moment with that person. [This] creates a [large amount] of [moments and] big memories. That's what we're trying to reach here. Create those memories that are going to stay forever with us and be like, "Oh, remember when we did that? That was so fun. Can we just do it again?"
That was one of those extra things to spice up your relationship or to try with the person that you're trying to date or you're trying to impress. I'm definitely going to do this now. For my next date, I'm like, "Definitely, let's do a dance class. Let's do a chocolate class. Let's do something that we're not used to, [that makes us go,] 'Oh, what about if we go dance class?' We're at home. Nobody's going to laugh at us. We're having fun. We're drinking margaritas. We're enjoying our time, and we're going to be laughing and thinking of this moment forever." That's one of the best things that we're actually doing right now.
TikTok dance sensation gives his best advice for beginners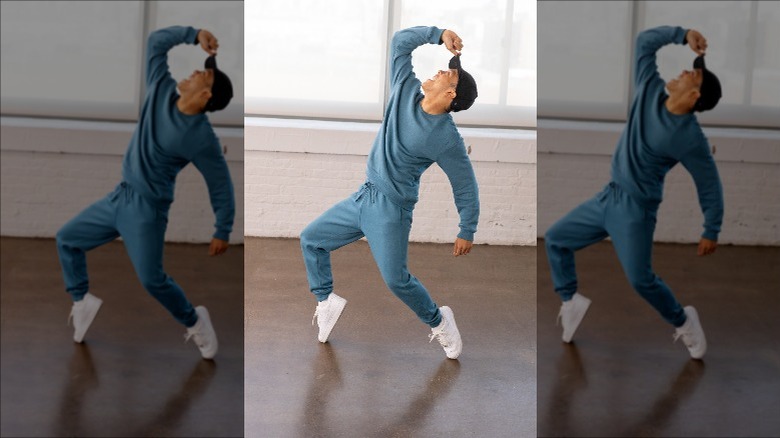 courtesy of Olmeca Altos
Brian, would you have any advice for someone who maybe hasn't danced before and is intimidated by the idea of taking their first dance class?
Esperon: It's not so much about getting the moves perfect and being like a professional dancer. My class is actually made for beginners or people who want to start getting their bodies moving. The class is pretty simple to follow. It's a 30-minute dance class, and it's to a pop song, and it's pretty high energy, but the moves are easy to follow along, and it's easy enough to do in your living room. There's no pressure or anything, but it does help if you have maybe one experienced partner that can dance, and maybe you can help your partner try something new. You can play off each other's energy, and a lot of it's made for fun, and there's no pressure with my dance class. I really made it so everyone can be able to do it.
Do you have any trick or advice for someone if they're too in their head while they're dancing? How do they just relax?
Esperon: What I like to do is film myself first ... Because a lot of times in my head when I'm dancing, I'm thinking, even when I'm taking a professional class, I'm like, "Oh my God, it looks so bad. I'm like this and that." If you film yourself and you watch it, you're like, "Oh, I look good in that part." It's good to watch yourself, especially when you're learning in a virtual class. You'll have a camera right in front of you. Don't be afraid to watch yourself in the mirror or watch yourself in the camera because watching yourself get up and move — it's like an accomplishment on its own. Be confident in yourself that you can do it.
Juan Gutierrez best chocolate-making tips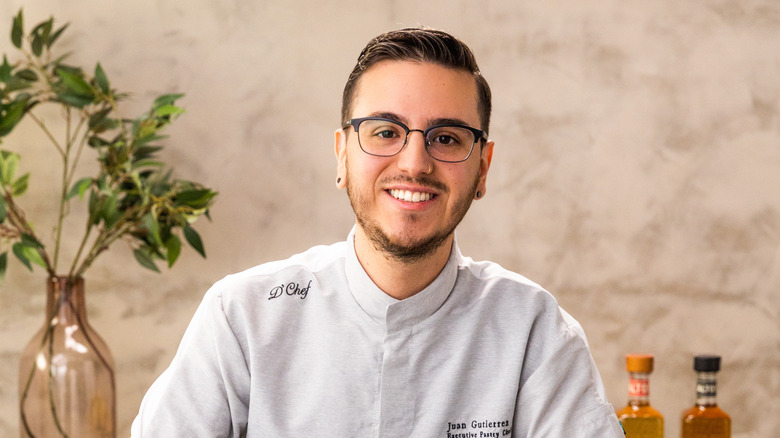 courtesy of Olmeca Altos
Juan, do you have any advice for someone who is first getting into chocolate making or cooking in general if they haven't tried that before?
Gutierrez: Go and have fun — don't be scared of the chocolate. Go and enjoy. Don't be scared of getting dirty cause you're going to get dirty, but that's the best part. You're going to get chocolate everywhere. You're going to go back to those childhood memories when you have your hands full of chocolate, then you ended up licking your hands. Don't be scared of that. Have fun. Enjoy. The class is made for everyone. It is for you to have fun. 
We have three different types of truffles, and then, after that, you can create whatever comes to your mind. It's a really [beginner] friendly class. It's for everyone. It's really funny. It's fun. It's creative, but it's going to be really cool to see. I can't wait to see what people are going to be creating with these classes and the videos that they are going to be making and the truffles that they're going to be making, and the mess that they're going to be making.
Gutierrez and Esperon make plans for future collaboration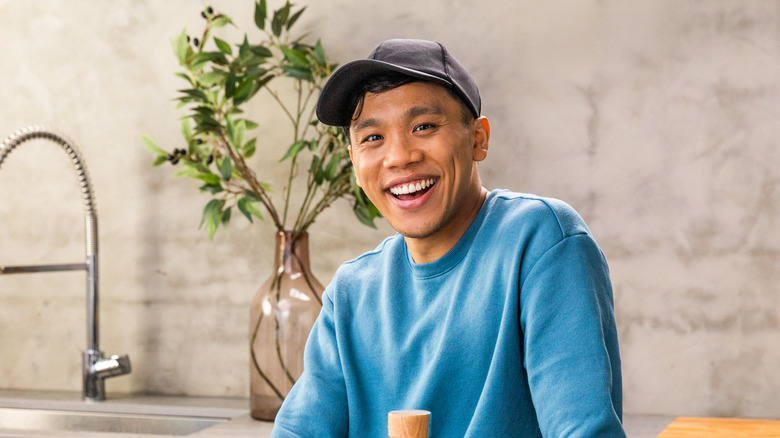 courtesy of Olmeca Altos
If you two could take any class to try something new that you haven't done before, what would you want to learn to do?
Gutierrez: I will definitely [learn] dancing. I'm a big dance fan, and I don't have the moves like Brian, but I definitely ... it was funny because the first thing I texted him was like, "I need to do something with you. You need to teach me how to dance."
Esperon: We're trying to do some sort of collaboration with each other, where we can mix dance and chocolate making. I'm very interested in chocolate making, but I'm also still learning how to cook. I would love to do a cooking class or any baking class. I'm starting to learn how to cook at home. I feel like it's such a good tool to have, especially when you're in a relationship and you want to be able to provide some value to your relationship. I would love a pasta cooking class or something, anything. I want to be better at cooking, for sure.
Gutierrez: There you go! That's the best thing. I can teach you how to cook, you teach me how to dance.
Esperon: Yes.
Esperon and Gutierrez describe their perfect date night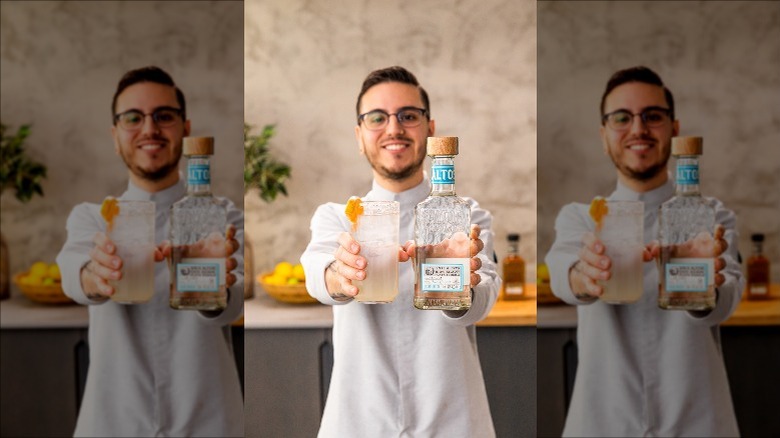 courtesy of Olmeca Altos
What would you both say is your perfect date night idea?
Esperon: I love a classic like dinner and movies. I love going to new restaurants with my partner. Anytime we can go to a new restaurant that we both have never been to is really fun. I like going to movies where we don't really know what to expect, especially if we haven't watched the preview or anything. I love getting dressed up and going out and then coming home, on the way home, talking about the whole movie and what we had for dinner. To me, a classic dinner and movies is always good.
Gutierrez: I'm more of a home person. I like to stay home. I like to make a nice dinner and watch a movie at home. We have something in Colombia that is called a cambuche, which is like a bed that you make on the floor. You put a bunch of pillows, and then you put blankets on top, and you create a bed. I feel like the fact of doing that is so fun. It's so different. I like to [lie] down there, watch a movie, make a nice dinner, and then have all the food on top of the bed and then relax, talk, and drink a nice cocktail and watch a movie. That, for me, is the perfect night. It's chill. I don't have to worry about people around us. It's more intimate. I like that.
Now through August 31st, couples (must be 21+ in age) looking to shake up their nightly routine can choose between two complementary 30-minute experiences hosted on altosjuntos.teachable.com led by Brian Esperon and Juan Gutierrez.