Donald Trump Finally Responds To Cassidy Hutchinson's Bombshell Testimony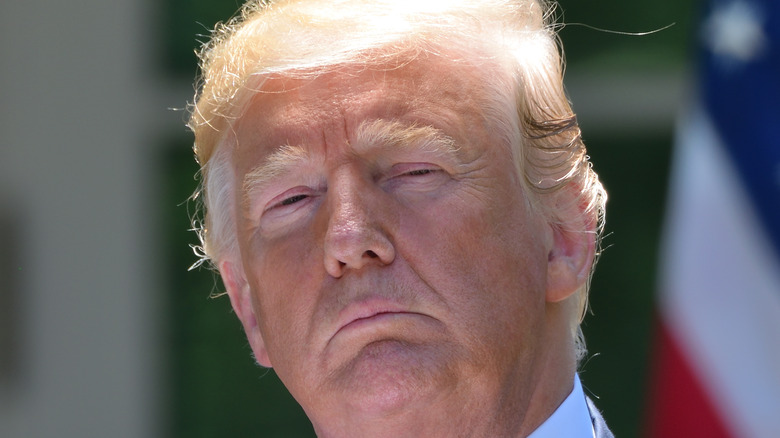 Evan El-Amin/Shutterstock
Cassidy Hutchinson gave jaw-dropping testimony live to the January 6 committee investigating the riot at the Capitol. Hutchinson was an aide to Mark Meadows, Donald Trump's Chief of Staff for Trump's last year in office, per USA Today. Some of the most damning things Hutchinson said under oath were that; she heard Trump got angry and grabbed for the wheel of his limousine to try and accompany rioters to the Capitol on January 6, he'd thrown a plate full of food against the wall when told there wasn't evidence of election fraud in the 2020 presidential election, he knew that some in the crowd that gathered for his January 6th speech were armed, and he thought Vice President Mike Pence deserved the calls for him to be hanged, per NPR. Hutchinson also revealed that she'd been contacted by someone in Trump's camp who tried to influence her testimony, via CNN.
Some feel that Hutchinson's testimony should mean the end of any political future for Trump, via Washington Examiner. But, others are pushing back at Hutchinson's testimony. One Secret Service agent told CNN that Trump hadn't grabbed for the steering wheel. Others are trying to discredit Hutchinson entirely. Predictably, that includes Trump. Here's what he had to say.
Trump said Hutchinson has mental problems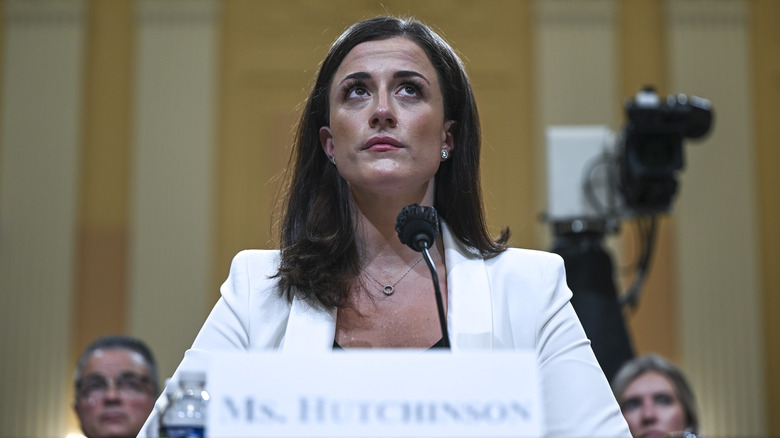 Brandon Bell/Getty Images
Former President Donald Trump's first response to the stunning testimony from Cassidy Hutchinson to the January 6 committee was on his social media platform Truth Social where he called her a "phony social climber," per The LA Times. He also referred to the committee as "the partisan Highly Unselect Committee" and lamented that there was "No cross examination, no real Republicans, no lawyers, NO NOTHING." More posts on Truth Social from Trump referred to Hutchinson as a "whacko" and a "total phony," per Business Insider.
For his first interview after Hutchinson's testimony, Trump spoke with Rob Finnerty for Newsmax's "Wake Up America" show and called Hutchinson's claims "absolutely crazy." Not just were her claims crazy, but Trump said Hutchinson's "got serious problems... mental problems" and she was "living in a fantasy land." He also said that he "hardly knows her" and that Hutchinson "wasn't respected in the White House."
As for the hearings themselves, Trump called them "a sideshow" and said that "a lot of people aren't watching. A lot of people aren't listening to it, but [the committee is] trying to do real harm." Hutchinson's lawyers said she "stands by all of the testimony she provided," via CBS News.
Before working for Meadows, Hutchinson previously worked for Republican Representative Steve Scalise and Republican Senator Ted Cruz, per CBS News.