​​The General Hospital Role You Never Knew Hallmark Star Jen Lilley Had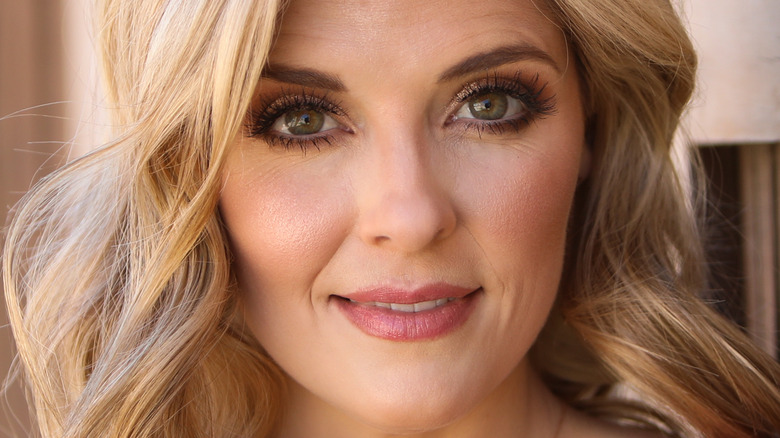 Paul Archuleta/Getty Images
Jen Lilley is a prolific actress who is well-known for starring in many TV movies for the Hallmark Channel, Lifetime, and ABC Family. In fact, she's played the lead role in over 10 Hallmark originals since 2018 alone.
Lilley began acting in 2007, guest-starring on shows like "Hannah Montana," "Two and a Half Men," "Criminal Minds," "Castle," and "Rules of Engagement." She also appeared in 18 episodes of the reality show "Disaster Date" in which unsuspecting singles are set up on a blind date with an undercover actor who purposefully ruins the experience in hilarious ways.
Following those roles, Lilley temporarily joined the cast of "General Hospital" in 2011. She enjoyed her experience on the soap so much that she took on the role of fashion designer Theresa Donovan on "Days of Our Lives" from 2013 to 2016, appearing again briefly in 2018. Lilley ultimately made the decision to leave "DOOL" so she could devote more of her time to being a foster parent, stating, "It was either I was going to do a good job on the soap and maybe not give these children the love that they deserve or I was going to be a fantastic foster mom, and just flounder in my acting," (via Soap Central).
Though Lilley has since clearly cultivated a successful career for herself with TV movies, there's always the chance that she'll someday return to soaps. Let's take a look at the role that gave Jen Lilley her start on daytime television.
Jen Lilley played Maxie Jones on 'General Hospital'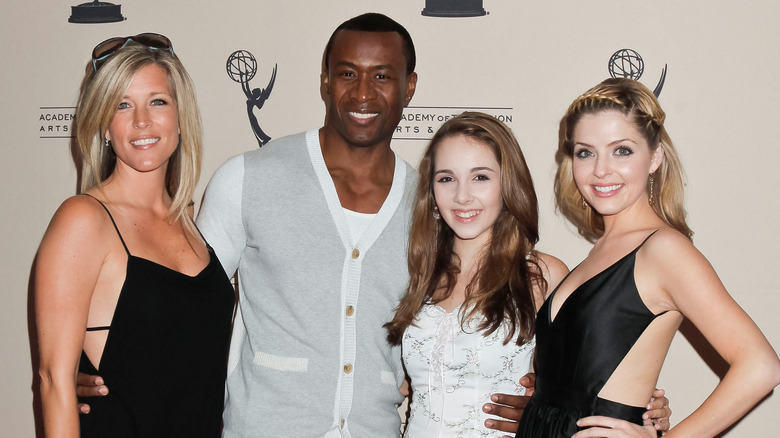 Tibrina Hobson/Getty Images
Jen Lilley was temporarily cast in the role of Maxie Jones on "General Hospital" when popular actress Kirsten Storms had to step away from the show due to health reasons. Her first episode aired in September 2011 and what was supposed to be a two-week role, turned into an 11-month-long gig (via Michael Fairman TV).
During the time Lilley was on the show, her character, Maxie, went through several traumatic experiences: a fire that killed her good friend, a brief stint in prison, and an ill-fated marriage to a killer (via Soap Central). 
At the time, she was in a relationship with Dr. Matt Hunter (Jason Cook) who would go on to murder fellow doctor Lisa Niles (Brianna Brown). Shortly afterward, a fire started at General Hospital due to Maxie's carelessness and when it caused an explosion in the lab, her dear friend Robin Scorpio (Kimberly McCullough) was presumed dead. Distraught over her part in what happened, Maxie turned herself in for Lisa's murder as a way to punish herself, despite knowing that Matt was the real culprit.
Maxie was sentenced to life in prison, but was released after revealing the truth to her friend and ex-boyfriend, Damian Spinelli (Bradford Anderson), who brought the information to the judge. A condition of Maxie's release was that she had to testify against Matt in court, so she promptly married him so they would be protected by spousal privilege and she wouldn't have to. Matt ultimately decided to turn himself in anyway, but Maxie decided to stay married to him for the time being.
Jen Lilley starred in a Hallmark movie about a soap opera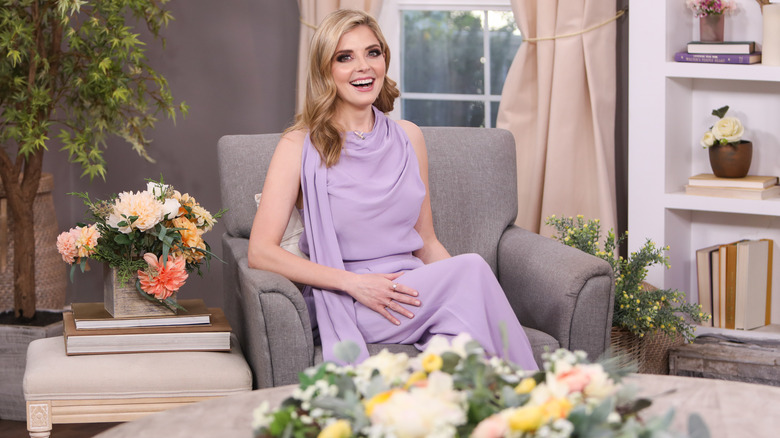 Paul Archuleta/Getty Images
In 2021, Jen Lilley made a pseudo-return to the soap world when she starred in a Hallmark Channel movie called "About A Little Daytime Drama." Lilley was cast in the lead role as a soap opera writer who must convince her ex-boyfriend to return as a lead actor to save the show (via Hallmark Channel). In a delightful coincidence, the other lead role was portrayed by real-life former soap actor Ryan Paevey who played Nathan West on "General Hospital" — the man that married Lilley's character Maxie Jones after she left the show.
In a behind-the-scenes video that Lilley posted to Instagram, she spoke about her experience filming "About A Little Daytime Drama." She said, "It's really fun to kind of get your gears going and think about what do people on the other side of the camera experience and how does that affect their perspective? ... It's so brilliant. There's romance. There's drama. Of course, there's comedy and there's me and Ryan Paevey. What's not to love?"
This is not the first time that Lilley and Paevey have worked together, as he has also signed a multi-picture deal with Hallmark since leaving daytime (via Parade). The two also starred alongside each other in the 2017 movie "Harvest Love" for the channel. However, since Lilley recently decided to leave Hallmark to sign on with GAC Media, it's unlikely that she'll be seen opposite Paevey again anytime soon.