Here's What Lily Collins Looks Like Going Makeup Free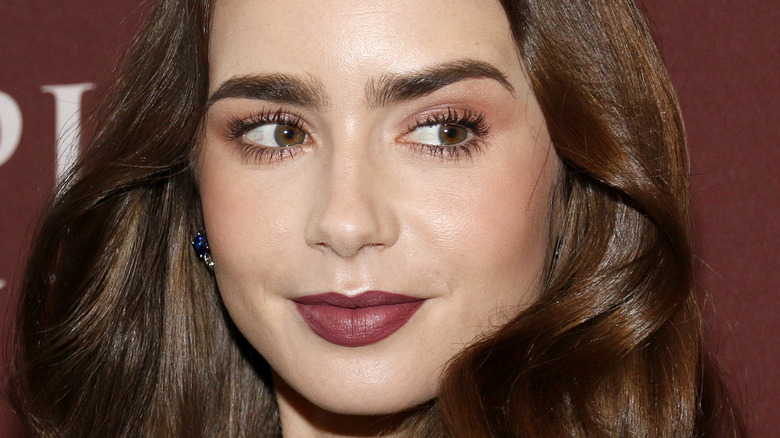 Tinseltown/Shutterstock
The red lip is a statement look for many, which can be hard to pull off. But once you've stumbled across the shade that makes your makeup pop, you'll never look back. One celebrity that has certainly found the red lip that works for her is Lily Collins. For years, the actress and model has been rocking the color, which has undoubtedly become her signature look. It's even weaved its way into her film and television roles, especially her star on Netflix's "Emily In Paris".
As an ambassador for Lancôme Paris, it is no surprise that Collins' choice of a red lip on the show comes courtesy of the brand, per Prestige. When "Emily in Paris" Season 2 rolled around, the brand and its ambassador celebrated by releasing a beauty collection featuring two matte lipsticks in rose beige and red, an eye shadow palette, and a serum to give your skin some TLC.
And it seems this simple combo of skin prep, some eyeshadow, and a red lip seem are what Collins gravitates towards in her beauty regimen. But what does Collins look like without her signature "Emily In Paris" glam?
Lily Collins loves the less is more vibe
Lily Collins regularly embraces a natural look on Instagram, with her most recent being a promotional post for haircare brand Living Proof, for whom Collins is also a brand ambassador, per People. Sometimes it's a little hard to tell whether she is wearing makeup or not, as she often sticks to a more subdued, natural look for much of her selfies. But in 2017, she gave her followers a glimpse of her dewy complexion sans makeup. "Fresh year, fresh start," Collins wrote on Instagram. "Fresh skin, make-up free. Let the evening begin," she wrote in a follow-up selfie.
As for how the model and actress attains that fresh-faced look, it's all in how much makeup she wears and skin prep. Speaking to Vogue Arabia, Collins revealed she likes to stick to a "less is more" vibe when she's not working. The two products she always sticks by are Lancôme's Teint Idole Ultra Wear Foundation and their Hypnôse mascara. She also carries around Lancôme's UV Expert sunscreen, a Burt's Bees chapstick, some brow gel, and red lipstick like Lancôme's L'Absolu Rouge. "Just in case," Collins adds.
Lily often mixes her foundation with serum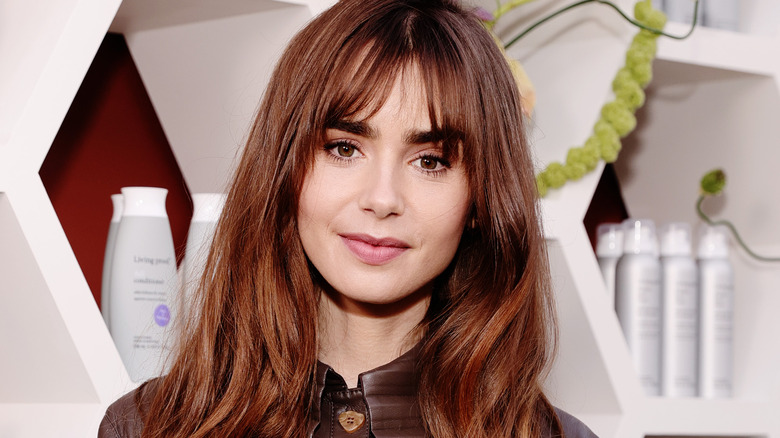 Emma Mcintyre/Getty Images
Aside from loving a red lip, Lily Collins also loves a good skincare routine. Again, she sticks by the brand she's an ambassador for, using Lancôme's Bi-Facil makeup remover, their Advanced Génifique serum, and Hydra Zen moisturizing cream as part of her routine. "I think it's important to ... let your skin breathe, and to start fresh the next day," she told Vogue Arabia. "It's just such a nice feeling to wake up fresh and hydrated."
Since she doesn't wear too much makeup daily, Collins always enjoys the feeling of a fresh face. "The one thing I love about the je ne sais quoi vibe of no makeup-makeup is fresh clear skin," she told Vogue. "I've always said, 'the less you have on your face, the less there is to go wrong throughout the day." Of course, that's not to say she doesn't wear foundation. However, she often mixes Lancôme's foundation with their serum, which she calls "the perfect partner for the no makeup-makeup look."