Prince George May Be Earning His Allowance In An Unexpected Way During The School Break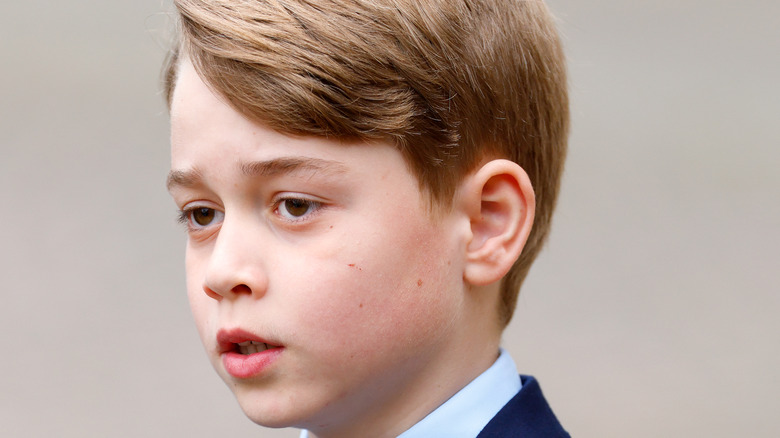 Max Mumby/indigo/Getty Images
Royals, they're just like us! Well, in some ways at least, with most accounts supporting that Prince William and Kate Middleton aim to raise their three children in as normal a way as possible. The proof is in the pudding, with almost 9-year-old big brother Prince George reportedly engaging in very typical sibling rivalry from time to time with his little sister, Princess Charlotte, and his scene-stealing little brother, Prince Louis (via Reader's Digest). 
George has also always had an interest in things that other kids his age do, like vehicles and pizza (via Romper). And the little royal also gets dropped off to school by his parents, the same way his peers do.
Meanwhile, the Duke and Duchess of Cambridge are fully aware that they lead a privileged life and are big on giving back. Not only does George volunteer with his family, but his dad has said that he plans to expose his son and his siblings to the plight of people experiencing homelessness in London — something which William's mother, Princess Diana, did for him when he was a boy.
And, believe it or not, George has chores too!
Prince George's life is about to get even more normal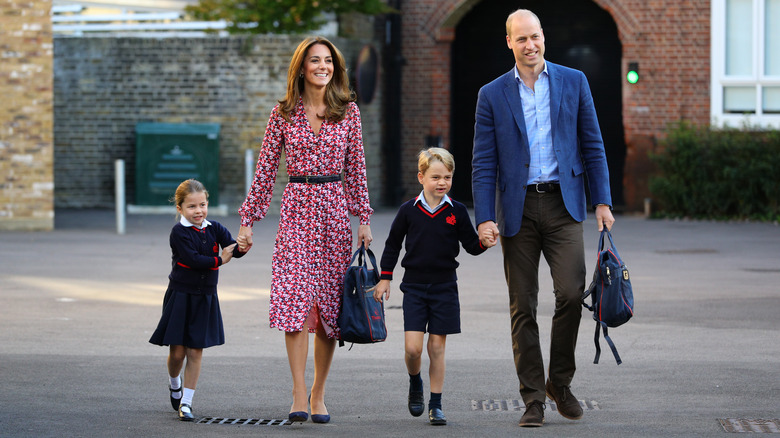 Wpa Pool/Getty Images
In another effort to keep Prince George and his siblings' lives as normal as possible, Prince William and Kate Middleton are moving their family out of London. An insider told The Times about the couple's choice, "The reality is they are quite confined in what they can do in London. The kids can't go into the park and kick a football with friends."
Their destination is a four-bedroom home called Adelaide Cottage (via The UK Sun). A source said about the Cambridges selecting the recently-renovated property, "They had no other demands than a pleasant family home close to schools and the Queen."
While the family of five transitions to the cottage over summer break, it turns out that George will likely enjoy some much-needed downtime with his family. And who knows? Maybe the future king of England will even earn an allowance for taking on some tasks to help out.
Prince George enjoys life on the farm away from London — much like the rest of his family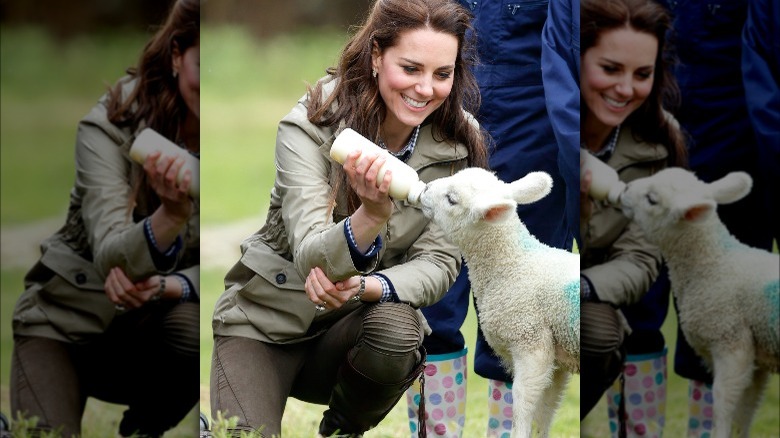 Max Mumby/indigo
According to Hello!, the Cambridge kids are set to begin their summer break this week. So what will the little royals be up to all summer? While the family irons out the details of their planned move to Adelaide Cottage, the outlet reports the royals will likely spend much of the two-month break from the school routine at their Norfolk home, Anmer Hall, enjoying being outdoors and away from the demands of public life.
It's here that Prince George has embraced chores on the farm in the past, according to his parents. As Kate Middleton said during a visit to a Welsh farm a few months ago, "That was George's job at half term — moving feed."
Not only is the soon-to-be 9-year-old adept at moving feed for the animals on the farm, but Prince William has also said he enjoys getting down and dirty with other responsibilities pertaining to the lambs on the property.
A few years back, the dad of three said during a school visit, "We've been lambing with the children this week. Charlotte wasn't sure at first, but George was straight in there."