Inside Josh Duggar's Life In Prison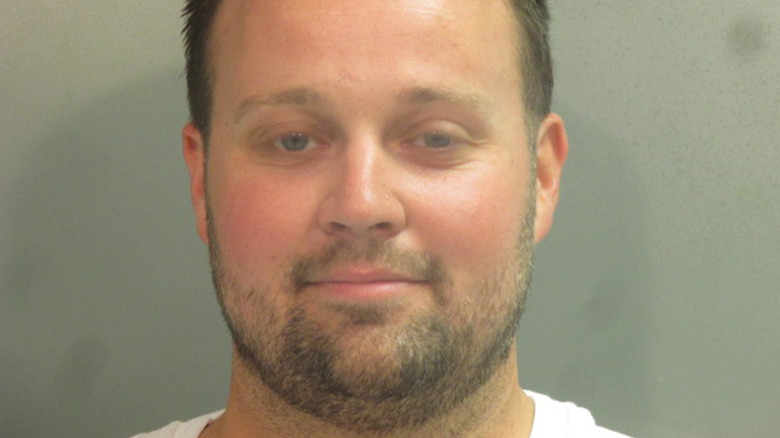 Handout/Getty Images
The following article includes references to sexual abuse of children.
Long-time fans of the Duggar family who followed the reality stars on their hit show "19 Kids and Counting" and spinoff "Counting On" were shocked when eldest kid Josh Duggar was found guilty of receiving and possessing child pornography. Josh was convicted in December on two charges as reported by local news outlet KNWA. The disgraced political activist's legal council plans to appeal the decision. 
The Sun confirmed that Josh was sentenced to just under 12.5 years in prison, out of a possible 20, on May 25. Following his release, the disgraced reality star will be under supervised parole for a further two decades. Several Duggars showed up intermittently throughout the trial, including Josh's wife, Anna Duggar, and his father, Jim Bob Duggar, both of whom were present in court for Josh's sentencing. Others, including Jinger Duggar Vuolo, Jill Duggar Dillard, and husband Derick Dillard, have publicly decried his actions.
Now that Josh's prison sentence has begun, we've been given a telling insight into what his life behind bars is really like. 
If you or anyone you know has been a victim of sexual assault, help is available. Visit the Rape, Abuse & Incest National Network website or contact RAINN's National Helpline at 1-800-656-HOPE (4673).

Josh Duggar is under strict instructions to behave at all times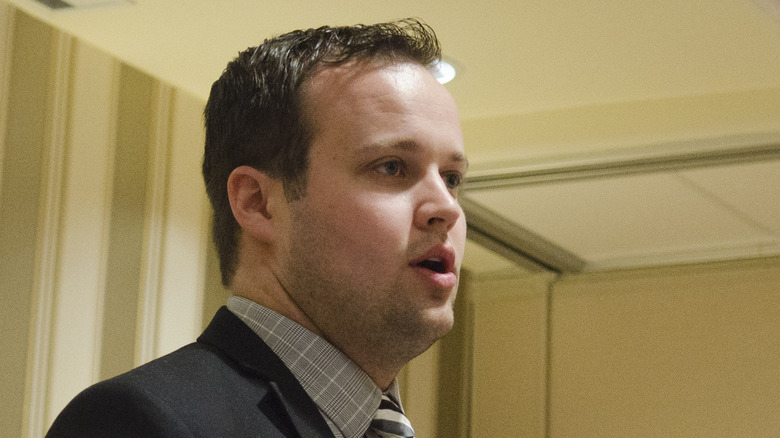 Kris Connor/Getty Images
Josh Duggar's life in prison is certainly no picnic. TMZ reports that the disgraced reality star is under strict orders to keep his cell and the surrounding areas clean and tidy at all times, ensure his bed is made "military-style" by no later than 7:30 a.m. on weekdays, and has been tasked with completing a number of daily chores too, most of which also involve cleaning. Josh is being held at a low-security prison in Texas, where he'll serve out his term. 
More general rules at the facility include the stopping of any loud talking and recreational games by 9:15 p.m. each night, while all inmates must be back in their cells by 11 p.m., and there can't be any noise whatsoever after midnight. The outlet previously reported that Josh will be subject to 20 years of supervision once he's released from prison, during which he won't be allowed to spend time with his children alone, or any other minors for that matter. 
Moreover, Josh's wife, Anna Duggar, will have to give express clearance for any planned interactions. Failing that, the "19 Kids and Counting" alum's parents, Jim Bob and Michelle Duggar, can sign off on it. Likewise, Josh is banned from viewing or accessing pornography and must clear any internet access with his probation officer in advance. Elsewhere, Josh will have to undergo extensive sex therapy and take regular lie detector tests, if required.
How is Anna Duggar coping in her husband's absence?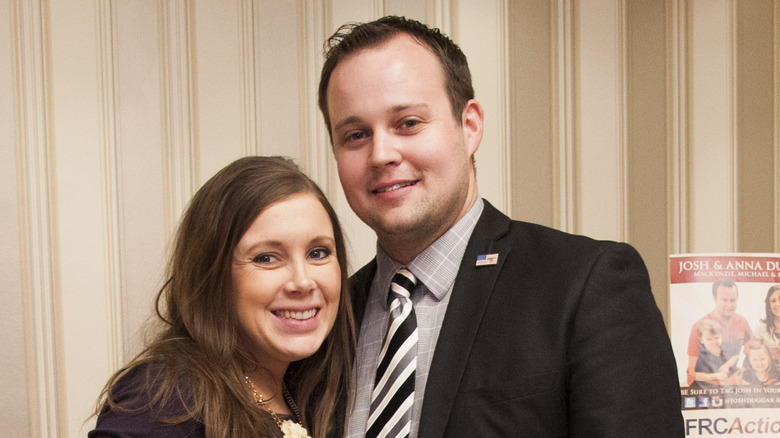 Kris Connor/Getty Images
A source revealed how Anna Duggar is really doing after Josh Duggar's prison sentence, confirming she's finding it tough but doing her best to focus on the couple's seven children. Speaking to Us Weekly, the insider shared, "They're her No. 1 priority and that will never change. She's with them all the time." Furthermore, Anna is turning to her faith to help her through this incredibly difficult time. The source also confirmed, in line with Anna being present at Josh's court hearings, "She's going to stand by her husband and she's going to continue raising their kids to the best of her ability." 
Her in-laws, Jim Bob and Michelle Duggar, have offered Anna a place to stay while Josh is behind bars, per In Touch Weekly. Although fans are calling for her to leave him, alongside outspoken cousin Amy Duggar King, an insider explained the situation is more complicated than that. "Now comes the hard decision, whether to stay and wait for Josh to come out or start her life over without him," they noted, adding, "Some of her kids will be grown with possibly children of their own by the time their dad gets out." 
Jim Bob and Michelle, who are devout independent Baptists, obviously want the couple to stay together no matter what, but it remains to be seen how the next few years will play out.