Donald Trump Continues To Lash Out At Cassidy Hutchinson Over Her Committee Testimony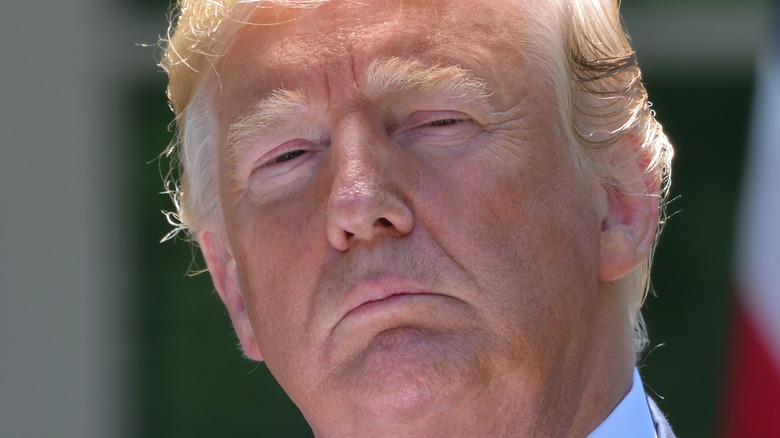 Evan El-Amin/Shutterstock
On Independence Day 2022, millions of Americans spent the day enjoying picnics and fireworks. Meanwhile, Donald Trump spent the holiday blasting his opponents on social media. After being banned from Twitter for life, the former president created his own, virtually identical, outlet. Granted, his first post on Truth Social back in April was eyebrow-raising (it referenced his old "covfefe" typo), but his subsequent "truths" have been more characteristic of what we've come to expect from the former POTUS. 
Trump's July 4 messages included at least two about the congressional hearings on the events of January 6, 2020. One post referred to the "highly partisan Unselect Committee of political Thugs" which had also been involved in "THE GREATEST WITCH HUNT IN THE HISTORY OF THE USA." Trump asked why the members didn't spend their time investigating drug traffickers or protesters who "[burn] down cities" instead of trying to "get" him. 
Another post took direct aim at Cassidy Hutchinson, the former White House aide who presented bombshell testimony at the hearings about Trump's behavior during the January 6 insurrection. On June 28, Hutchinson alleged that the then-president not only ordered metal detectors to be removed from the area of his protest rally but that he also tried to force his Secret Service driver to turn his presidential SUV around and return to the Capitol area (via TMZ). Trump responded at the time on Truth Social by calling Hutchinson "a total phony," "a 'leaker'" and "bad news."
Now, Trump is doubling down on his attempts to discredit the witness.
Did Cassidy Hutchinson really say this about the January 6 committee?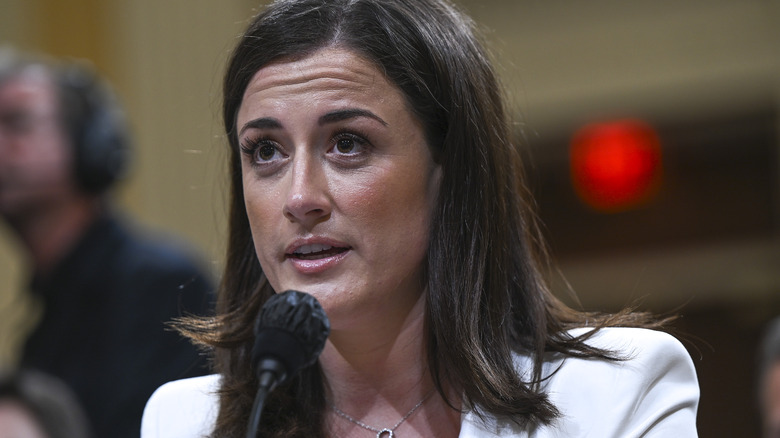 Brandon Bell/Getty Images
Another of Donald Trump's July 4 posts on Truth Social had this to say: "Lyin' Cassidy Hutchinson, who the Fake News Media refuses to properly reveal, recently called the January 6 Unselect Committee 'B.S.' Gee, that wasn't reported by LameStream!" 
The former president was referring to a report released by the Daily Caller, a right-wing news site. They released what they allege is a text message exchange between Hutchinson and someone with ties to the First Amendment Fund, which helps cover legal fees for January 6 committee witnesses. The message reads, "I had to accept service because the U.S. Marshalls came to my apartment last Wednesday, but I haven't made contact with the Committee. I'm just on a tight timeline and just trying to figure out what my options are to deal with this bs." 
Meanwhile, on Twitter, users blasted the Daily Caller for trying to smear Hutchinson. "She testified under oath, and it was damning. That's all that matters," said one commenter. Another remarked, "Gee, I don't know, but if she was not a fan of the committee, it would seem to make her testimony under oath more credible, that she wasn't 'all in' with getting Trump." Others pointed out that Hutchinson seemed to be referring to the subpoena, not the committee, as "BS."
As of now, Hutchinson has yet to comment on the report — and no witness has yet contradicted her testimony to the committee.