Mitt Romney's Takedown Of Donald Trump Isn't Getting The Reaction He Was Hoping For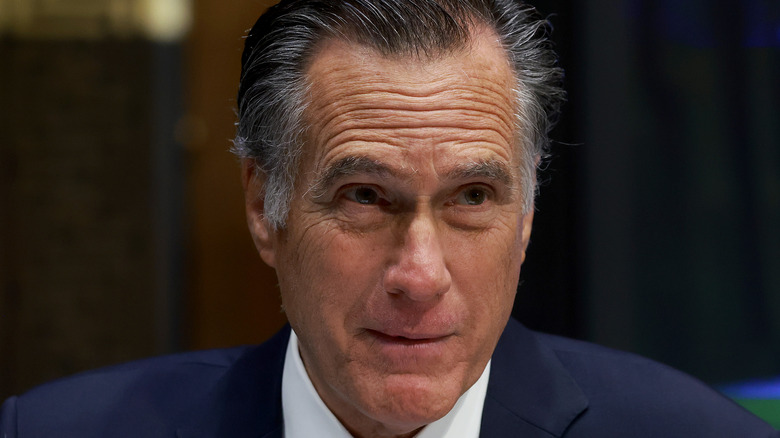 Joe Raedle/Getty Images
When Donald Trump was running to be the Republican nominee for president in 2016, now Republican senator for Utah, Mitt Romney, called him out as "a phony, a fraud," via The New York Times. Romney seemed to have moved past that stance when he was photographed dining with Trump after the real estate mogul won the election and Romney was a potential candidate to be appointed Secretary of State; a position he didn't end up getting, per Vanity Fair. Things between Romney and Trump publicly soured again after the January 6 Capitol insurrection, and Romney voted for Trump's impeachment over it, according to USA Today.
In February 2021, Romney acknowledged the enduring appeal of Trump to the Republican party, saying, "I don't know if he'll run in 2024 or not, but if he does I'm pretty sure he will win the nomination," via Twitter — that isn't something Romney wants to see happen. In an op-ed for The Atlantic published on Independence Day 2022, Romney wrote about problems in the country like climate change and border control, writing, "We are a nation in denial." "A return of Donald Trump would feed the sickness, probably rendering it incurable," the senator continued. Romney said instead of Trump, he wants "a president who can rise above the din to unite us behind the truth." But people aren't necessarily rallying behind Romney's call to unite the country and calling out of Trump. 
Some see Mitt Romney has a hypocrite
a katz/Shutterstock
Mitt Romney made it clear that he doesn't see Donald Trump as the right candidate for the next president of the United States to be able to unite the country, via his op-ed published by The Atlantic. While he made his points clear, some see Romney as having missed the larger context at play in politics these days. One tweeted, "Mitt Romney wrote an op-ed for the Atlantic bemoaning lack of leadership in the US. Yo, Mitt, speaking of leadership, how about breaking with NRA-owned GOP and calling for a US assault weapon ban?"
Another thought that Romney was a part of the problem, tweeting at the senator, "You're part of an elitist construct that empowered Trump in the first place." And some think Romney needs to do more himself, tweeting, "You are in a position to course correct this catastrophe. Stop writing about the problems. Act to change the problems."
Others saw Romney calling out both the right and left in the op-ed — as needing to unite and do better — as hypocritical, too. One Twitter user wrote, "The threats are all coming from the GOP, your party." Romney was seen as insincere in a different way in this tweet that called him a RINO (Republican In Name Only), with the user pointing out that Romney asked for "Trump's endorsement for his Senate run in 2018."