The Secret Behind The Full House Catchphrases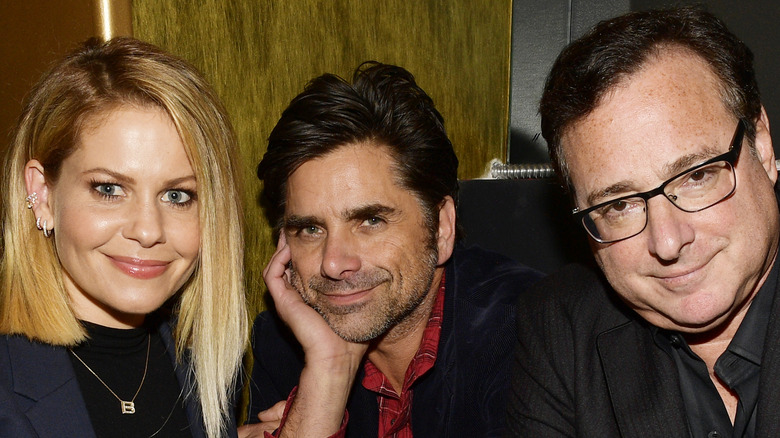 Matt Winkelmeyer/Getty Images
"Full House" is one of the most beloved family television shows of all time. The series was a staple of the late '80s and early '90s and was something that viewers of all ages could enjoy together. The series centered around the Tanner family and its patriarch Danny Tanner (Bog Saget). After Danny's wife dies, he becomes the single father to three girls — DJ (Candace Cameron Bure), Stephanie (Jodie Sweetin), and Michelle (Mary-Kate and Ashley Olsen). With so much on his plate, Danny's brother-in-law, Jesse (John Stamos), and his best friend, Joey (Dave Coulier), move in with him and the three men parent the girls together, per Rotten Tomatoes.
According to Bustle, "Full House" dealt with themes of family values, parenting issues, love and relationships, and even teenage problems as Danny's three daughters grew older. The show even spawned the popular Netflix sequel series "Fuller House," which garnered even more love for the Tanner family and allowed a new generation of fans to fall in love with the characters.
Of course, "Full House" also offered fans so many quotable moments, and viewers could never forget all of the fun catchphrases from the show's run.
Nearly every 'Full House' character had their own catchphrase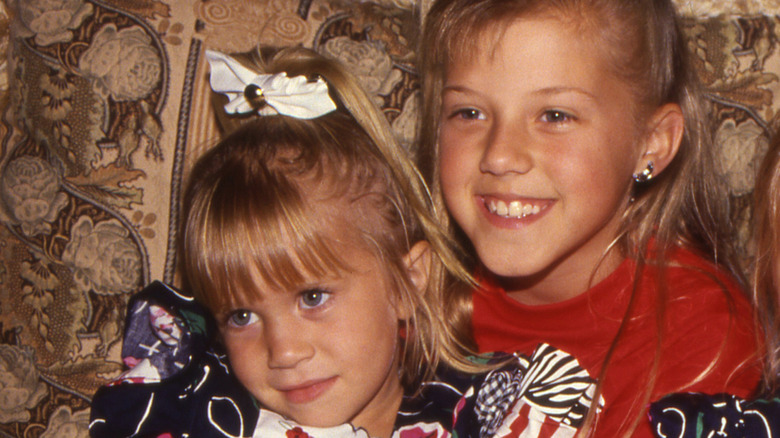 Vicki L. Miller/Shutterstock
"Full House" fans know that Michelle Tanner was the queen of all catchphrases. The youngest member of the family was sassy and opinionated and wasn't afraid to speak her mind. This led to so many iconic sayings that were fun and easy to quote (via Screen Rant). Some of Michelle's most memorable catchphrases included "You're in big trouble, mister" and "You got it, dude." Of course, Michelle wasn't the only Tanner who had their own catchphrase.
Stephanie Tanner was also often heard saying her classic line, "How rude," whenever someone said something to her that she didn't like. Since Stephanie had a knack for getting herself into trouble — like when she drove a car through the kitchen — she used the saying to diffuse some otherwise awkward situations, per CBR.
Uncle Jesse was also quick to pull out one of his catchphrases during many episodes of the show. Since the character was an Elvis-obsessed singer, his looks were important to him, especially his hair. Whenever things would get a bit chaotic around him, Jesse would always remind those around him to "watch the hair" so that they didn't get any of his gorgeous locks out of place.
Of course, there are some interesting stories behind some of the greatest "Full House" catchphrases.
The stories behind the most memorable 'Full House' catchphrases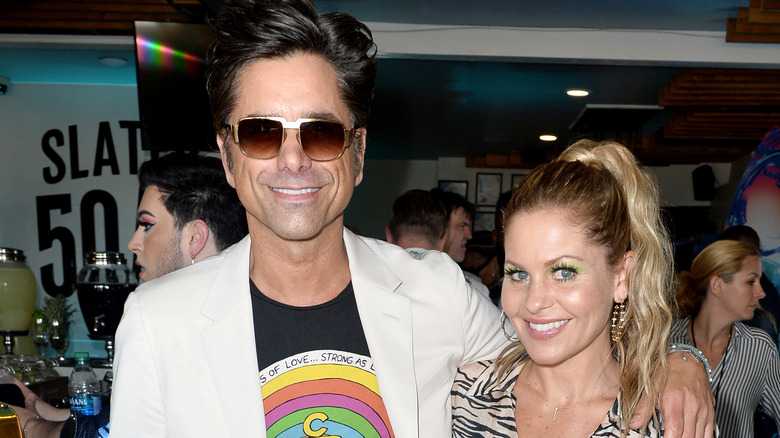 Jerod Harris/Getty Images
According to CBR, one of the most memorable "Full House" catchphrases of all time is Uncle Jesse's iconic line, "Have mercy." Jesse would often say those when he would see an attractive woman, or later after smooching the love of his life and his wife, Becky (Lori Loughlin). Collider reveals that the line was written for John Stamos' character during the pilot episode of the sitcom and he liked it so much that he continued to say it throughout the entire series.
Meanwhile, Dave Coulier's character, Joey, is known for doing hilarious voices and being generally wacky at all times. His famous saying was "Cut. It. Out.," which he would accompany with hand gestures. The comedian reportedly borrowed the bit from an old friend of his that used it during his own comedy routine, but in a different context.
Of course, the character of DJ Tanner is one of the most beloved teenage icons of the '90s, and fans couldn't get enough of her hair and wardrobe. Actress Candace Cameron Bure is known for her strong Christian values and didn't want to take God's name in vain. So, her character was given the line "Oh Mylanta!" to use whenever something surprising happened or when she saw a cute boy.
While "Full House" may be a thing of the past, the beloved series and its epic catchphrases continue to live on in syndication.