Meghan Markle And Prince Harry's Popularity Rating Reaches A Surprising New Level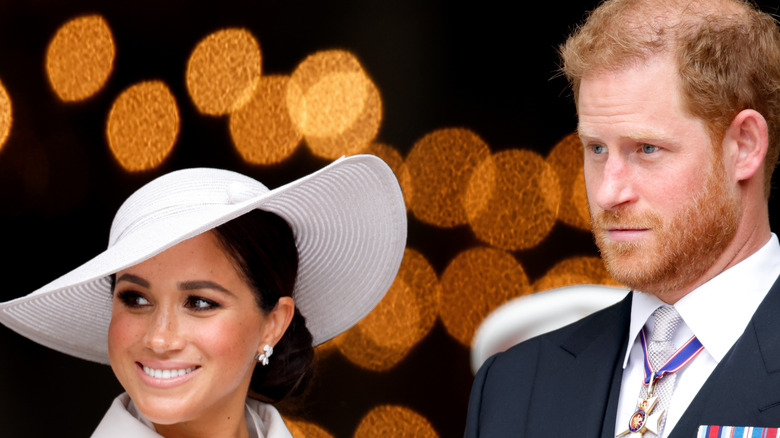 Max Mumby/indigo/Getty Images
Another day and another poll has revealed that Meghan Markle and Prince Harry are not exactly winning favor with the British people. In fact, sadly, it seems that the Duke and Duchess of Sussex's popularity is at an all-time low in the weeks following their visit to the UK for Queen Elizabeth's Platinum Jubilee.
Of course, it isn't news that the couple is creating divisiveness among royal fans. Ever since they left their royal duties behind in favor of what many people thought would be a less public life in California, there has been no shortage of opinions about the controversial decision. It seems one thing some folks have a problem with is that Meghan continues to use her royal title.
Meanwhile, importantly, the Queen is the most beloved member of the royal family according to a new YouGov poll, which shows only 12% of the population would have a negative thing to say about the monarch (via Express). And, given that bidding their royal responsibilities adieu was largely seen as a slight to Her Majesty, it should not come as a huge surprise that especially among older Brits, Harry and Meghan are extremely unpopular. Just how unpopular the couple has become in the eyes of many may shock you, however.
Meghan Markle and Prince Harry's UK visit seemingly did them no favors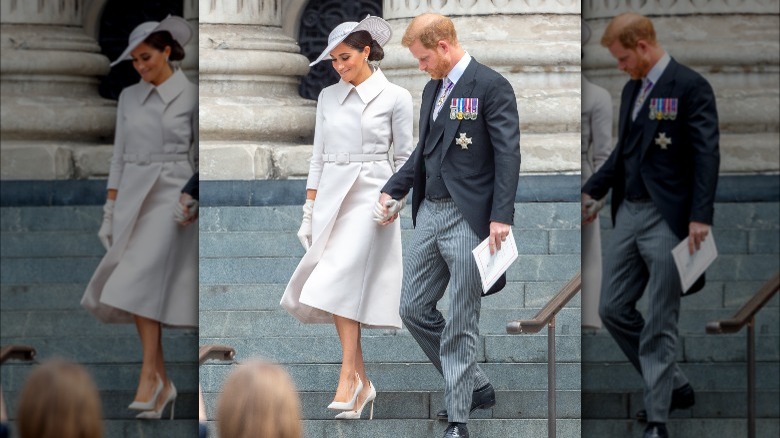 Antony Jones/Getty Images
Meghan Markle and Prince Harry did nothing if not stir up controversy while attending the Platinum Jubilee celebrating the Queen's 70 years on the throne. From being booed at one point, to angering environmentalists for using a private jet to travel back to the United States, the visit was high on drama (via New York Post).
Another point of contention seemed to have been whether Queen Elizabeth would take a photograph with her great-granddaughter, who is also her namesake, Lilibet Diana (even the baby's name has created tension in the family). Varying accounts suggest the Queen refused and that Harry and Meghan never planned to get a pic of the two together in the first place (via Elle).
In any event, after their UK stint, it seems people have responded with less-than-favorable ratings of the parents of two. According to that YouGov poll that confirmed Queen Elizabeth is the most well-liked royal family member, by far the least-liked royals are the Duke and Duchess of Sussex.
Indeed, only 32% of those polled earlier this month have a favorable opinion of Harry, while 58% see the younger son of Princess Diana unfavorably (via Express). And even fewer people see Meghan favorably, if you can believe that.
Older Brits really dislike Meghan Markle and Prince Harry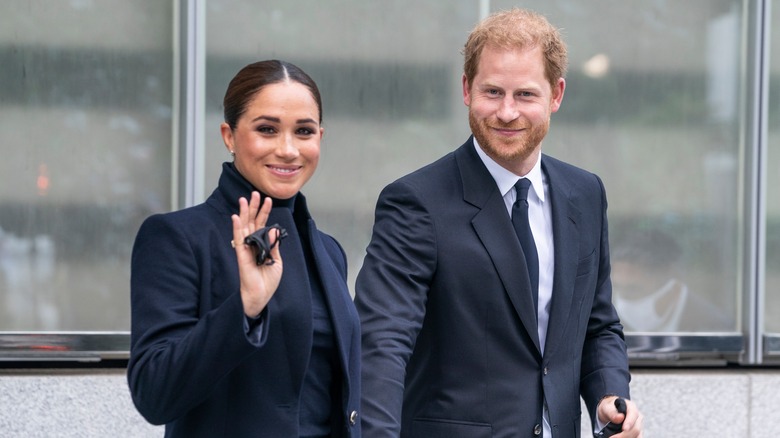 lev radin/Shutterstock
The YouGov poll that captured the British people's largely unfavorable opinion of Prince Harry as of July of 2022 revealed that folks in the UK are none too pleased with Meghan Markle either. As Express reports, just 23% of people see the Duchess of Sussex favorably. Meanwhile, 63% aren't loving her right now.
It probably won't come as a shock that older UK residents are more likely not to view the couple favorably — the younger the person polled, the more they are apt to see Harry and Meghan favorably, while folks older than 65 aren't having it at all with the duo.
Unfortunately, it's nothing new for Meghan to be at the receiving end of unfavorability ratings. Last year, a poll revealed that even Americans were sick of hearing from the Sussexs (via Newsweek). 
Many people believe that Meghan is so despised simply because she is Black (via CNN).