Celebrity Stylist Reveals How Kate Middleton Upgraded One Of Her Most Important Accessories
Max Mumby/indigo/Getty Images
No one made skin-tone heels more popular than Kate Middleton. A favorite accessory of the Duchess of Cambridge, the versatile shoes go with everything and have been a go-to for Kate for years. In 2016, the mom of three sported beige L.K. Bennett heels while on a tour in India (via Town & Country). She donned beige espadrilles in Australia in 2020 (via Cosmopolitan). The Duchess has dazzled in beige suede pumps on several occasions as well. Are you seeing the trend here?
In addition to beige, Kate is also known to rely on basic black heels and boots to accessorize both dressy and casual looks. Another shoe long-associated with the future queen is her beloved white Superga sneakers.
But when it comes to having fun with footwear, we'd be more likely to think of Kate's sister-in-law Meghan Markle, who we've admired time and time again for her fashion sense below the ankle. Case in point? The Duchess of Sussex favors Aquazzura bowtie pumps that are simply to die for (via Hello!).
Perhaps Kate is taking a page out of Meghan's playbook of late, because royal fans recently spotted her wearing bejeweled, blue Aquazzura heels to Garter Day. And according to one expert, it seems Kate is intent on stepping up her shoe game.
Kate Middleton is stepping out of the beige box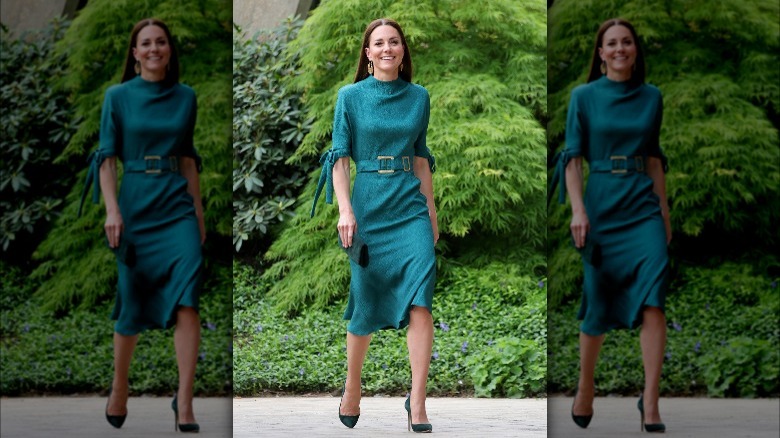 Chris Jackson/Getty Images
Celebrity fashion expert Miranda Holder thinks Kate Middleton's focus on more exciting footwear is deliberate instead of just a happy coincidence for those of us who obsess over every little detail of what she wears.
She told the Daily Mail that the bolder, more interesting shoe choices we've seen on Kate of late are an attempt at an "injection of fun, flirtatiousness and personality to her personal style brand."
Holder points to the forest green pumps the Duchess of Cambridge paired with a green dress recently to present an award, as well as the white and gold heels she chose to complement a bright yellow dress while on tour in the Caribbean earlier this year. We also noticed that Kate went with a professional pink suit for a meeting last month, and added pink pumps to complete the envy-inducing outfit.
Indeed, overall Kate is clearly having fun with her look now that she is 40 years old.
Kate Middleton will be a new kind of queen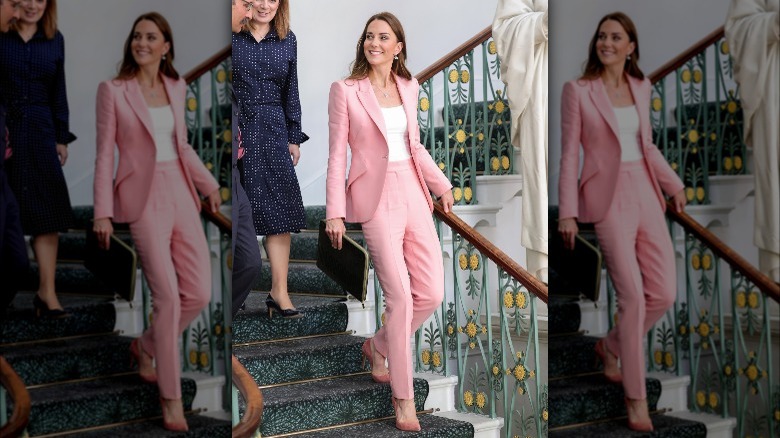 Chris Jackson/Getty Images
So why is Kate Middleton's focus on fashion seemingly more on point than ever? Miranda Holder thinks she has the answer to that question. She sees the Duchess "maturing into a confident future Queen" (via Daily Mail).
Indeed, as royal fans are well aware, Prince William is second in line for the British throne upon his grandmother Queen Elizabeth's death. While it may seem counterintuitive for Kate to be stepping away from beige pumps, which would be considered more conservative, and even more queen-like by some, Holder says "flamboyant footwear" just means Kate is aiming to show she is "confident" enough to one day sit beside her husband as ruler of the realm.
Finally, consider that Kate won't be your mother's queen, and instead, will usher in a new era of fashion in Buckingham Palace. Indeed, we aren't likely to see her donning the matronly pumps Queen Elizabeth is known to wear (via Vogue Australia). Well, at least not until she's in her 90s like Her Majesty!