Kamala Harris' Statement On The Highland Park Shooting Has Everyone Saying The Same Thing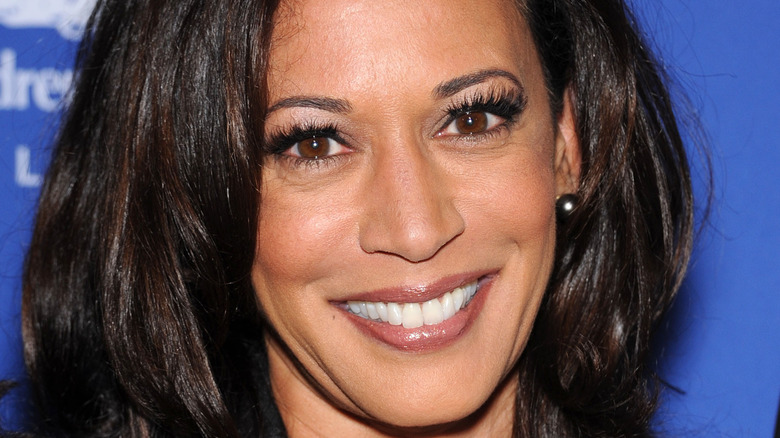 DFree/Shutterstock
The joy of Independence Day 2022 was utterly shattered when a young man armed with a rifle shot into the crowd watching a parade in Highland Park, Illinois. In all, eight people were killed, including a grandfather from Mexico, a staff member of a synagogue, and both parents of a 2-year-old who is now in the care of family members (via CNN). The suspected shooter was captured and brought to court, where he is expected to face seven counts of first-degree murder; if convicted, he will be sentenced to life in prison without parole.
The mass shooting — defined as "an incident in which four or more people are shot or killed, excluding the shooter" — was just the latest in a country that has seen more than 300 in 2022 alone, per NPR. This wasn't even the only shooting that day; July 4 had a total of 11 mass shootings, which also took the lives of victims in Denver, Colorado; Sacramento, California; and Kenosha, Wisconsin. The level of gun violence in America has frustrated many, including Vice President Kamala Harris, who traveled to Highland Park July 5. After speaking before a local teachers' union, she traveled to the parade site to address the grieving community. 
In her remarks, Harris offered her condolences to Highland Park. "This should never have happened," she said. "We talk about it being senseless; it is senseless. It is absolutely senseless."
Unfortunately, many people thought some of her later remarks were even more senseless.
Vice President Harris seemed confused at one point in her speech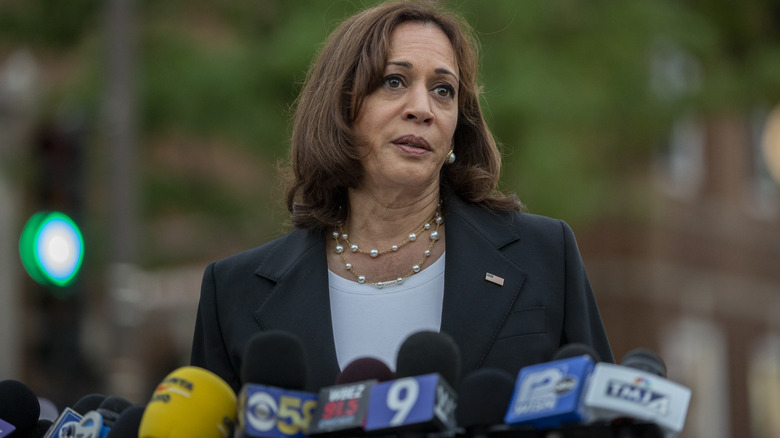 Jim Vondruska/Getty Images
Vice President Kamala Harris shares President Joe Biden's belief that more needs to be done to curb the gun violence epidemic in America. She addressed the topic in her remarks to the community of Highland Park, but the impact of her message was blunted by its awkwardness.
"And — and we'll deal with what we need to deal with in terms of also, as we move forward, all agreeing that we've got to be smarter as a country in terms of who has access to what and, in particular, assault weapons," Harris said. "And we got to take this stuff seriously, as seriously as you are — because you have been forced to have to take it seriously."
After a Chicago Tribune reporter posted a clip of the segment on Twitter, the site exploded with mocking reactions. "Haven't the good people of Highland Park suffered enough?" snarked one commenter. Another said, "On a line by line level she might genuinely be less coherent than trump lol." Yet another joked, "Seriously, I think she's being serious. Because this is a serious matter."
However, at least one supporter called out the reporter for telling only part of the story. "Good old media," they said. "Take one small part of a speech and pretend that is all she said. Watched in real time and she offered comfort and sympathy for the entire town. Your clip is disingenuous as hell. Made you feel better to parse words?"