Fans Are Convinced Prince William Did Something The Royals Would Look Down Upon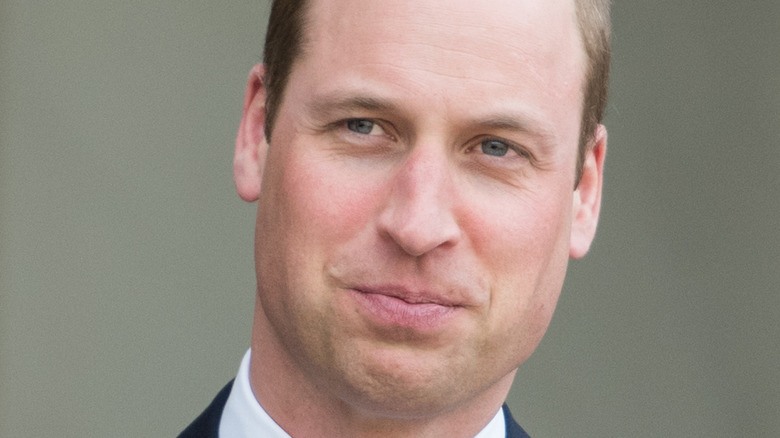 Frederic Legrand - COMEO/Shutterstock
For tennis aficionados, there's nothing quite like Wimbledon. Steeped in history and tradition, Wimbledon is the oldest tennis competition, getting its start in 1877, per Tennis Tourtalk. The royal family has been part of those traditions since 1907, when Queen Elizabeth's grandfather, the future George V, attended the event with his wife (via Tatler). In 1926 Elizabeth's father, then the Duke of York, even competed in a match, according to Vogue.
Prince William has been attending Wimbledon since he was nine when Princess Diana took him to his first match. The Princess of Wales was a tennis fan and passed her enjoyment of the game to her oldest son (via She Knows). Kate Middleton is also a tennis enthusiast. Her connection to the sport became even stronger in 2016 when she became patron of Wimbledon's historic venue, the All England Lawn Tennis Club, as Time noted. 
This year the Duke and Duchess of Cambridge made their first appearance in the Royal Box on July 5, 2022, to watch Novak Djokovic triumph over Jannik Sinner in the men's singles quarter-final, per The Telegraph. Afterward, the Cambridges left their seats and moved to the smaller court to watch Cameron Norrie play David Goffin. Since Norrie is the sole-remaining British competitor in the singles, William and Kate were eager to cheer for him and show their support. But based on observations by royal fans, it appeared that William got carried away by the drama of the intense match.
Prince William may have dropped an f-bomb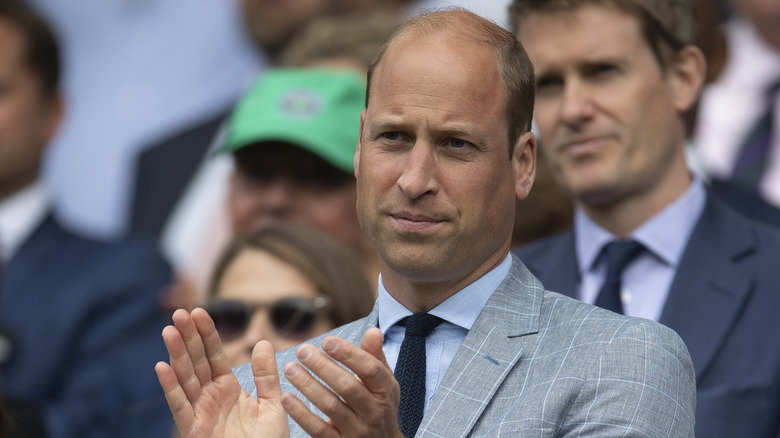 Visionhaus/Getty Images
During his match against David Goffin, British player Cameron Norrie made a mistake that could have cost him any hope of victory, per Newsweek. Prince William's reaction was captured by cameras and posted on the big screen at the event. In addition, a fan posted a clip to Twitter, with the caption "Haha Prince William saying no, no, no f*** it lol #Wimbledon."
In the brief video, the Duke of Cambridge looks flustered and appears to be saying "no, no, no." The camera cuts away from him before he can finish, but many fans, like the video's poster, seemed in agreement that the duke was caught cursing on camera. "Can't be unseen! So glad he's human," commented one fan. "I love Prince William so much. Any tennis fan would understand his reaction," tweeted another. Other fans weren't convinced that William broke royal protocol by swearing. "He was about to say 'for goodness sake' when the camera cut away," tweeted one fan. Another had a similar response, posting, "He would never use the f word" with the follow-up reply, "It's not a stretch to think he may have said, 'for god's sake!'"
Regardless of William's exact words, Norrie appreciated the support of his royal fans. "I saw them at the end there," the tennis star told BBC. "So that's obviously very special to be playing in front of them, and obviously they had more interest in my match, which is pretty cool."
Royals have been heard swearing before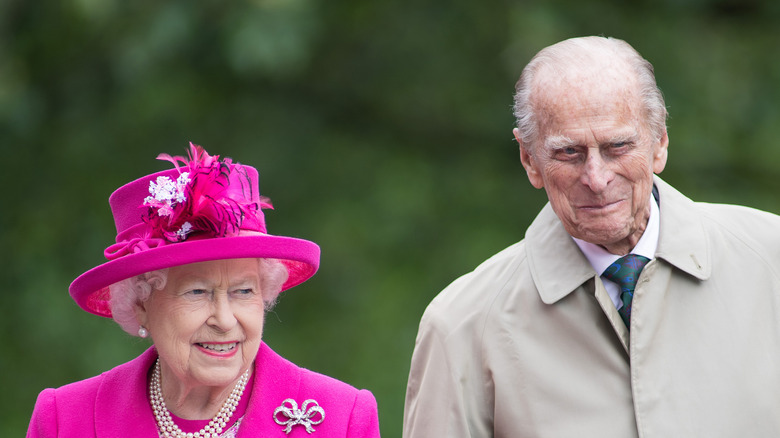 Jeff Spicer/Getty Images
While royals like Prince William and Kate Middleton must observe some weird rules, there doesn't appear to be a definitive prohibition on royal swearing. In fact, Prince Philip was caught dropping an f-bomb during a photo op honoring veterans of the Battle of Britain. In a video posted by The Telegraph, an impatient Philip tells the photographer, "Just take the f****** picture."
Way back in 1969, Camilla Parker-Bowles was known for her colorful use of language. "She was pretty, funny, tanned, swore like a trooper then, like me, and we both smoked," recalled Princess Olga, Queen Elizabeth's cousin, per The Telegraph.
While the queen has a list of words royals should not say, such as toilet, pardon, and couch (via Reader's Digest), Her Majesty has been reported to have used the f-bomb. According to actor Brian Blessed, the monarch kept her use of the swearword to private discussion. Express reported the instance occurred while the actor was speaking at the Hay literary festival, and during a conversation he had with the queen at Buckingham Palace. Blessed had dropped an f-bomb on a TV appearance, and the queen wanted to let him know he had used it incorrectly. According to Blessed, Elizabeth said to him, "What I would like to say to you is that f*** is an Anglo-Saxon word — it means spreading the seed." While we have to take this tale on the actor's word, the queen is known for her sense of humor and her more relaxed demeanor when the cameras aren't rolling.