Kate And William's Rare PDA Has All Eyes On The Royal Couple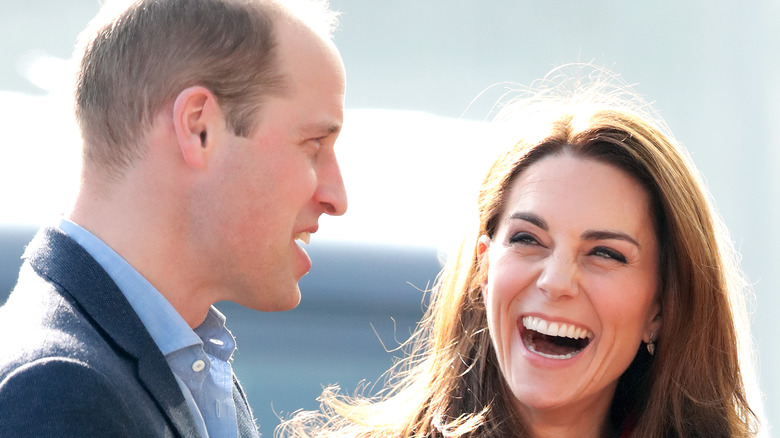 Max Mumby/indigo/Getty Images
Prince William and Kate Middleton's relationship has gone through many different iterations over the years, from them being college sweethearts to breaking up briefly and finally getting married and welcoming three children together, per Glamour. 
They remain among the most popular royal couples, with fans toasting the Cambridges on their 11th wedding anniversary by noting how "kind and courageous" they are, as reported by Express. Although William and Kate are considered total #couplegoals, they rarely offer any kind of glimpse into their relationship. 
Lately, however, they've been relaxing into more of a groove in public, with experts claiming it's down to the influence of defectors Prince Harry and Meghan Markle. After they got married, the Cambridges seemed more comfortable around each other, a noticeable shift from how they had been previously. 
As body language expert Judi James told the Daily Mail, "It's unusual to see William taking the lead in terms of public touch rituals with Kate but on Remembrance Sunday he performed this back-touch ritual, even splaying his thumb out to signal a rather protective form of affection." 
James suggested they are gradually becoming less concerned with strictly adhering to the rules since they're well established as key members of the royal family at this stage. 
To that end, their most recent PDA exchange has fans cheering.
The Cambridges delighted fans with their closeness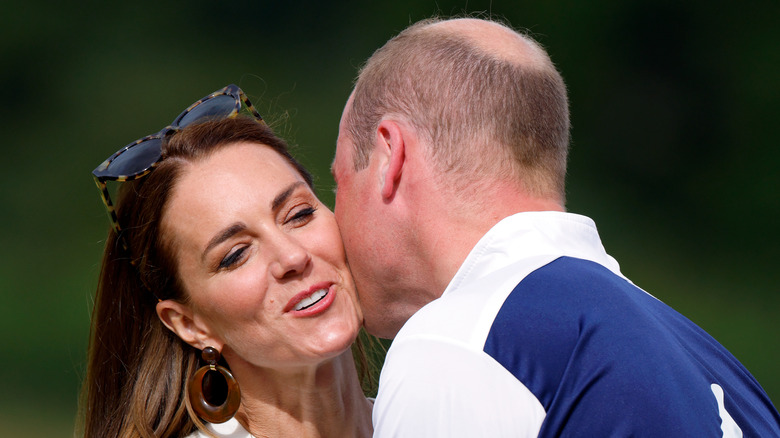 Max Mumby/indigo/Getty Images
Royal watchers are swooning over photos of Prince William sweetly placing a kiss on his wife, Kate Middleton's, cheek during a charity polo match held in Windsor earlier this week. Per People, Kate returned the favor after her hubby's team emerged victorious in the tournament, which ultimately raised over $1 million for a selection of the Cambridges' favorite charities. 
The couple was also pictured hugging and walking around with their arms around each other. Their adorable family dog, Orla, was present for the event alongside them, further upping the cuteness quotient. 
As royal etiquette expert Myka Meier explained to the outlet, it's unlikely senior royals are given strict instructions about showing PDA. However, they're generally "trusted to use their better judgment as to when it's appropriate." 
In other words, it depends on where they are; if it's a more formal event, then the royals will probably rein it in. This particular match was a relatively laidback affair, so "it would be deemed more fitting." 
A similarly rare moment of PDA between Kate and William went viral recently, emphasizing how infrequently these two behave in a lovey-dovey manner. A TikTok user captured the couple holding hands as they left their hotel in the Bahamas.
Are William and Kate allowed to show affection in public?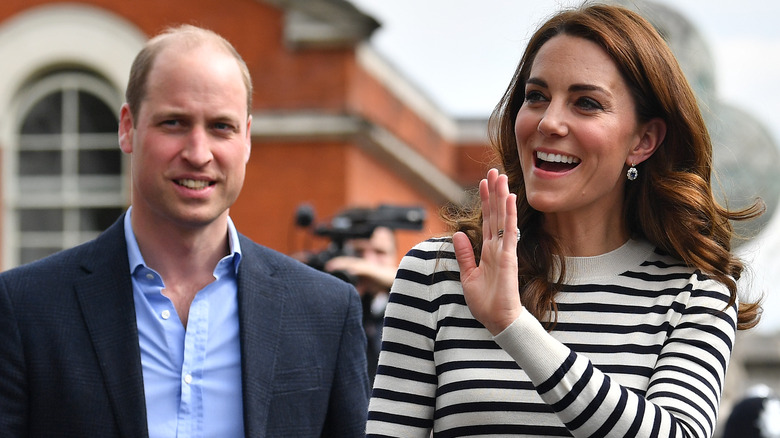 Wpa Pool/Getty Images
There are plenty of weird rules Prince William and Kate Middleton are forced to follow as working members of the royal family. Thankfully, they're not outright prevented from showing affection while out and about, but there are general stipulations dictating the couple's behavior. 
The reason the Cambridges being spotted holding hands during their Caribbean trip was such a big deal was because they don't typically do that — but it's not for the reason you might think.
During a recent royal tour, William and Kate were seen standing quite a distance away from each other while remaining suitably low-key. As royal etiquette expert Myka Meier explained to People, although they're not prohibited from showing PDA, "The likely reasoning is more that while traveling on a tour such as the India trip, technically the couple are working representatives of British Monarchy."
As a result, "The couple are likely to show very little PDA, if any, to remain professional during their designated roles abroad." Royal expert Judy Wade concurred, acknowledging, "Going to somewhere like the mausoleum is very much an official, straight-laced kind of event and you wouldn't hold hands there if they're there on an official visit." 
Sometimes, the Cambridges sneak in a bit of PDA when they think people aren't watching, like at Princess Eugenie's 2018 wedding. Cosmopolitan reported at the time that they slyly squeezed each other's hands while waiting for the event to begin.