Kim Kardashian Is Channeling A Fairytale Princess With A Twist In Latest Magazine Shoot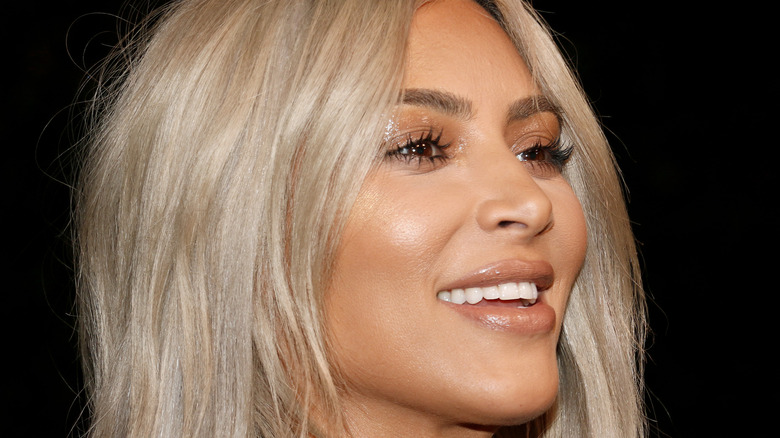 Tinseltown/Shutterstock
The world was introduced to the Kardashian family in 2007 with the debut of "Keeping Up With The Kardashians," and the show's success catapulted the family as a whole — Kim Kardashian in particular — to fame. Kardashian told Variety that one of the reasons her family decided to do the show was to boost sales at their DASH boutiques. From a boutique business owner, the mogul has gone on to having her own cosmetics and shapewear lines, and Forbes estimated she's worth $1.8 billion. 
She's also studying to become a lawyer, and she's a prison reform advocate, per The New York Times. All that, and Kardashian's still letting the world in on her personal life by filming for the Hulu reality series "The Kardashians." Talk about a celebrity who has went through a stunning transformation!
With her extensive fame, Kardashian has been featured on the cover of magazines around the world. Just this year, she was one of the four cover stars for the iconic Sports Illustrated Swimsuit edition and wore a suit from her own Skims line.  On the March 2022 Vogue cover, Kardashian wore a structured, futuristic dress. 
But for her latest cover shoot — for the August 2022 issue of Allure — she's not wearing much of anything but giving off some serious Disney princess vibes.
Kim Kardashian is serving Rapunzel vibes on the cover of Allure
While Kim Kardashian has rocked waist-length extensions before, that's nothing compared to her look for her Allure cover shoot. Kardashian's Allure cover features her sitting on a silver box wrapped in two Rapunzel-esque blonde braids that are longer than she is tall. It turns out that her hair color changes her. She said that with blonde hair she feels "sassier" and "more confident."
Kardashian went blonde most recently for the Met Gala where she infamously wore the dress Marilyn Monroe wore to sing "Happy Birthday, Mr. President" to John F Kennedy in 1962. It took 14 hours to take her hair from brunette to platinum blonde for the event to channel Monroe's vibes, per People.
Kardashian may be on the cover of major magazines now, but her first magazine appearance was actually in the 1998 Special California Issue of Barbie magazine where she's pictured looking at a star map, via Instagram.