The Truth About Donald Trump's Relationship With Shinzo Abe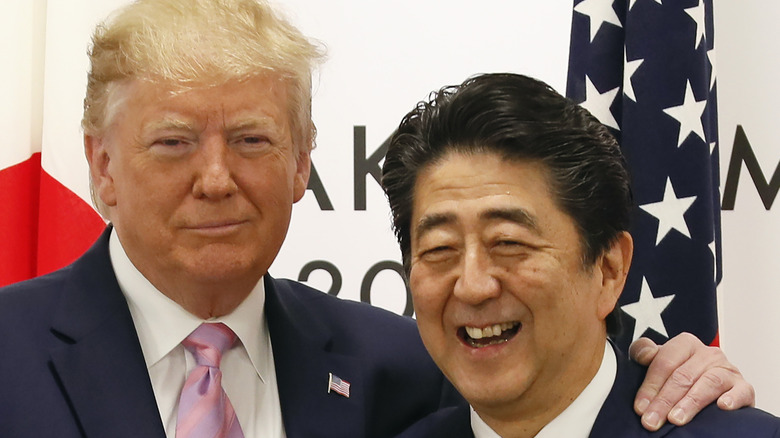 Pool/Getty Images
Shinzo Abe, the former prime minister of Japan, was assassinated on July 8, 2022, at age 67, per The New York Times. He was shot in the neck and chest while speaking at a political rally in Nara in support of the re-election of candidate Keiichiro Asao.
Abe was a powerful figure in Japanese politics. He first served as prime minister in 2006 and returned to the role for an additional eight years, from 2012-2020, per BBC. When he resigned in 2020, Abe was the country's longest-serving prime minister, and he remained leader of Japan's National Diet, its parliament (via The Atlantic).
Politics were part of Abe's heritage. His maternal grandfather, Nobusuke Kishi, was Japan's prime minister from 1957 to 1960, and his father was a foreign minister for Japan and was actively involved in the Liberal Democratic Party, per The New York Times.
"I think his legacy is profound," Michael Green, who worked closely with Abe as an NSC staff member under George W. Bush, told NPR's "Morning Edition." "There is no major political figure in Japan arguing for a different direction, other than tactical changes, from what Abe put in place when he was prime minister."
Following the tragedy, leaders around the world offered their condolences and reflections on Abe's political impact, including former president Donald Trump.
Donald Trump thought of Shinzo Abe as a true friend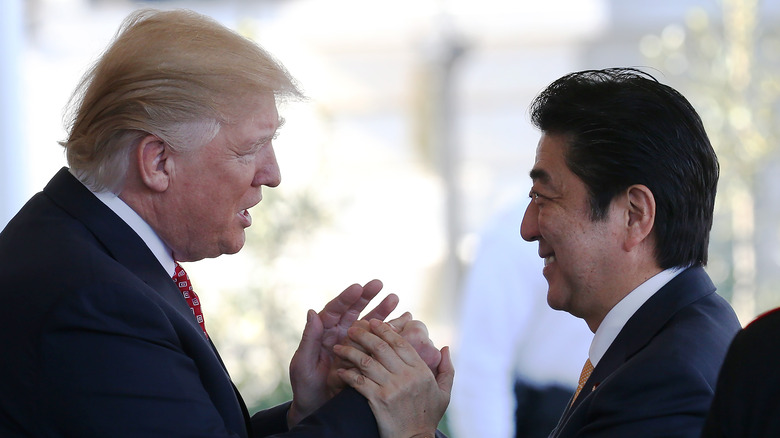 Mario Tama/Getty Images
Following the news of Shinzo Abe's death, Donald Trump shared his thoughts on Truth Social. The post was also shared on Twitter. "Really BAD NEWS FOR THE WORLD!" wrote the former president. After expressing his anger about the assassination, Trump went on to write a tribute to Abe. 
"Few people know what a great man and leader Shinzo Abe was, but history will teach them and be kind. He was a unifier like no other, but above all, he was a man who loved and cherished his magnificent country, Japan," he wrote. In closing, Trump mourned the former prime minister, writing, "Shinzo Abe will be greatly missed. There will never be another like him!"
Abe forged a bond with Trump shortly after he won the 2016 election. Looking to bolster relations with the incoming president, the then-prime minister visited the U.S. and gave Trump a gold-plated golf club, per The New York Times. As their relationship grew, Abe was spotted on the golf course at Trump's Mar-a-Lago resort in Palm Beach, and he even nominated Trump for a Nobel Peace Prize.
When news of the assassination first broke, Trump was quick to comment on the tragedy. "He was a true friend of mine and, much more importantly, America. This is a tremendous blow to the wonderful people of Japan, who loved and admired him so much," he said, per Newsweek.
The relationship between the two had its awkward moments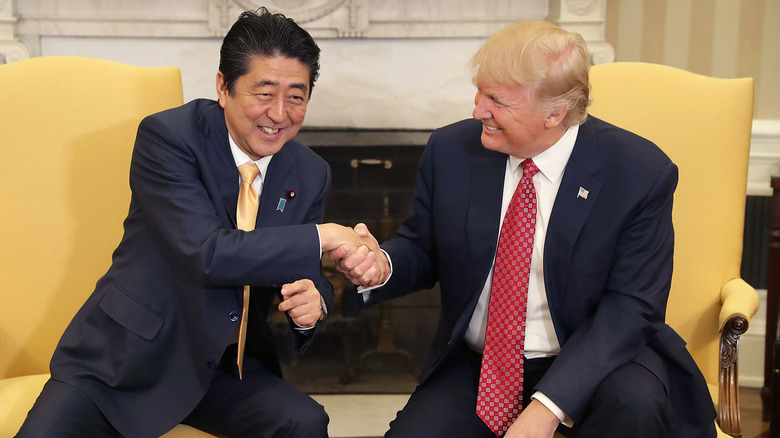 Bloomberg/Getty Images
Shinzo Abe's great relationship with Donald Trump was unusual, according to Zack Cooper of the American Enterprise Institute. "He's the only leader of a major democracy who has had good relations with Trump from beginning to end," he said (via Washington Examiner).
Abe's first meeting with Trump lasted 90 minutes, per The Japan Times, and the former came away with a favorable impression. "The talks made me feel sure that we can build a relationship of trust," Abe said.
After their initial meeting, Trump showed Abe how much he appreciated his gift of a golden golf club. At Abe's first visit to Mar-a-Lago, Trump demonstrated the club's prowess on the green (via Politico). The former president later allowed Abe to use the property for a summit. However, Trump passed the secret service fees – as well as Abe's summit costs — on to the American public.
Abe's alliance with Trump didn't always win him favor with his constituents in Japan. According to The Washington Post, the friendship wasn't enough to keep Trump from abandoning the Trans-Pacific Partnership or shield Japan from the economic impacts of U.S. tariffs on steel and aluminum.
During an awkward moment caught on camera, Trump shook Abe's hand for 19 seconds during a photo op in the Oval Office, per CNN. When it was over, Trump stated: "Strong hands."