Mzi 'Zee' Dempers Talks 'Spicier' Season 7 Of Below Deck Mediterranean - Exclusive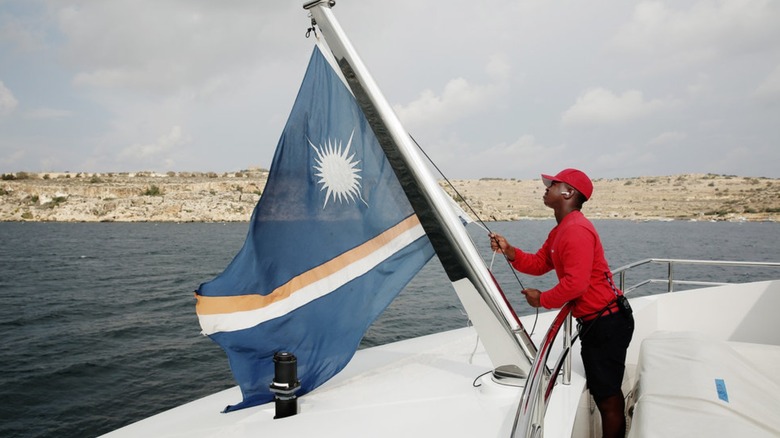 Lauren Basset / Bravo
"Below Deck Mediterranean" is finally back for its seventh season, and fans are in for a treat. Returning to the show is Mzi "Zee" Dempers, who made quite the impact in Season 6. In fact, Captain Sandy saw so much potential in the deckhand that she asked him to come back to complete another charter season with her. As usual, Bravo's hit reality TV series promises to be filled with all kinds of drama, from rude or very drunk guests to scandalous crew member hookups in the hot tub. 
In an exclusive interview with The List, Dempers revealed that he's managed to remain friends with a plethora of former cast members, saying, "Our WhatsApp group from last season is still very alive; we still all chat on that WhatsApp group all the time." He continued, "Myself and Courts [Courtney Veale] have remained very close. She came to visit me here in South Africa and we still are super close and always will be. Katie [Flood] was here too, but I haven't had a chance to actually see anybody else in real life. We still are all close."
The List sat down with Mzi "Zee" Dempers to find out what it was like returning for Season 7 of "Below Deck Mediterranean" and why viewers will find new episodes "spicier" than ever.
Season 7 is 'very funny' and 'very dramatic'
Fans of the "Below Deck" franchise can pretty much expect that every season will feature unexpected hookups, awkward moments, and charter guests they'll either love or hate. According to returning crew member Mzi "Zee" Dempers, Season 7 has plenty of surprises. "I feel like last season was fairly wholesome and this season will be a little bit spicier, most certainly," he told The List. "A little bit spicier, a lot of different personalities, which added to the joy of the season — very funny, very dramatic, and all around a lot of fun at the end of it."
Importantly, Dempers found himself working with one of his friends on board, which completely changed the experience for him. "[I have] Storm [Smith] on board as a friend, and I know Storm's a lot more experienced than me," he said. "As good as it was having Malia [White] — because she's an absolute powerhouse — having somebody who [I've] known [my] whole life on board with me makes a big difference too. That was super special." 
We can't wait to watch all the drama start to unfold and follow Mzi's development as a crew member aboard the superyacht "Home."
"Below Deck Mediterranean" premieres on Monday, July 11 at 8:00 p.m. ET/PT on Bravo. New episodes are available for streaming one week early on Peacock.