An Unlikely Dolly Parton Connection Comes To Meghan Markle's Defense
Chris Jackson/Getty Images
There were plenty of jaw-dropping moments during Oprah Winfrey's sit-down with Prince Harry and Meghan Markle. The groundbreaking interview, conducted shortly after the Duke and Duchess of Sussex defected from the royal family, covered a range of topics. The focus, however, was mainly on how unwelcome and mistreated they felt during the couple's time in the U.K. Meghan had long been a fixture of the British tabloid media, as Stylist detailed, but the relentless coverage simply became too much to handle.
As BBC News reported at the time, Harry described the press as "bigoted" and accused them of creating a "toxic environment" of "control and fear." Moreover, his wife added that the monarchy's press operation did nothing to stop false stories from being reported, or to counter them after they were published. According to the duke, soon after announcing they were stepping down as working royals, he was warned to get back in line or the tabloids "will destroy your life."
As Harry argued, "Unfortunately, if the source of information is inherently corrupt or racist or biased then that filters out to the rest of society," (via BBC News). His wife added that, although other royals had been subjected to bad coverage, hers had an inherently racist slant, which made it considerably more difficult to deal with. Harry was even concerned about his wife ultimately perishing like his mother, Princess Diana, who was killed during a paparazzi skirmish.
Meghan still has plenty of detractors, but there's at least one person in her corner.
Stella Parton decried the press for targeting Meghan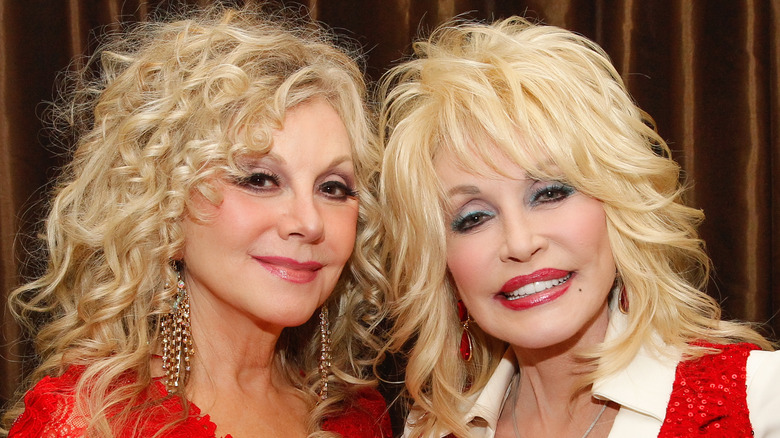 Terry Wyatt/Getty Images
Dolly Parton's sister and fellow country singer, Stella Parton, is standing by Meghan Markle even as the British tabloids continue to vilify her. Per Express, Stella spoke out after a photo emerged of Camilla Parker Bowles leaning over to pet a dog. "Just wondering how the British tabloids would treat Meghan if they grabbed a photo of her in this pose," she wrote, pointing to how the Duchess of Sussex was criticized for supposedly holding baby Archie incorrectly at the King Power Royal Charity Polo match in 2019.
Stella acknowledged how she could totally understand why Harry wanted to take Meghan, and their children, far away "from that toxic waste heap" — especially since the British press continued to attack him for the alleged indiscretion of marrying her. "Had he chosen a wife like his father did, no one would have had a problem," Stella quipped, decrying the royals for treating the Sussexes like "outcasts" and accusing them of being envious of the couple.
The country star doubled down on her comments on Twitter, sharing a screen-grab from a news report and confirming, "Yes, I said it and I think more people should speak out when they see phony people in high places thinking their snooty behavior is ok." Stella also pointed to Samantha Markle, Meghan's estranged half-sister, who launched a defamation lawsuit against her. She argued that Samantha tried to profit off the duchess's newfound fame by changing her surname before publicly trashing Meghan.
Meghan Markle sued a British tabloid and won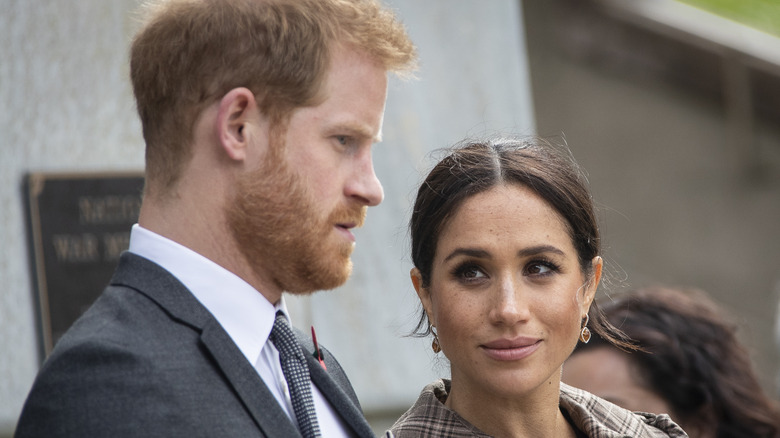 Pool/Getty Images
Meghan Markle was incensed enough by her harsh treatment at the hands of the British tabloid media that she sued Associated Newspapers, who publish the Mail on Sunday and its online component, Mail Online, for privacy and copyright infringement. People confirmed the Duchess of Sussex was awarded a symbolic £1 ($1.36) in damages after she emerged victorious in the suit.  
Meghan claimed that the Mail had no right to publish a private letter she'd sent to her estranged father, Thomas Markle. In a statement, she said, "This is a victory not just for me, but for anyone who has ever felt scared to stand up for what's right." Meghan added, "While this win is precedent setting, what matters most is that we are now collectively brave enough to reshape a tabloid industry that conditions people to be cruel, and profits from the lies and pain that they create." 
The former "Suits" star also got an apology from the publications in question, published both online and in print. Prince Harry argued Meghan's tabloid lawsuit was so important because, per The Guardian, "we have never needed responsible media more." The duke also pointed out that his wife had been a victim of intense and very personal bullying for too long and it was time to take a stand. Apparently, Stella Parton agrees with that sentiment.