Clothing Hacks To Flatter Your Figure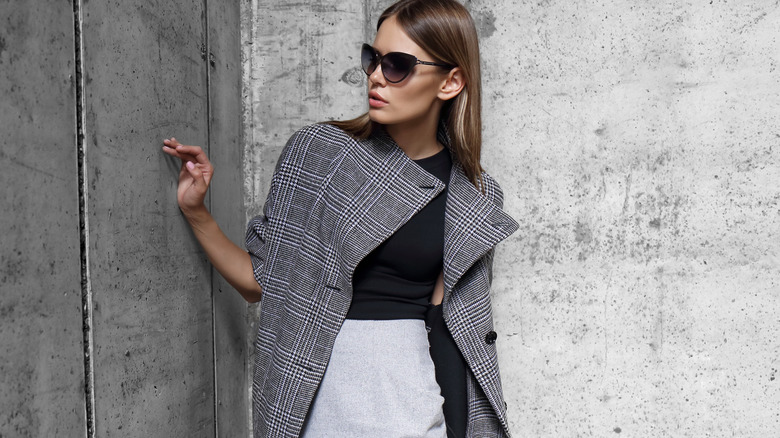 Shutterstock
There's so much pressure to be fit and stay in shape, but sometimes no matter how much we work out we all have those days when we just don't look as good in our clothes as we want to. Sometimes an unflattering cut or unforgiving fabric is to blame, but we need to start asking ourselves if we are making the best choices when it comes to fashion. 
Whether you are trying to look better in your jeans or you're attempting a big goal such as wearing a wedding dress, the best fix isn't always extra hours at the gym or a crazy diet. It may be re-evaluating your wardrobe and making the right decisions when it comes to what best flatters our bodies. I asked several stylists and designers how women can learn to rock what they've got and look better than ever. Here some of their best hacks to flatter your figure, no matter what you are wearing. 
Understand proportions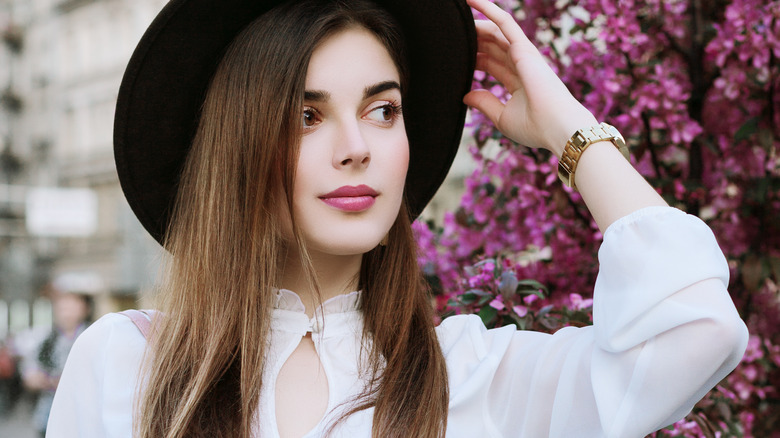 Shutterstock
"Always remember the rule of proportion," Wardrobe Consultant Diane Pollack told me. "If you wear a large top, then wear skinny bottoms. But [if you have a more] voluminous bottom, then you should wear a more form-fitting top. Areas that are smaller can take bulkier fabrics and eye-catching details. Think pleats, ruffles, trim, and pockets. Larger areas should be thinner fabrics, dark minimizing colors, and simple clean lines."
Pollack also addressed a mistake that many women make when they are trying to hide bigger parts of their bodies. "Large expanses of fabric can make you look bigger," she said. Women with large busts especially need to consider proportions. 
"Trick the eye. Big busted women should not wear high necks. Break up the expanse of fabric with a scoop or v-neck to show some skin. Colorblocking, seams, scarves, or jewelry are other ways to break up a large expanse of fabric." Part of the rule of proportions is also knowing your body and shape. She suggests considering what your most and least favorite features are, "Highlight your assets and camouflage your least favorite areas. For instance, if you have great legs but have a belly wear a boxy top or dress and show those legs. Bigger on the bottom? An A-line skirt flatters most figures."
Make sure your clothes fit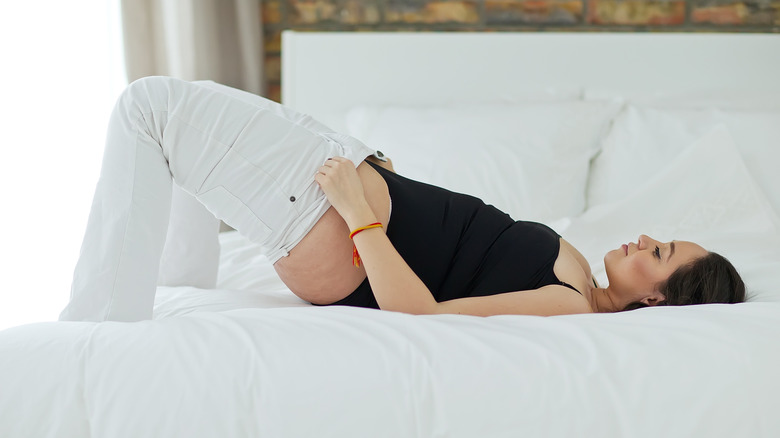 Shutterstock
Stylist Susan Padron told me it's best to think simply when it comes to flattering your figure. "Make sure your clothes fit. It sounds stupid and basic, but it's the complete truth."
But it isn't just a matter of actually being able to wear something. Pardon believes comfort is key. "Just because you can get it on and button it, doesn't mean that it actually fits! You don't need to go to a bakery to get a muffin top. Your clothes shouldn't be uncomfortable to wear. Fashion doesn't always need to equal pain."
If you want to make sure you always look good, Padron suggests, "An easy hack to make sure you always look good is to define your waist. This can be done simply by wearing a dress that has a seam or waistband placed perfectly. You could also throw on a jacket or blazer to achieve a defined waist."
Be analytical, not critical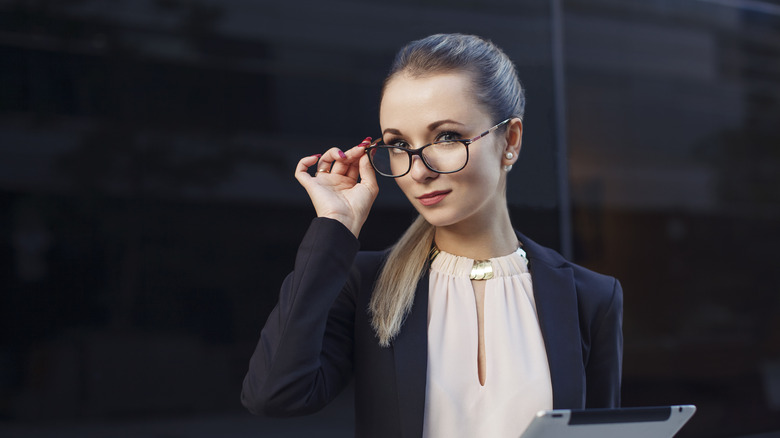 Shutterstock
Padron believes you should approach your wardrobe logically. "Make sure that you are analytical and not critical of your body shape," she explained. "Figure out what parts of your body you like to show off, and find clothes that accentuate those areas."
Having some favorite go-tos takes the guesswork out of your planning your outfits, especially on those days you aren't in the mood to think about what you are going to wear. "Choosing a great dress can absolutely be helpful here," Padron continued. "A dress is one piece that you can throw on, add some accessories, such as a jacket or blazer, and look completely polished. [This works] even when you're running late, having a fat day, don't have anything to wear."
Another part of being analytical is to make sure you periodically evaluate your wardrobe. "In addition to being analytical of your body, you should also make sure that you check on your clothes from time to time, especially if they have been tried and true favorites. Some materials hold up better than others, so you should check your older clothes for pilling, holes, fading, and staining. If your clothes have any or all of those features, it's time to either transition them to in house only or get rid of them."
Buy the right size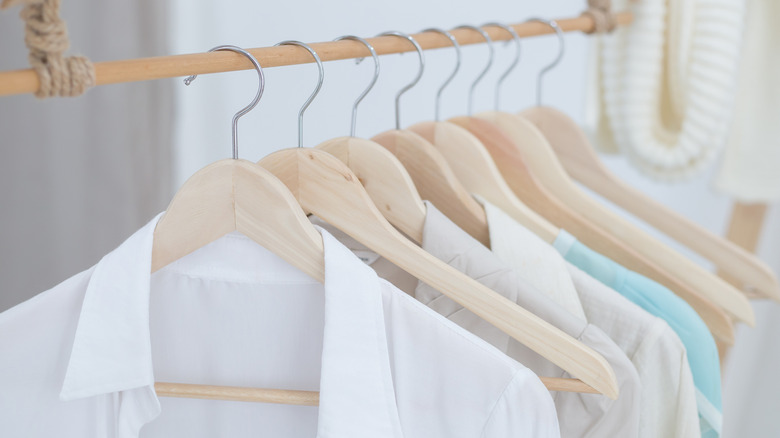 Shutterstock
Many of us make the mistake of buying the wrong size clothing. We either think we are certain size and stick to it or we don't consider the cut of an item when we choose a size. Stylist and owner of Lilac and Lilies Boutique, Michelle DiMarco thinks a big problem is that we are buying bigger sizes than we need. "People seem to think that bigger clothes will make us look slimmer, swallowing us in fabric. But that is a huge misconception," she said. "Everything should be body skimming. Vertical pieces are great for this rule and build length to the body."
On the other hand, Lindsey Bennett, who is the lead designer for Azazie thinks the problem is we are trying to wear clothing that is too small for us. She told me, "So often we get hung up on fitting into a certain size and end up buying something a little too snug." She explained this is a big issue when it comes to trousers. "Making sure your wide leg trousers drape softly over your legs is actually much more flattering than a pair that hugs your thighs." 
She also says that we need to seriously consider function when it comes to fashion. "For important events, such as your wedding, buying the right size will also guarantee you can rock your look for hours and still boogie down on the dance floor."
Wear proper undergarments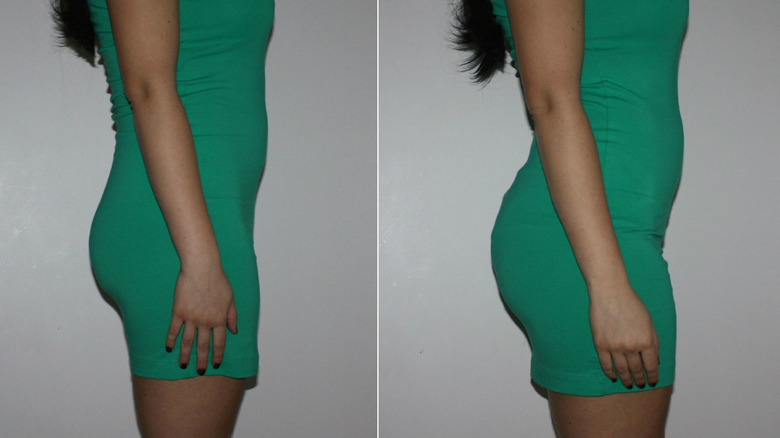 Shutterstock
According to Celebrity Stylist Ali Levine, a good outfit starts with the right undergarments. "Most of us haven't given much thought to our day-to-day undergarments and how they affect our figure. Though we all love our sexy, lacey thongs and pretty push-up bras, they're not necessarily the most flattering," she said, explaining, "It's the less exciting, more minimal foundation pieces that ultimately make you feel amazing."
Levine thinks a good bra is key and one essential is the t-shirt bra. "Unless you crave that extra lift, non-padded bras are generally the best under a t-shirt. T-shirts already extenuate your boobs, and a bra that is too big or lumpy will just make you look heavier."
A coverable bra is also a necessity. "A supportive, strapless bra with low-cut sides and convertible straps will keep you covered from look to look-whether you go one-shoulder, halter or completely strapless," she explained, but don't forget about a plunge bra. "When you're feeling like you want to show more of what you got in a lower neckline, a good plunge bra is essential. Make sure to go for one that sits low at the bust and has curved cups."
Levine also suggests ditching the granny panties for a proper thong. "V-string thong are perfect when you wear tighter skirts, dresses, pants and leggings. You also need a low-rise thong which sits comfortably on your hips and wont peep through your low-rise pants, skirt, or shorts."
Wear shapewear when necessary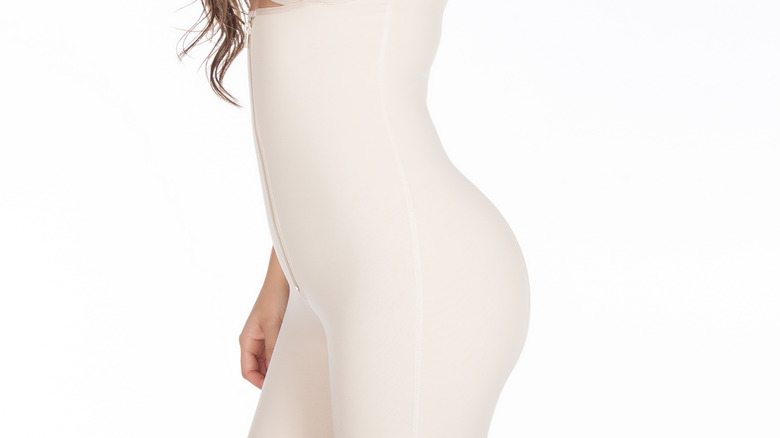 Shutterstock
Levine also suggests giving shapewear a try. "Shapewear allows women to have a skinnier and tighter figure," she said. "It could be worn day-to-day as well as for special occasions. The way that the elastic fabrics are cut makes it so that when worn, the garment nips and tucks the body."
Many women are afraid to try shapewear because it is rumored to be uncomfortable, but Levine says that is just not true. "If worn properly shapewear is actually pretty comfortable. There are different levels from ultra to light slimming-make sure it's not too tight!"
She also thinks it is the right way to address an area that really concerns you. "What's great about shapewear is that you could choose the part of your body that you want to alter the shape of, from your thighs to butt to stomach." But Levine does suggest you avoid buying shapewear online. "Its important to get the right fit, so in-store might be a better option than online since you get to try on different styles and brands to pick the best one for your body."
Embrace your shape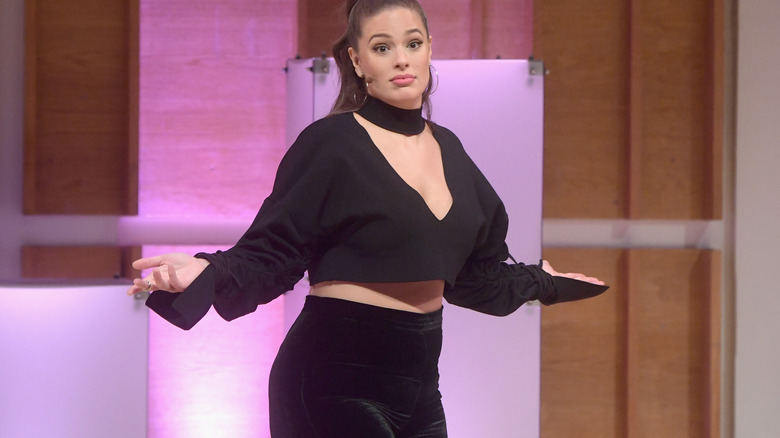 Getty Images
No matter what size you are, Bennett thinks the best approach is to work with what you have. "Embrace your shape! All women are uniquely beautiful and should do a little research on what looks the best for their figure."
Women with big busts for example, can have extra challenges, but Bennett thinks there are easy ways to create a balanced silhouette. "A woman lucky enough to have a full bust should avoid oversized or extra billowy tops," she explained. "We tend to choose these for comfort, but so often they make you look larger than you are. Find something that can emphasize your waist rather than hide it, like a high illusion neckline gown with a sash or jeweled belt at the natural waist. The illusion will give your bust the comfort and security but still add a hint of sexiness to your neckline."
Dress in layers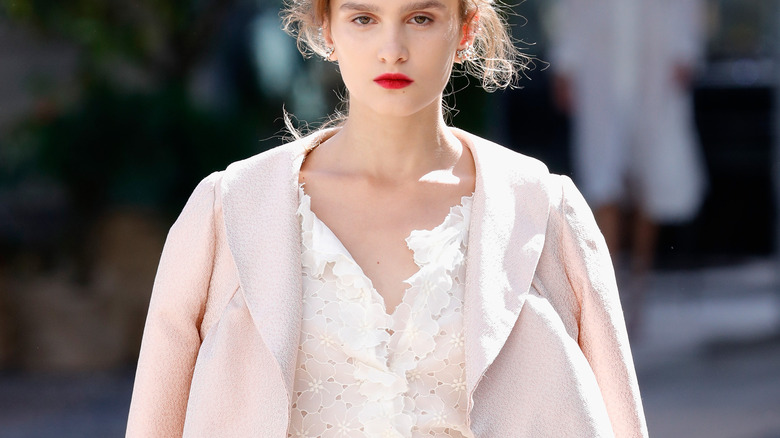 Getty Images
Layering is an easy trick to flatter your figure, but Bennett says there are guidelines to follow. "My basic rule for layering is to make sure the under layer is fitted. For example, add a pop of color to your fall wardrobe with a fitted t-shirt underneath a pullover sweater," she said. "The t-shirt needs to be longer and tighter than the sweater you wear over it."
Bennett also suggests layering for formal occasions. "Are you a bridesmaid? With the bride's approval, of course, find a shawl or a jacket that drapes over your dress nicely. I love the look of a beaded or sequin jacket with kimono sleeves, which are wide enough to not interfere with the straps or sleeves if your gown has them."
Use prints to your advantage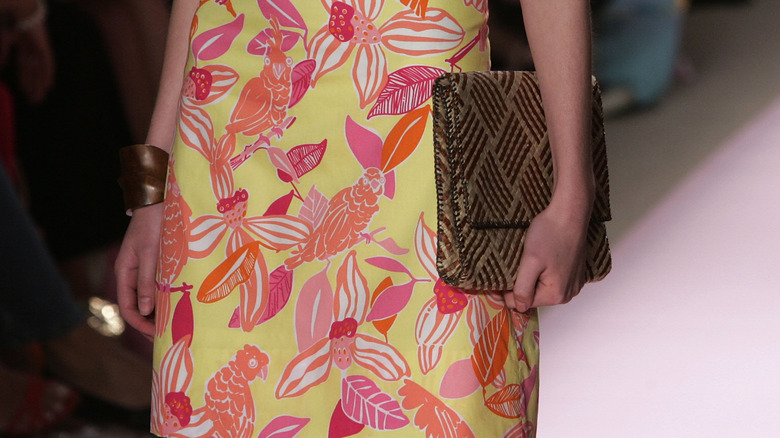 Getty Images
DiMarco thinks the best way to hack your outfit is to create illusions. One way to do this is through prints. "Prints and funky colors help give you a slim silhouette. They make us look slimmer and taller. The patterns actually trick the eye into focusing on our noble spots rather than our not so good spots."
If you want to flatten your midsection, DiMarco suggests thinking about your hemline. "Add an a-symmetrical hem to the mix. The typical blouse hem going straight across the waist is out, plus it actually makes us look larger. Try an a-symmetrical hem, which tricks the eye into moving in a diagonal line and instantly makes the tummy look flat."
Choosing the right jeans can also slim your legs. DiMarco's approach is to go for bootcut. "Give the boot to those boring jeans. Everyone should have a pair of flared or boot cut jeans. Boot cut jeans are the most flattering of all and the flare at the ankle will give a long, lean appearance."
Choose the right fabrics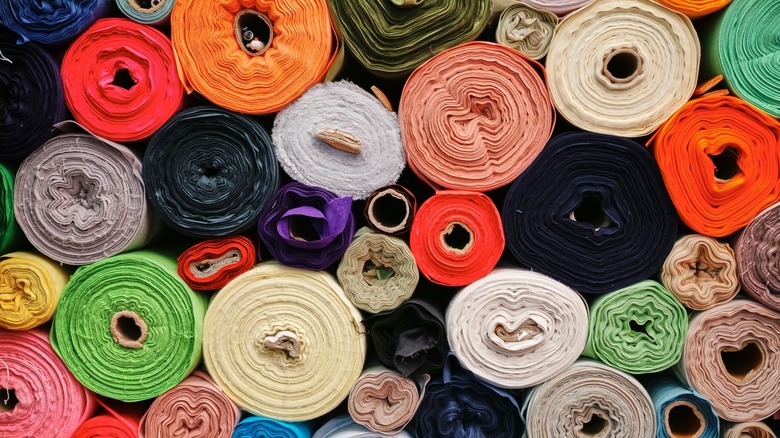 Shutterstock
Levine explained, "Utilizing fabric materials and colors is one of the best ways to portray the illusion of a slimmer frame. It makes you look lighter while also allowing you to flaunt what you've got and stay comfortable." If you are worried about looking too big, Levine says to avoid firm fabrics. "Firmer fabrics naturally stay further away from your body, making you look a little bigger or boxier."
She also says bulky fabrics such as taffeta, denim, brocade, and wool are a no. "They will add visual weight, making you look heavier. Softer fabrics like jersey, crepe, cotton, chiffon, silk, and velvet tend to stick closer to your body, which make you look smaller." 
While stripes can be beautiful, they can also steer you wrong says Levine. "Horizontal stripes make you look wider. Vertical up and down patterns will make you look leaner and taller." But if you follow just one tip, Levine says it's best to choose dark colors. "Darker hues always tend to make you look slimmer."
Accessorize properly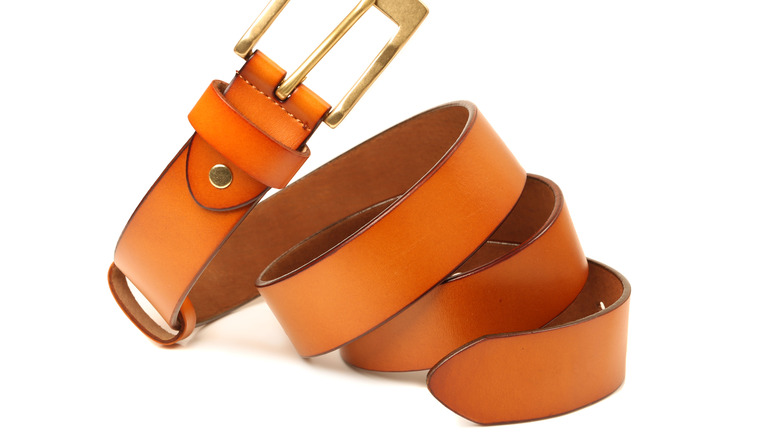 Shutterstock
Levine says accessorizing properly can make a big difference. Jewelry can be a simple fix. "Accessorizing with jewelry can help guide peoples attention. If you're looking to draw attention away from the lower half of your body, big statement necklaces are great for redirecting the attention elsewhere."
She also suggested that belts can help you look thinner. "When choosing the right belt, taking your height and torso into account is crucial. If you have an apple body shape (more top heavy), belt it right under your bra and create a sort of a high waist. If you have a square body shape, wear your belts on your natural waistline because this makes your body look curvier while the ladies with natural curves need to find the narrowest part of their waist to point out."
Pick the right shoes and bag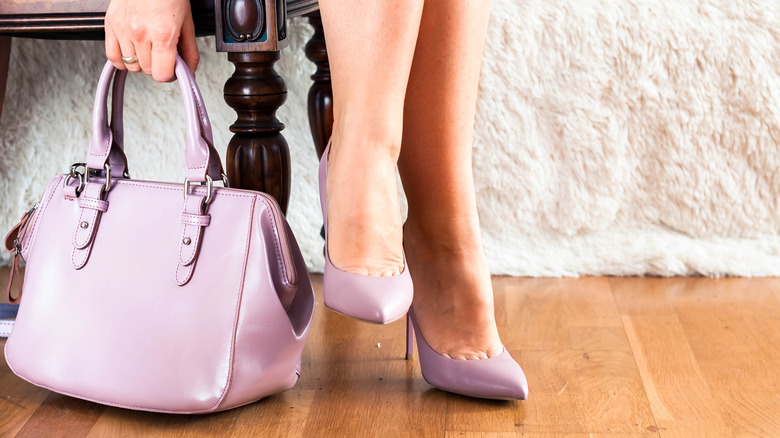 Shutterstock
Levine says that your bag can change your entire silhouette. "Dress slimmer with bags. Choosing a bag that is proportional to your body makes a world of a difference. Smaller bags on taller women makes them look even taller, while big bags on smaller women make them look even smaller. If you want to draw attention away from your hips, cross-body bags are a great option. They draw attention to the waist and away from the hips."
Shoes can also be a game changer, according to Levine. While you can't suddenly become taller, the right pair can give the illusion of longer legs. "Avoid wide ankle straps, as they will make your legs seem shorter. Pumps and sandals without those ankle straps make you look longer by elongating the line of your body. If you are on the petite side avoid chunky, geometric platforms and fluffy boots! Simpler styles like classic pumps, ballet flats, and leather boots without much detail will slim you down and make you look taller."