6 Activities To Do With Your Kids To Celebrate Christmas In July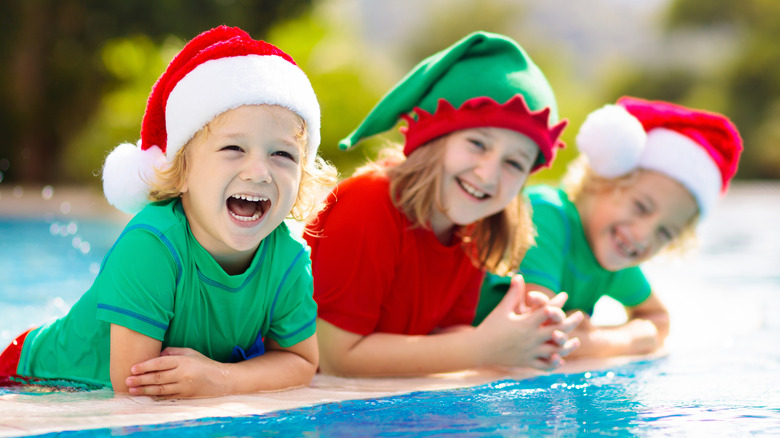 FamVeld/Shutterstock
We may receive a commission on purchases made from links.
Every parent knows it can be a challenge to keep their children entertained during summer months while school is out and days are longer. By the time July hits, there's a good chance you've already gone somewhere special on vacation, burned through your collection of beloved family-appropriate movies, and are sick of trips to the local children's museum or parks. Why not celebrate Christmas in July next? While the observance is really only a marketing tactic by retailers looking to fill the lull between July 4th sales and back-to-school shopping, many families have grabbed hold of the excuse to celebrate, too. After all, cooling off during one of summer's hottest months — even if it's only in spirit — offers a fun and entertaining break from summer routines. 
While there are plenty of fun activities to include in your festive celebrations, there are also opportunities to educate and teach your children important life skills, too. Best of all, you don't have to bust your budget to enjoy your revelry. Grab your Santa hats and prepare to get crafty. We've gathered a handful of activities to consider for your holiday-themed merrymaking with kids.
Have a countdown to Christmas in July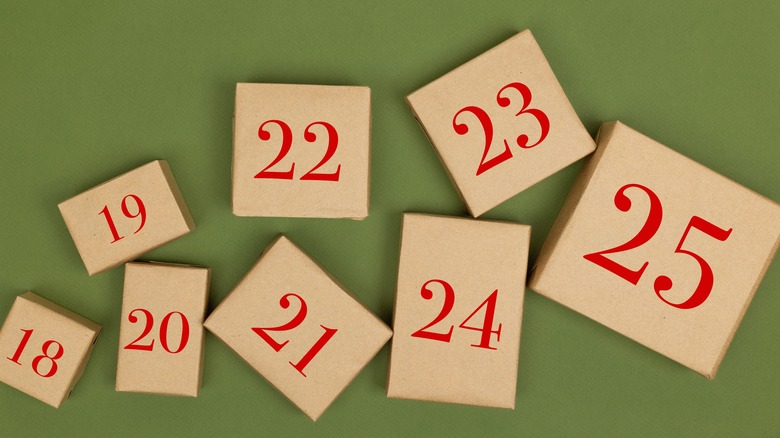 Sukhacheva Marina/Shutterstock
If you want to make the most of your Christmas in July celebration, sit down and create your own advent calendar of activities. You can choose a 12-day countdown or shorter — it's up to you! Plan a special themed activity for each day using this list as inspiration, or mine the internet for ideas, all culminating in a special Secret Santa exchange on the final day. Make sure to pencil in time on Day One to draw random names from a hat for the gift exchange, and encourage your children to create their presents. Not only will this give the kids something to anticipate, it will help keep you from running out of ideas too soon. 
Even if you set aside only an hour a day for holiday-themed crafts or simply turn on "The Polar Express" one afternoon, you'll have scheduled time to engage with your children outside of your normal routine. 
Ugly sweater competitions make for a fun day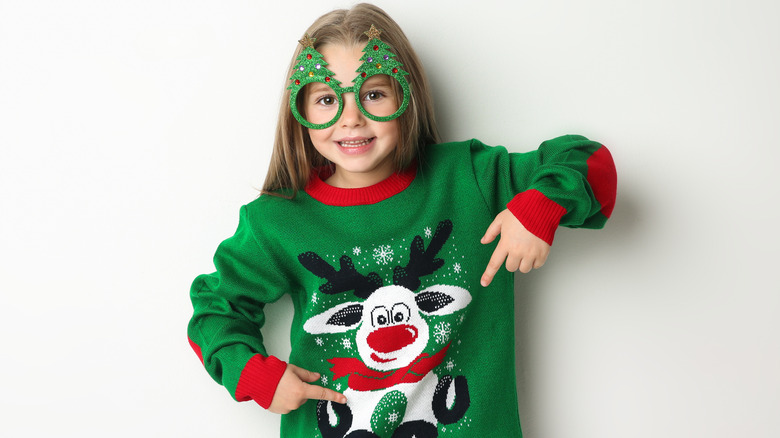 New Africa/Shutterstock
Let's be honest. No one wants to wear long sleeves in July, let alone put on a sweater. While you can always crank up the air conditioning to chill your indoor party, making sweaters an option, you can also adjust the rules to accommodate the summer sun by having an Ugly Shirt Day instead. You'll find inexpensive plain shirts at many discount stores or online, and there are numerous online videos that offer instructions for kids to design and create their own shirts, such as this one by Amy Locurto. Encourage your kids to be creative, funny, or festive in their creations, then plan a fashion show to display them all off. 
If that sounds like too much work, don't worry. You can also grab the kids and visit local thrift stores in search of ugly Hawaiian shirts for a fashion show around the pool. Not only is it an entertaining way to spend a day, but you'll treasure the photos from it.
Plan a Christmas karaoke pool party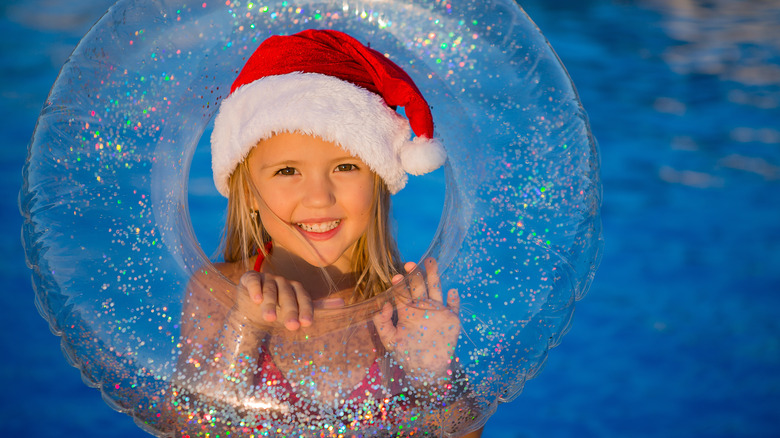 Kristina Igumnova26/Shutterstock
Pool parties are a popular way to pass the summer days, so why not combine your celebration with some fun in the sun? If you don't already have one, you can find kids karaoke machines on Amazon for around $25 — perfect for adding fun entertainment for your Christmas-themed luau. Have guests pick their favorite holiday tune, and see who belts out the best rendition of "Rudolph the Red-Nosed Reindeer." Terrible singers can be pushed into the pool if they give their consent — watch out, Dad! — while everyone snacks on tasty sugar cookies, non-alcoholic drinks perfect for summer, and enjoys a side game of pin the tail on the reindeer. 
Who knows? Even Santa Claus himself — or a guest willing to don a hat, beard, and Hawaiian shirt — might make an appearance. You haven't lived until you've heard him sing "Jingle Bell Rock" while your little elves dance around the pool.
Pick a summer service project for the entire family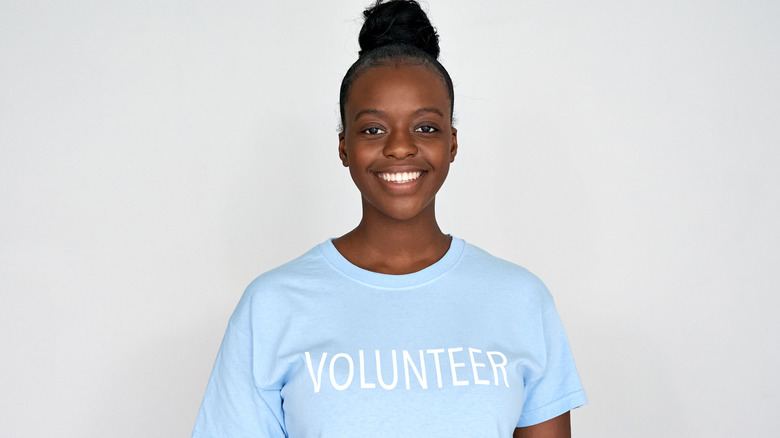 Ground Picture/Shutterstock
In the spirit of giving, select a summer service project your family can do together. Kids of all ages can learn the life lesson of serving others, even if it's as simple as writing letters to residents of a local nursing home or children's hospital. Their drawings and words can bring a smile to a recipient's face — and might start a lifelong friendship. Consider your children's interests and get their feedback on ways to volunteer in your community. Organizations such as Meals on Wheels and animal shelters allow children to volunteer with a parent or guardian supervisor. 
On a smaller scale, visit your neighbors and ask if they need help with their gardens, mowing, or dog walking. You might be surprised to learn some of them are housebound or need assistance from younger helpers every now and then. If all else fails, teach your little ones how to make lemonade and create a lemonade stand, with proceeds going to the Alex's Lemonade Stand Foundation, which raises money for childhood cancer treatments.
Host a polar picnic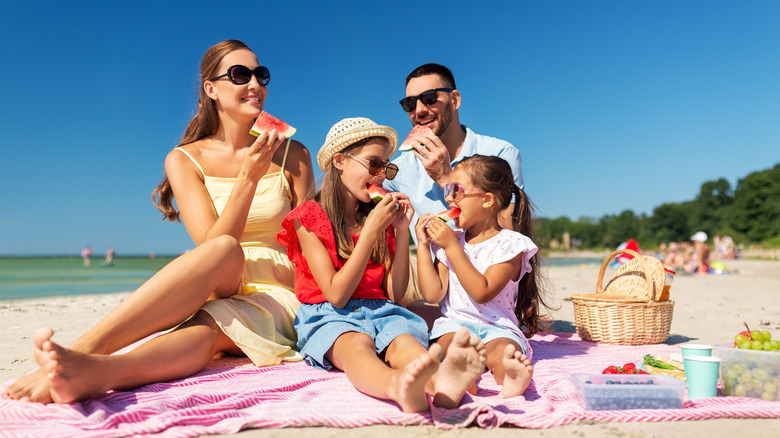 Ground Picture/Shutterstock
Summertime is great for enjoying a watermelon picnic on the beach, but the sandy shores can also make the perfect setting for a polar picnic, too. Take advantage of your little helpers in the kitchen and create a menu of holiday-themed items. Need some ideas? ElfOnTheShelf.com offers recipes for a Snowman Fruit Salad, Reindeer Sliders, and red and green lemonade. You'll also find holiday recipes for baking if you want to include a traditional dessert in the mix. Gather the whole family, a blanket, and set out for your favorite park or beach to dine on your festive meal. 
Plus, there are plenty of games you can play to observe the occasion. Stop by your local discount store for cheap toys and hide them around the area for an after-meal scavenger hunt. Stage your own snowball fight — using water balloons as stand-ins for snowballs. You can also test your kids on their holiday trivia, asking questions and educating them about holiday customs around the world. 
Host a holiday-themed book club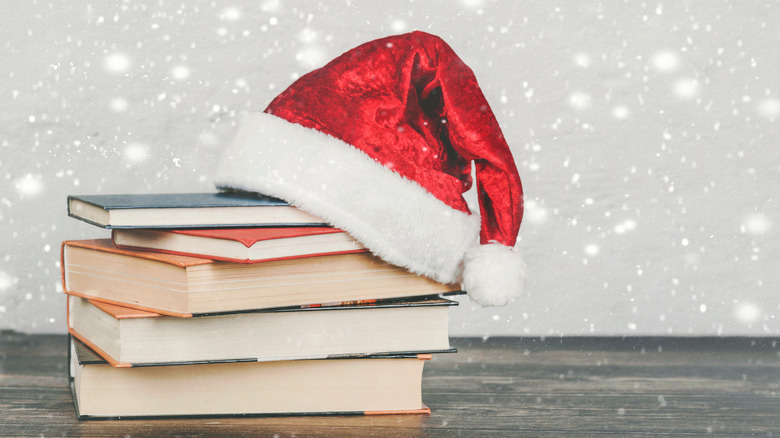 esthermm/Shutterstock
Know how much you love reading the latest bestseller while sunbathing on the beach? Hint: Your kids might enjoy it, too. Summer is a perfect time for hitting up your local library to encourage your children to read more. During your Christmas in July celebration, it's only appropriate that you each select books themed around the holiday to discuss during your very own family book club meeting. You can browse Goodreads for a list of recommendations, or simply ask your local librarian for age-appropriate reads. 
It doesn't matter if they choose classic favorites such as "The Best Christmas Pageant Ever" or new-to-them stories such as "How to Catch an Elf." Set a deadline by scheduling a night to gather in your pajamas, make a tent fort in the living room or backyard, and chat about the stories you've all read. Not only does this offer excellent family bonding time, but it might foster a lifelong love of reading in at least one of your kids.