Dermatologist Reveals The Best Laser Skin Treatments For Every Decade Of Your Life – Exclusive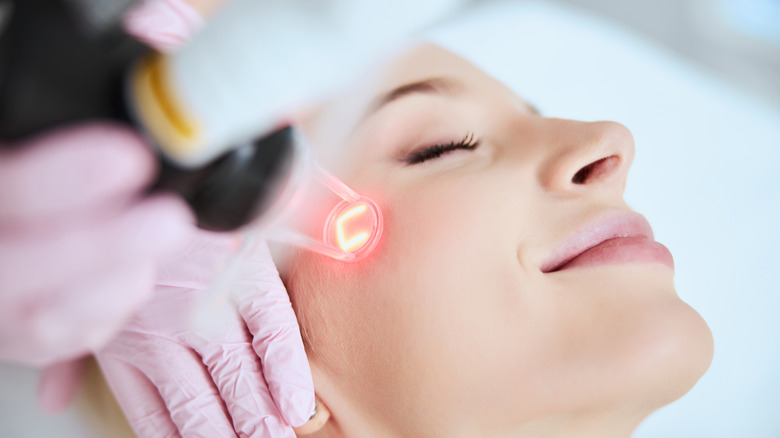 YAKOBCHUK VIACHESLAV/Shutterstock
When we're young, it's easier to take our health for granted, but as we get older, it's more important to take care of ourselves and make regular doctor visits for preventative care. The skin is the body's largest organ and is also prone to aging, while preventative skincare is excellent for delaying premature signs of aging like wrinkles and sagging; we can't stop aging altogether. Brands always come up with skin care products that promise miracles, but if you expect exceptional results from skincare products, you'll be disappointed. 
According to the American Academy of Dermatology Association (AAD), even the best products might only give you subtle results, with the likelihood of no change at all. If you want dramatic results, you need to turn to surgery, which can be expensive with significant recovery time. However, if you prefer noticeable results that are cheaper and non-invasive like surgery, you can also try skin-tightening lasers as they have a shorter recovery time. It's an excellent alternative for people who aren't ready to try Botox and fillers that involve needles.
To learn more about lasers, we spoke with Manhattan-based board-certified dermatologist Dr. Macrene Alexiades who specializes in laser surgery. With an M.D. and Ph.D. in genetics and over two-decades-long research experience, Dr. Alexiades is a skincare expert with extensive experience using lasers to treat acne, brown spots, cellulite, melasma, and even non-surgical facelifts (via NY Derm). Here she spills the tea on what laser treatments work best for every decade.
The best laser treatments in your 20s, 30s, and 40s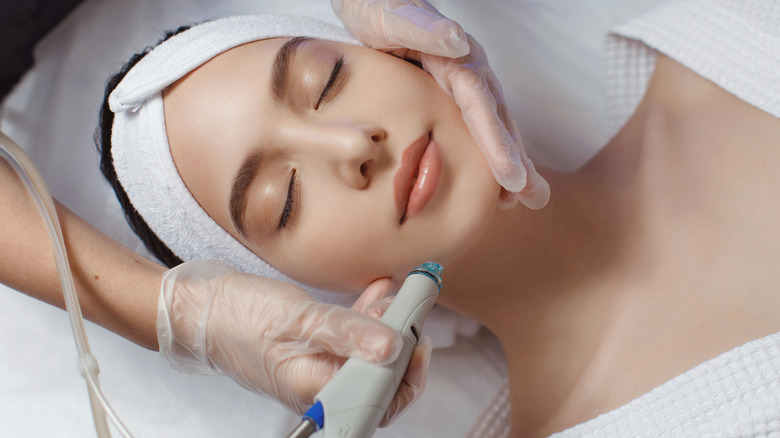 Vyalov Denis/Shutterstock
According to WebMD, laser skin treatment is a cosmetic procedure that "removes skin layer by layer with precision,"  and helps produce new skin cells that make your skin appear tighter and younger overall. Dr. Macrene Alexiades told The List, "When it comes to smoothing wrinkles and fighting the effects of time, the best anti-aging comes from well below the skin's surface. For those who want the dramatic results of a deep treatment without going under the knife, the latest laser procedures offer a non-invasive yet effective alternative." She added that many kinds of laser treatments rejuvenate your skin's appearance at every age.
You might think you need to notice the signs of aging to start laser treatments, but that's not the case. According to Dr. Alexiades, you can start it in your 20s and said, "Seek laser treatments that stimulate new collagen production to fight fine lines and reduce redness — combine with an IPL (intense pulsed light) procedure." This helps with brown spots and sun damage for the best results. For your 30s, she recommends seeking treatments to even out skin's texture and tone as "the thermal process causes cellular contraction to tighten the skin around the face and neck." 
If you're in your 40s, Dr. Alexiades advises a "fractional laser resurfacing procedure that emits tiny pulses of energy that immediately tighten and smooth skin's surface, as well as rejuvenate the tissue to facilitate the natural healing process."
The best laser treatments in your 50s and 60s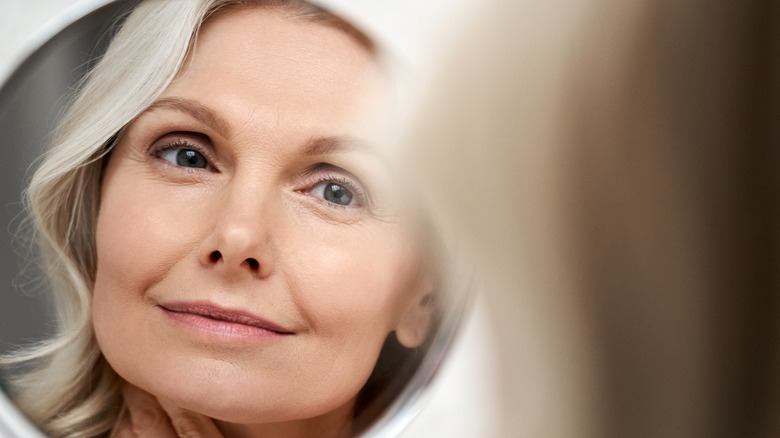 Ground Picture/Shutterstock
Laser treatments, a.k.a. laser skin surfacing, can treat wrinkles and sagging skin for everyone. They are either ablative or non-ablative. According to Healthline, ablative laser surfacing treatments work on deep wrinkles and scars that might require a little extra help, and non-ablative helps with more superficial skin issues like rosacea and acne.
Dr. Macrene Alexiades told The List the best option for laser treatment in your 50s is a "fractional laser device that combines infrared light and bi-polar radio frequency technologies to initiate collagen and elastin production and diminish the appearance of more set-in creases." This would be an excellent treatment at this age, as our skin tends to sag and form deeper wrinkles as we get older.
Laser treatments can give impressive results compared to any skincare product without the costs and risks involved with surgeries. According to Dr. Alexiades, laser treatments can also benefit your skin in your 60s. "While most laser treatments address skin's issues at a surface level, an energy-based laser that penetrates the deep dermis to go beyond just stimulating collagen and target elastogenesis and hyaluronic acid for dramatically improved volume and structure," she told us.
It's essential to care for your skin after so your skin heals properly as your skin barrier is compromised, per Allure. Avoid the sun and makeup as directed and use skin barrier products that are safe to use post-treatment, like MACRENE Actives High-Performance Face Cream Extra Rich.