The Hollywood A-Lister Shortlisted To Play Prince Andrew In An Upcoming Flick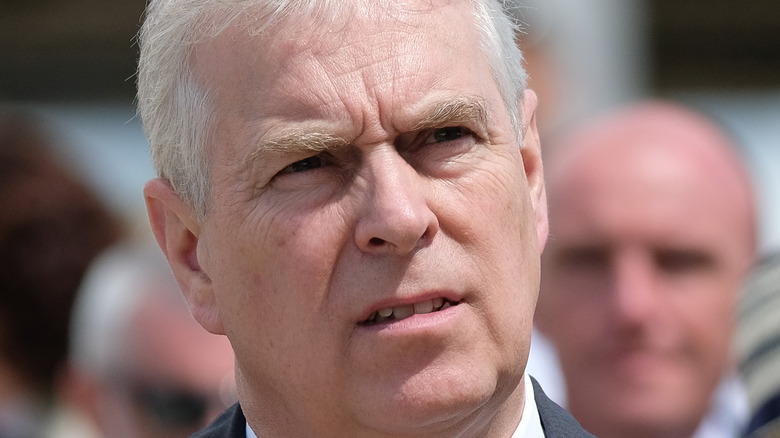 Ian Forsyth/Getty Images
Prince Andrew's attempt at reinstating his royal status isn't going how he hoped. 
The Duke of York was forced to miss the queen's Platinum Jubilee celebrations in June 2022 after testing positive for COVID-19, per The Guardian, and was subsequently left out of the Order of the Garter after objections were raised by other members of the family. The Sun confirmed that Andrew would not be publicly present at the event and would instead only be allowed to participate behind closed doors.
The prince was hoping it would be a step toward figuring things out so he could finally return to the fold, but Prince Charles, the Prince of Wales, and his son Prince William, the Duke of Cambridge, raised concerns over potential "backlash" from the public if Andrew were photographed in attendance. 
Under intense pressure, the queen advised Andrew that it would be in his best interests to sit this one out. He has already requested the return of his royal patronages and honorary military titles after he was stripped of them months ago.
The sex abuse scandal in which he was embroiled dominated headlines throughout the duke's highly publicized court proceedings. Fortunately, after he agreed to pay an undisclosed settlement to accuser Virginia Giuffre, Andrew didn't have to endure a civil trial. 
He could soon be tried in the court of public opinion, however. A new movie is in the works with a huge celebrity reportedly under consideration to play the disgraced royal.
This A-lister is rumored to be in talks to portray the beleaguered prince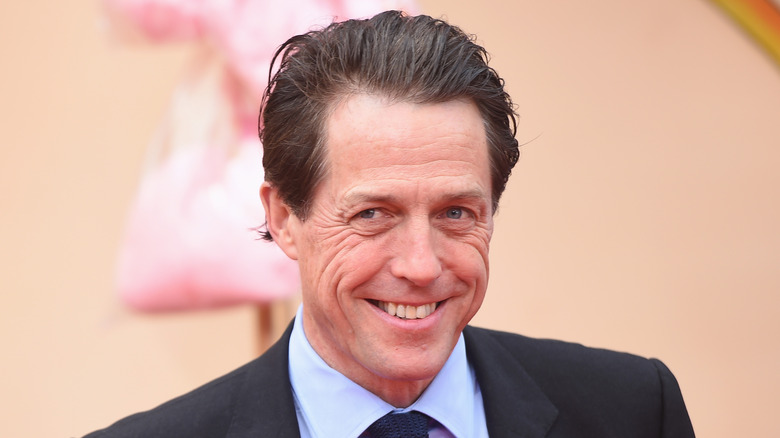 Stuart C. Wilson/Getty Images
Prince Andrew's infamous BBC interview will be at the center of an upcoming movie, with rom-com star Hugh Grant being considered to play him, Deadline reports.
The film, entitled "Scoop," will delve into how the BBC obtained its interview with Andrew, the Duke of York, during which he discussed his close relationship with disgraced financier Jeffrey Epstein. Also during the bombshell chat, Andrew memorably claimed he was physically incapable of sweating.
Grant is just one of the big names being considered to portray Andrew in the juicy project, which is being scripted by "Your Honor" screenwriter Peter Moffat, based on the book "Scoops: Behind the Scenes of the BBC's Most Shocking Interviews" by former "Newsnight" staffer Sam McAlister. Shooting is due to begin in November 2022, though a director hasn't been secured just yet. 
The big question surrounding the "Newsnight" interview is why Andrew agreed to it in the first place. "How was it that he decided it was a good idea to do a great big long interview with Emily Maitlis on the BBC?" Moffat wondered.
The news will likely come as a shock to the royal family, particularly considering how Andrew's scandal hurt the queen's reputation. As royal expert Chris Ship wrote on Twitter, "Just when the royal family hoped they'd be able to move on from Prince Andrew... someone decided to go and make a movie all about him and *that Newsnight interview."
Where does Prince Andrew currently stand with the rest of the royal family?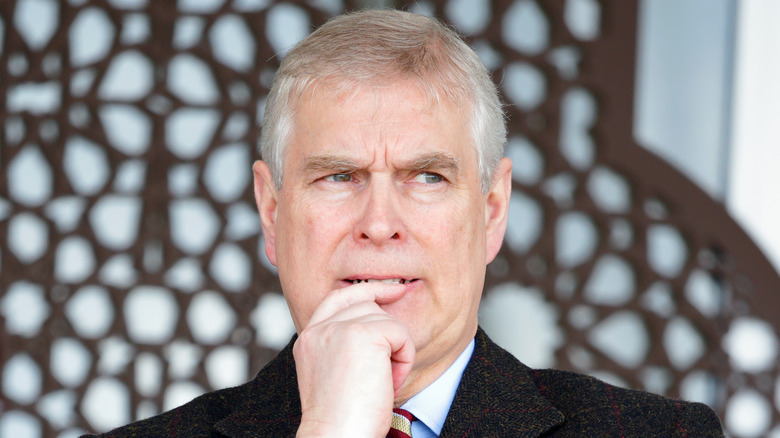 Max Mumby/indigo/Getty Images
The big announcement couldn't have come at a worse time since the royal family has reportedly employed several tactics for keeping Prince Andrew behind closed doors. 
Earlier this year, The Sun reported that Prince Charles had ordered his brother to remain "out of sight" and away from their mother's home in Windsor Castle, especially. As a royal insider explained, "Charles does not want Andrew to be photographed every other day looking happy and waving as he is driven to the castle." 
The Prince of Wales has been gradually taking over certain official duties due to the queen's declining health, and he's emboldened to protect the monarchy's legacy as a result. 
The source pointed out, "Eventually Andrew will be made to leave Windsor and could get several million pounds from the royal family. But he has made it clear that he will hang on for dear life." When Charles becomes king, he might force his brother, and his former wife, Sarah Ferguson, to relocate accordingly.
In fact, Ingrid Seward, royal expert and editor-in-chief of Majesty magazine, told the Daily Mail that arrangements would likely be made to ensure Andrew was "financially secure" because, otherwise, "he will be more trouble and start talking and giving TV interviews and writing books." Both Seward and fellow royal expert Jack Royston agreed that the Duke of York simply cannot come back from this and will have to accept his lot in life.