Here's What Bella Hadid Looks Like Going Makeup Free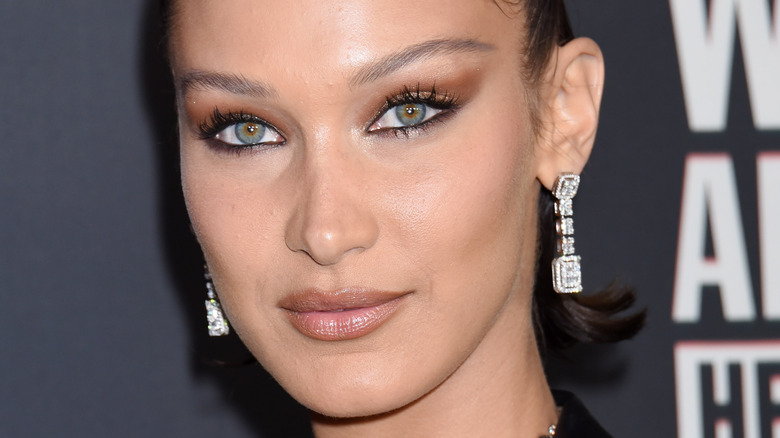 Ga Fullner/Shutterstock
Bella Hadid first captured the world's attention when she followed in her fellow-model sister Gigi Hadid's footsteps and debuted her runway skills in 2015 at New York Fashion Week during a Tom Ford fashion show (via Biography). Since then, Hadid has gone on to be the face of notable campaigns for esteemed brands like Balenciaga, Versace, Marc Jacobs, and Moschino, to name a few — not to mention she's graced countless covers of magazines from Vogue to V Magazine to Allure, as her Instagram shows.
In fact, it was revealed this month by L'Officiel USA that Hadid is the world's most beautiful woman, deemed by cosmetic surgeon Julian De Silva who used the Golden Ratio theory to collect scientific data about face symmetry. Hadid ranked #1, resulting in 94.35% symmetry of cosmetic beauty. 
That being said, Hadid cleared up rumors about her getting substantial plastic surgery (such as receiving an eye lift, lip filler, and a sculpted jawline) telling Vogue in March 2022 that she regrets getting a nose job at 14, commenting: "I wish I had kept the nose of my [Palestinian] ancestors. I think I would have grown into it."
Despite Hadid oftentimes being in glam for photoshoots, she's been public about her looks with and without makeup. Here's what Hadid looks like going makeup-free, and how she obtains a dewy fresh face. 
How Bella Hadid achieves her coveted clear complexion
Bella Hadid isn't just known for rocking her smize on worldwide magazines and campaigns, but for baring her fresh face makeup-less look to her 53 million and counting Instagram followers. Back in 2016, Hadid shared her quick makeup routine for Vogue's Beauty Secrets YouTube series, but in more recent years she's shared aspects of her skincare routine to achieve glistening skin.
In January 2022, Hadid took to TikTok to film a "Get Ready with Me" vlog where she used multiple skincare products like moisturizer and serum before jetting off to set. However, there was one standout product that had people talking. StyleCaster cited one of the products Hadid used was a disco ball-looking tool that rolls onto the face for refining and definition in places like the jawline, neck, and face. The product Hadid reportedly uses is the Carat Ray Face roller from ReFa. At a hefty price of $250, the facial roller is supposed to aid puffiness and smooth lines to carry out a more contoured, chiseled look.
Hadid's friend Isamaya Ffrench, a makeup artist, posted Hadid on Instagram showing herself dunking her face in ice water. Elle reported that the benefits of icing the face can help reduce puffiness and inflammation and improve blood flow. 
Skincare products that can help achieve the Bella Hadid look
Now that we know some of Bella Hadid's hacks to healthy, glowing skin, we can also try to emulate her skincare routine with specific products she swears by. In 2018, Harper's Bazaar reposted an Instagram post Hadid penned that shouted out German aesthetics doctor, Dr. Barbara Sturm, and her line of skincare products that Hadid claimed: "changed her skin forever." Though Hadid receives facials, some products the magazine recommended to help achieve a similar look to Hadid's post-facial glow are the brand's face mask, calming serum, cleanser, and hyaluronic serum.
Hadid's facialist Kristyn Smith chatted with InStyle in 2021 and revealed the products that those who envy Hadid's gleaming skin can try to attain. Smith told the magazine that she recommends clients do a double cleanse, then use a subtle toner, serum, moisturizer, and sunscreen to finish.