Experts Claim JLo's Wedding Band Has A Shockingly Different Price Tag Than Her Engagement Ring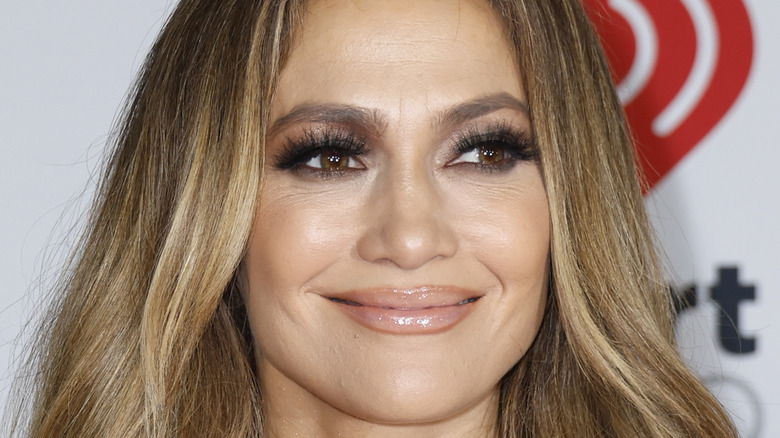 Frazer Harrison/Getty Images
It's official: Jennifer Lopez and Ben Affleck are married. People confirmed the happy couple tied the knot in a surprisingly low-key Las Vegas ceremony at the Little White Chapel, shortly before midnight on July 16. Lopez and Affleck got engaged back in April, after initially splitting almost twenty years ago. They rekindled their romance, much to fans' delight, in 2021. Although Bennifer, as they were known, were one of the most documented couples of the early-2000s, this time around it's been a very different story.
Lopez shared the news in her "On the JLo" newsletter, gushing, "We did it. Love is beautiful. Love is kind. And it turns out love is patient." She continued, "Last night, we flew to Vegas, stood in line for a license with four other couples, all making the same journey to the wedding capital of the world." The superstar singer went on to share how the chapel had to stay open a little later to accommodate them. 
Unfortunately, their resident Elvis impersonator was asleep by then so they had to do without him. Everything else, fortunately, was perfect. In fact, according to an expert, Lopez and Affleck's wedding was really special primarily because it was so different from their originally planned affair in 2003. People also notes that Lopez wore two wedding dresses, one of which the "Marry Me" star acknowledged she'd been "saving" for a special occasion for years.
As it turns out, Lopez's wedding band was similarly understated.
The classic platinum piece is considerably cheaper
Jennifer Lopez's unexpected wedding dress choices took everyone by surprise and her ring is just as noteworthy. Although Lopez's engagement sparkler was valued at more than $3 million, the superstar's wedding band is considerably more low-key. According to engagement ring specialists at UK retailer Steven Stone, it's a 6mm platinum band, worth around $2,000. Leading diamond expert Zack Stone elaborated that, although "it's a fairly simple band, it perfectly matches the simple wedding that the couple went for."
Jenny Luker, president of Platinum Guild International USA, guesstimated it was even more reasonably priced. As she enthused to Hello! magazine, "Jennifer's wedding ring is a classic and timeless style! It looks like a wide, domed platinum band. Jennifer's ring is a beautiful symbol of her love and commitment to Ben because platinum is precious, rare and lasts a lifetime. I would estimate this ring costs around $1,000."
JLo's engagement ring, on the other hand, includes a natural green diamond that's been treated to enhance its color, utilizing HPHT temperature treatment, and boasts around nine to ten carats, per Steven Stone. An elongated cushion cut, it has three stones including two tapered baguettes. Us Weekly suggested it could be worth an eye-watering $10 million, but Luker reckons it's closer to $5 million. 
Either way, clearly the engagement ring was the pricier of the two, likely because making a commitment was more important to the couple.