How Barack And Michelle Obama Kept Things Fun While In COVID Quarantine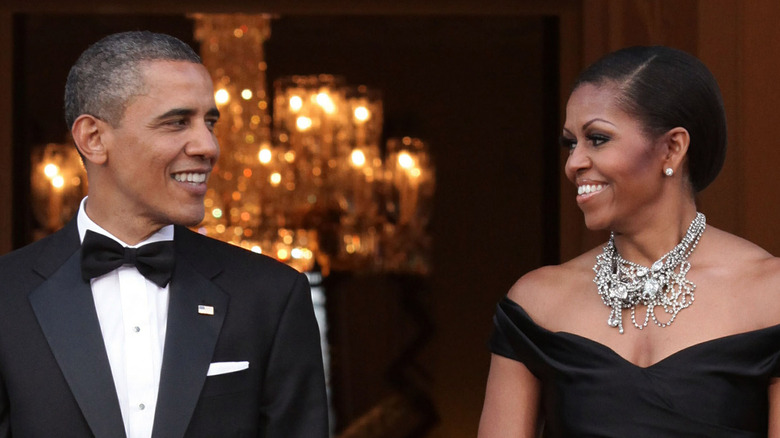 Wpa Pool/Getty Images
The COVID-19 pandemic has been tough on everybody, but Michelle Obama is well known for putting a positive spin on a bad situation. In an interview with People, she acknowledged, "These have been challenging times. Many people have struggled: jobs lost, people going hungry. We've learned to count our blessings, the importance of health and family." 
Michelle had just wrapped filming on her Netflix series "Waffles + Mochi," but she took the opportunity to regroup accordingly. Among other things, the former first lady took up knitting and also became a better swimmer to counteract getting older and being unable to go as hard in the gym as she used to. 
"I worked myself up to almost a mile of swimming laps," she said. "Now, can I do that right this second? No. But this summer, I'm getting back into the pool." 
It wasn't always easy, though, with the best-selling author acknowledging the anxiety she felt over the pandemic. In fact, Michelle reassured everyone that we were all feeling the same. During an appearance on "The Late Show with Stephen Colbert," she opined, "Nobody rides life on a high." 
Michelle wanted to make it clear that, no matter what, everybody was struggling at some point — including her. "You're not going to feel great all the time," the former first lady confirmed. "So give yourself a break."
She was certainly speaking from experience since, despite their best efforts, Michelle and her husband, former President Barack Obama, found it tough to keep lockdown exciting for their kids.
The Obamas did their best to fill the time with activities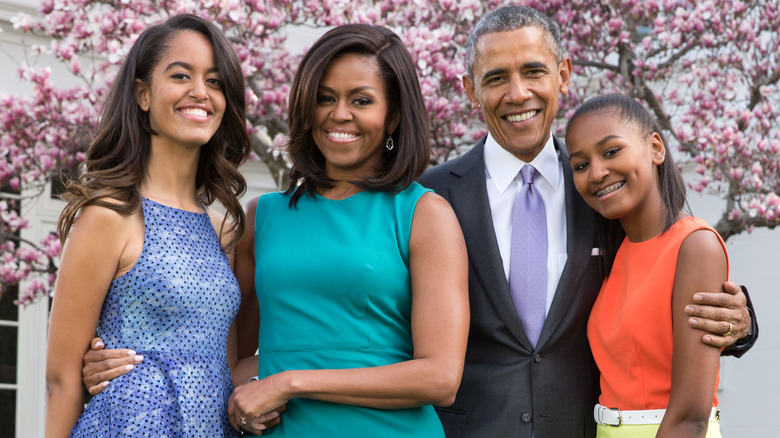 Handout/Getty Images
Plenty of parents struggled to keep their kids entertained during the COVID-19 lockdown, and Barack and Michelle Obama were no different. The former president and first lady were stuck in quarantine with daughters Malia and Sasha Obama. 
At first, the foursome enjoyed spending quality family time together, but the mood soon changed. As Michelle revealed, during an appearance on "Jimmy Kimmel Live," they initially worked in the daytime while the kids studied. 
They then gathered together to enjoy some fun activities, such as painting, baking, or doing puzzles — usually accompanied by wine — in the evenings. However, "Then the kids would come down later, be a little more surly." As the "Becoming" author noted simply, "We ran out of fun stories to tell." 
The longer it dragged on, the harder it became to be stuck together, and, a year into the lockdown, Michelle admitted that the girls were barely even greeting their parents at the dinner table anymore.
Of course, her relationship with Malia and Sasha changed anyway because, as Michelle explained to People, they were returning home from college. She shared, "They didn't come back into the house into the same set of rules, because I didn't want them to miss out on independence. They came back as young women and our conversations are more peer-oriented than they are mother-to-daughter." 
Thankfully, despite the hardships, Michelle reckons that being stuck together for so long strengthened their relationship.
Quarantine soon started to wear on the family's nerves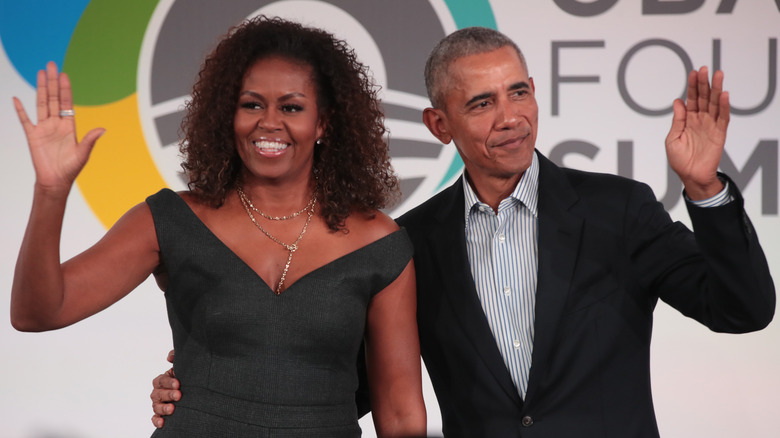 Scott Olson/Getty Images
Early on in the pandemic, Michelle Obama acknowledged during a phone call with Ellen DeGeneres (via Twitter) that she shouldn't have boasted about her empty nest because "the gods were getting me back. They're back!" 
Malia was studying at Harvard at the time, while Sasha was at the University of Michigan. According to the former first lady, the key to not killing each other when they were all in quarantine together was sticking to a routine. 
Michelle was cognizant of how lucky their family was. "I feel for all the folks who are going to suffer because of what's going to happen to the economy and we have to be mindful about what we're going to do to support those folks when this quarantine is over and people are looking at what's left of their businesses and their lives, and that is a negative," she said. She also empathized with her daughters since young people suffered without stimulation.
However, the former first lady also argued that it gave them all an opportunity to have a proper conversation for the first time in a while. Before too long, though, they all grew tired of each other, as Michelle joked during an appearance on "Conan" (via Us Weekly). Summer mitigated the situation since the warmer weather meant the girls could venture out a little bit more. 
Still, although they tried to keep it fun, even Michelle and Barack had to admit defeat after a while.