An Awkward Clip Of Meghan Markle And Prince Harry's PDA Is Raising Eyebrows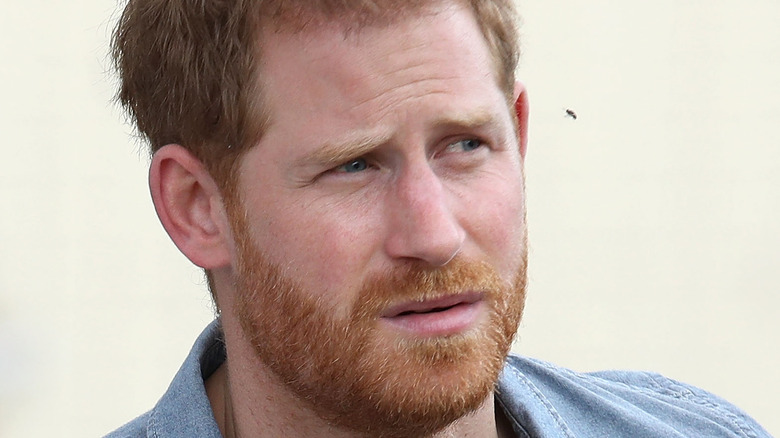 Chris Jackson/Getty Images
Fans of the royal family have made it clear that they are not big on the marriage between Meghan Markle and Prince Harry, the Duke and Duchess of Sussex. However, before tensions became high between the British public and the pair, there was some excitement surrounding their nuptials. In fact, before their wedding day, both Meghan and Harry met with fans who were ready to celebrate the royal wedding (via Now To Love).
Sadly, the excitement ended when Meghan and Harry chose to leave the United Kingdom for a quieter life in the United States, where the duchess is originally from. Things got especially tense when the couple sat down with Oprah Winfrey and spilled family secrets and made troubling allegations, such as veiled racist comments about Meghan and the couple's child, Archie.
In a second venture with Oprah — the Apple TV+ series entitled "The Me You Can't See" — Harry shared why he chose to leave the royal family and much of it had to do with the trauma of losing his mother. He was fearful for the safety of his family, and explained that the intense paparazzi made life unbearable for himself and Meghan. 
Now the damage has been done, and Meghan and Harry are not widely accepted by fans of the royals any longer. That's why it was no surprise that they took issue with a video going around that shows the couple caught in a public display of affection.
Fans found the body language between the couple to be suspect
Though the Duke and Duchess of Sussex have fallen out of favor with some fans of the royal family, they are still participating in public events. Just recently, Prince Harry and Meghan Markle were seen together in New York City, where Harry was giving a speech for Nelson Mandela Day (via People). During his speech, Harry spoke about his love of Africa, his mother, and when he knew Meghan was his soulmate. However, the public ripped him apart both for his speech and the way he and Meghan were behaving at the event.
According to Newsweek, the body language between the royal couple was under fire by the public. A video was posted on Twitter that showed Harry pulling his hand away from Meghan's, prompting a slew of comments about how unhappy they must be.
One viewer wrote, "Omg that's not a couple in love at all!! Look at her claw! He was very unhappy and uncomfortable with her." Another chimed in with, "He really doesn't want to make eye contact with her, while she's sitting there with her "Everything is fine!" face. Very odd."
However, a body language expert stated that Harry was displaying signs of anxiety. It doesn't exactly mean he is unhappy with Meghan, but royal fans are quick to read into the couple's every move.