The Real Reason Alexandria Ocasio-Cortez Was Arrested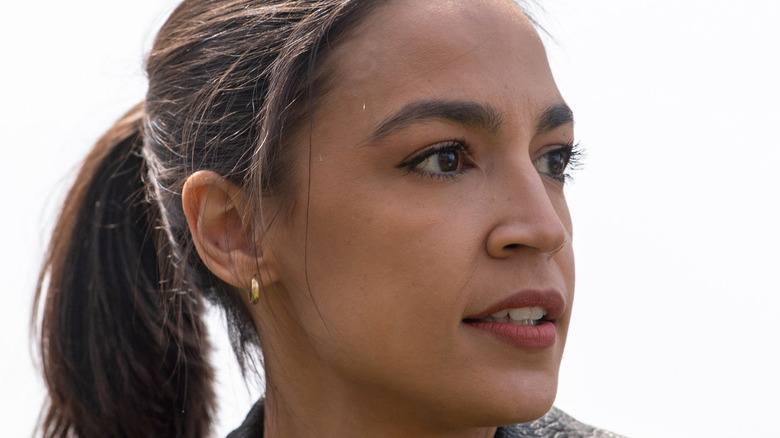 Ron Adar/Shutterstock
Alexandria Ocasio-Cortez became the youngest woman elected to the U.S. House of Representatives, and she rocketed to political fame. Outspoken and progressive, she's amassed over 13 million Twitter followers, and she often uses the platform to speak her mind. She used it to call out Texas Republican Senator Ted Cruz, saying that he'd "almost had her murdered" during the January 6 insurrection at the United States Capitol. She tweeted about Elon Musk calling him "a billionaire with an ego problem." She posted that Supreme Court Justice Clarence Thomas should resign after his wife was discovered to have supported attempting to overturn the 2020 election results.
Ocasio-Cortez has also gone after other Supreme Court justices. On NBC's "Meet the Press," she said that Brett Kavanaugh and Neil Gorsuch should face consequences for lying under oath during the confirmation hearings when asked about whether or not they would overturn Roe v. Wade — the ruling that protected abortion. On the decision to overturn Roe v. Wade, she tweeted "People will die because of this decision. And we will never stop until abortion rights are restored in the United States of America." Ocasio-Cortez isn't just talking about working to restore abortion rights, she's putting in work.
Alexandria Ocasio-Cortez was arrested at an abortion rights protest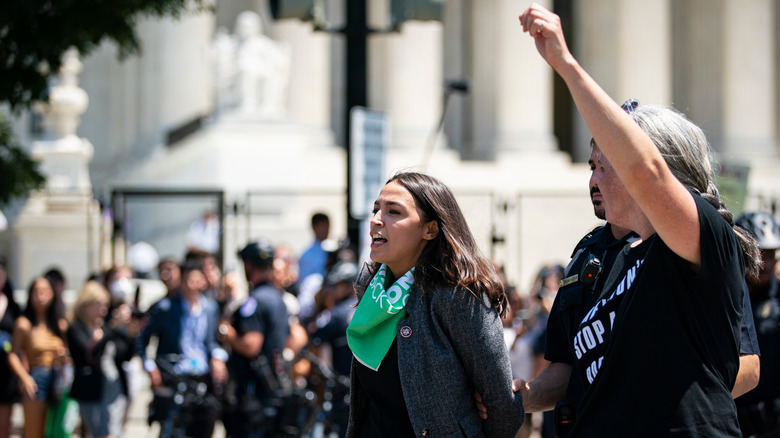 Bloomberg/Getty Images
Alexandria Ocasio-Cortez headed to the Supreme Court on July 19 to protest in support of abortion rights, and while there, she was arrested, per CNN. Protests are protected by the First Amendment; however, it's not that simple. The U.S. Capitol Police tweeted about the situation: "Demonstrators are starting to block First Street, NE. It is against the law to block traffic, so officers are going to give our standard three warnings before they start making arrests." The Capitol Police later confirmed that they arrested 35 people for, "Crowding, Obstructing or Incommoding".
After being arrested, Ocasio-Cortez was led away from the scene by a police officer with her hands behind her back; however, she wasn't handcuffed, via The Daily Mail. Ocasio-Cortez wasn't the only politician arrested; a total of 17 members of Congress were arrested, including fellow "Squad" members Ilhan Omar, Rashida Tlaib, and Ayanna Pressley. Many at the event were wearing green bandanas with the words, "Won't Back Down" on them, per CNN.