Inside The Young And The Restless Star Mishael Morgan's Marriage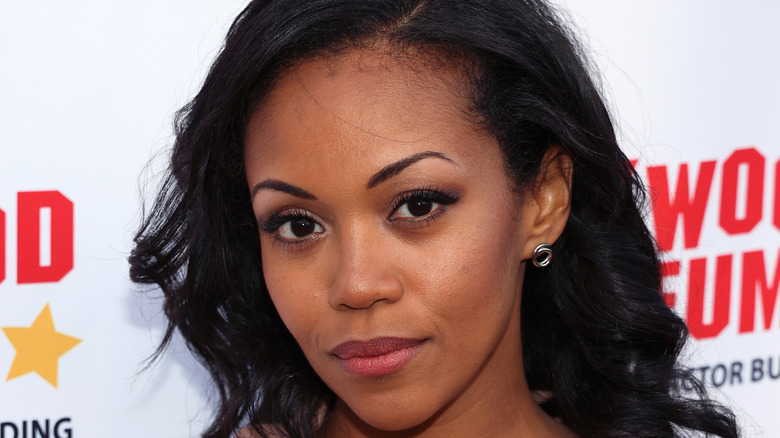 David Livingston/Getty Images
Mishael Morgan is a talented soap actress known for her role as Hilary Curtis on "The Young and the Restless" from 2013 to 2018. For the past three years, she has remained on the show as the late Hilary's long lost twin, Amanda Sinclair. In 2022, Morgan made history as the first Black woman to win the Daytime Emmy for Outstanding Lead Actress in a Drama Series, for her portrayal of Amanda.
Born in Trinidad and Tobago, Morgan's family relocated to Toronto, Canada when she was 5 years old. She remained there through college, where she attended York University and obtained a degree in political science, and then began her acting career on the Canadian teen drama "The Best Years." The actress would go on to star on shows such as "Family Biz," "Republic of Doyle," "Backpackers," and "Dark Rising: Warrior of Worlds" before landing her role on "Y&R."
In 2012, Morgan married Navid Ali and the couple has two children together: a son Niam born in 2015, and a daughter Naliyah born in 2018 (via ABTC). Ali is not as well-known as some soap stars' spouses, so who exactly is the man that captured Morgan's heart?
Navid Ali is a thrill-seeker
Navid Ali doesn't have much of a public presence, though he does have one acting credit to his name. In 2014 he starred in the Pakistani short film "Hazara Parkour" where he demonstrated the sport (described as rapid running, jumping, and climbing among obstacles in an urban environment) as part of a parkour group of the same name (via The Express Tribune).
In celebration of Mishael Morgan's birthday in July 2021, Ali gifted his wife an experience of a lifetime: skydiving! The actress shared photos of their special day together on her Instagram and thanked her hubby for the most unforgettable birthday present. The couple has also taken their children on fun adventures such as sand-sledding (which is what Canadians do when there's no snow, according to Morgan), horseback riding, and snowboarding.
It's clear from Morgan's social media that her husband enjoys being active and going on adventures, especially when it's an activity likely to get your heart pumping!
The couple recently suffered a terrible loss
In March 2022, Morgan and Ali's family suffered a tremendous loss when Ali's brother Nazir, wife Raven, and their three children Alia, Jayden, and Layla were tragically killed in a house fire. Morgan posted about the tragedy on Instagram to pay tribute to their lost family members and bring attention to a gofundme page (that has since been closed) to raise money for funeral expenses.
Later, she posted a thank you message to those who offered condolences and offered help to the family during the difficult time. She wrote, "Letting the light in. My family has been through the unimaginable and yet we stand. Never forgetting our loved ones but looking to a future filled with their light and love." Morgan then thanked Sony, CBS, and "The Young and the Restless" for their support and went on to say, "I will not only remember this as a time of tragedy, but also as a moment when I witnessed the truest, selfless, unconditional love of the human soul."