What We Know About Preacher's New Virgin River Season 4 Romance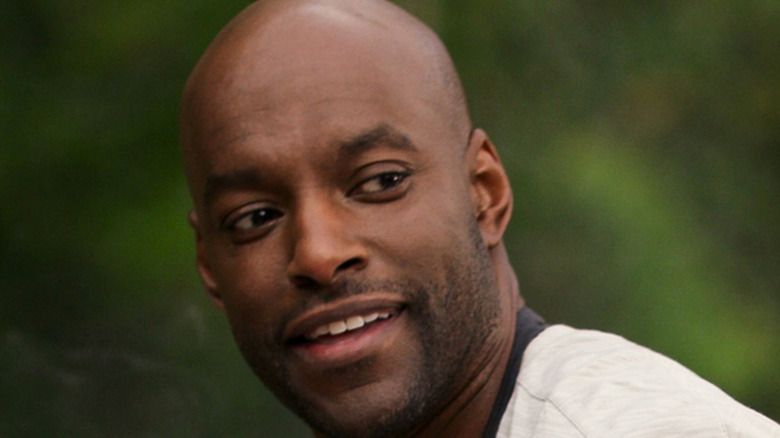 Netflix
"Virgin River" Season 4 begins July 20, 2022, and to say we're excited would be a massive understatement. As Marie Claire notes, there are 25 books in the series of the same name by Robyn Carr, so the sky's the limit on where Netflix could take its super popular adaptation. 
For the uninitiated, "Virgin River" takes place in the quaint, titular town in California, where Alexandra Breckenridge's plucky Mel relocated in Season 1 to start her life over, only to discover there's plenty of drama to contend with there too. 
Per TV Line, the official logline for Season 4 is as follows: "Despite not knowing whether her baby belongs to her deceased husband, Mark or Jack, Mel begins Season Four with a sense of optimism. For years she yearned to be a mother and her dream is one step closer to reality. While Jack is supportive and excited, the question of paternity continues to gnaw at him. Complicating matters is the arrival of a handsome new doctor, who's in the market to start a family of his own." 
Elsewhere, fan-favorite character Preacher (Colin Lawrence) has an exciting new romance on the horizon, even if he remains fixated on reuniting with lost love Paige and his surrogate son Christopher. Here's everything we know about Preacher's love interest. 
Preacher finds love with a newcomer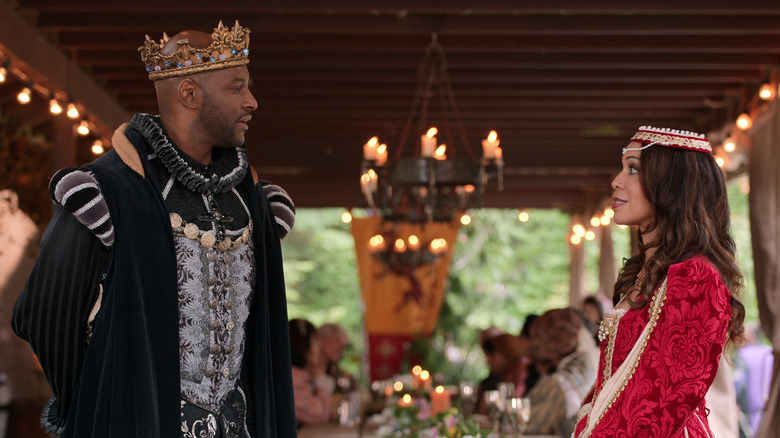 Netflix
Fans are dying to know what's really going to happen to Preacher in Season 4 of "Virgin River," and, although we don't know how his fledgling business with Jack is going to pan out, there's good reason to believe Preacher might finally find love this season. As TV Insider points out, he didn't end Season 3 in a great place. Through typically melodramatic subterfuge, Preacher ended up drugged and robbed after agreeing to cover up a murder for Paige (Lexa Doig), who subsequently fled town.
Suffice to say, Preacher hasn't had the best luck when it comes to relationships. In the latest trailer, he's alive and well, at the very least, while Preacher also appears to have hired a private investigator to find the missing Christopher and finally get justice for himself and Paige. However, Preacher's new romance might be taking up even more of his time, with Express confirming Virgin River's most sought-after chef appears to be moving on with newcomer Julia, played by Lucia Walters. 
First-look images from Season 4 see their characters enjoying a drink in the sun and even dressed up in fun costumes, sharing a romantic look. 
The actors are married in real life, too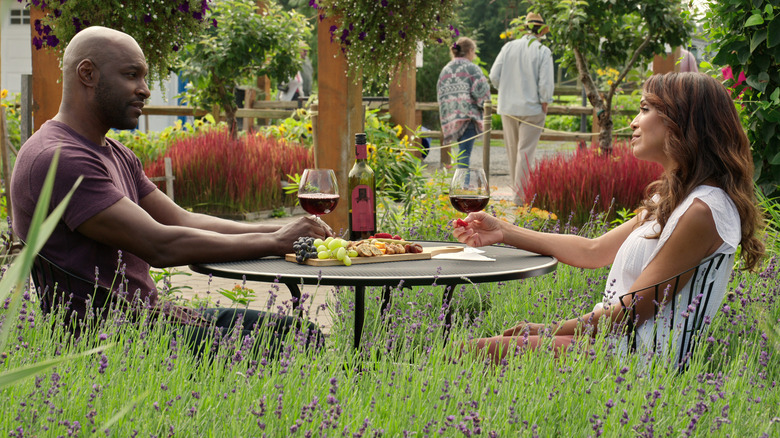 Netflix
Tantalizingly, the couple is married in real life, having tied the knot all the way back in 1999. They also share two daughters, and live in Vancouver, close to where "Virgin River" films, per Showbiz CheatSheet. 
Fans on Instagram were thrilled with the development, toasting to Colin Lawrence and Julia Walters being paired up on the show. "Omg, can't wait. That is just the best news!!!" wrote one, while another gushed, "Is Lucia joing the cast? Now I really can't wait til July 20th." 
This isn't the first time Lawrence and Walters have shared the screen, with the two briefly appearing together in the steamy sequel "Fifty Shades Darker," too. Lawrence and Walters played two bystanders in an elevator alongside lusty leads Christian (Jamie Dornan) and Anastasia (Dakota Johnson). In an interview with Cosmopolitan, Walters revealed, "I knew exactly what we were going in for, but my husband didn't have a clue. He's like, 'Two days with you with no kids? Yes.'" 
Presumably, they'll be sharing significantly more screen time in "Virgin River." We'll have to wait and see just how well things work out between Preacher and Julia, but, in real life, they're enjoying a proper love story.