Jason Isaacs On The Rainy Day He'll Never Forget From The Harry Potter Set - Exclusive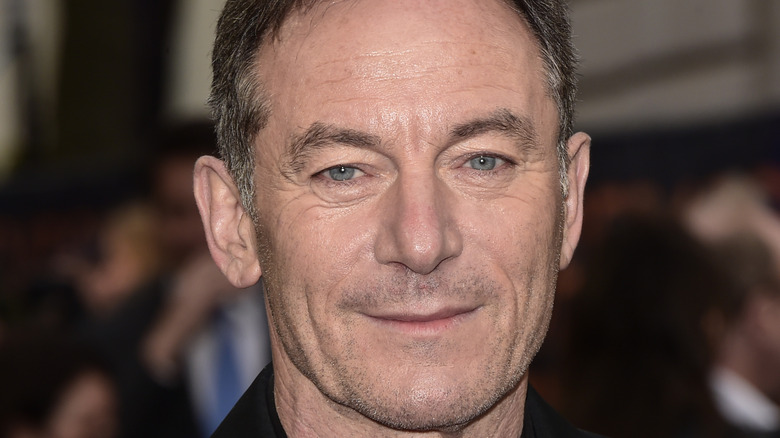 Stuart C. Wilson/Getty Images
Jason Isaacs might be best known as Lucius Malfoy in the "Harry Potter" series, but the actor is a regular on our screens, having appeared in everything from "Star Trek: Discovery" to "Sex Education" to "Robot Chicken." Now, Isaacs is back in the comedy drama "Mrs. Harris Goes to Paris," in which he stars alongside Lesley Manville. The 1950s-set film follows Ada [played by Manville], a widowed cleaner who travels to Paris after she unexpectedly receives a cash windfall. Ada's dream is simple: She wants a custom-made Dior gown, and she'll stop at nothing to get it. Isaacs plays one of Ada's friends, and it quickly becomes clear that he's enamored with our unlikely heroine.
Discussing why he was drawn to "Mrs. Harris Goes to Paris," Isaacs tells The List, "It's often true in drama that catastrophic things happen to people because that's what we like to watch. We even have a genre of films, disaster movies, that have been so popular, but this was a film about something else and celebrating something else." He continues, "The power of kindness wins. I felt like it was something I wanted and needed personally, to jump into to remind me that people are capable of these things."
To celebrate the release of "Mrs. Harris Goes to Paris," Jason Isaacs spoke exclusively to The List about his amazing career, including a certain rainy day on the set of "Harry Potter and the Deathly Hallows Part 2.
Jason Isaacs didn't want filming to ever end
Understandably, being a character in the "Harry Potter" franchise is a pretty memorable experience, and Jason Isaacs fondly remembers the time he spent playing Lucius Malfoy. Speaking to The List, Isaacs says, "I remember when we were shooting the big courtyard sequence at the end, the big battle of Hogwarts [in "Harry Potter and the Deathly Hallows Part 2"] ... because it went on for quite a long time because it rained, so we couldn't shoot." He continues, "We'd go to work every day and we'd sit about. If it was an American film, people would go back to their trailers, but it wasn't an American film, so we all sat in a big tent with a tea urn full of increasingly solid tea, which the spoons would stand up in, waiting for the tin of biscuits at 11 o'clock to come around, huddled around the heaters."
Despite being stuck in a tent in freezing conditions, Isaacs had the time of his life thanks to his incredible cast mates. "It was very cold, listening to Julie Walters tell stories about her pig farm and laughing like idiots, and telling filthy showbiz anecdotes to each other," he explains. "I wanted the rain to go on for months. I wanted it never to end." Fans of the franchise likely feel the exact same way.
Jason Isaacs counts himself 'lucky'
While Jason Isaacs enjoyed filming the final "Harry Potter" movie, he also realized that his lines in the final film were pretty limited. "I was feeling a bit sorry for myself, because I had three lines over the next week," he tells The List. "I looked over in one corner and there was Jim Broadbent with an Oscar and Emma Thompson, and I can't remember who with an Oscar, Judy Walters with an Oscar, Maggie Smith with an Oscar. I thought, 'They haven't got any lines. I can't believe how lucky I am. At least I've got three lines,' and it suddenly perked me up for a while."
The caliber of his cast mates is also not lost on Isaacs, who says, "I remember looking at the call sheet on those days ... barely being able to believe still after 10 years that my name was on the call sheet with these people who I admired so much." 
"Mrs Harris Goes to Paris" is now playing in theaters. Book tickets now.