Brad Pitt's Unexpected Red Carpet Look Has Fans Talking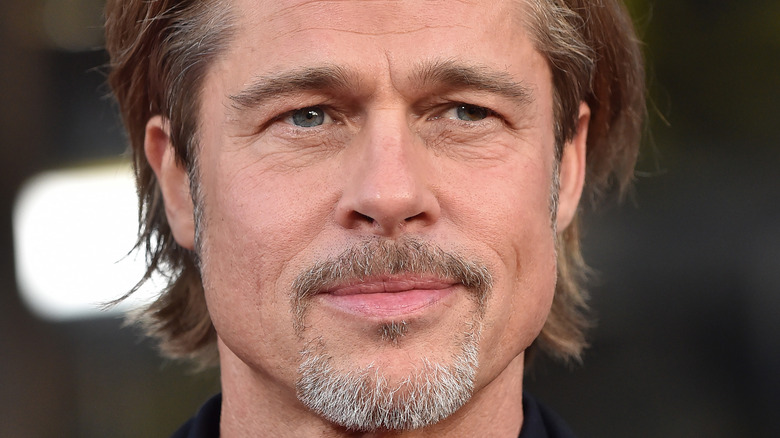 DFree/Shutterstock
Brad Pitt's stunning transformation throughout his iconic career as a Hollywood star is a pop culture staple. He once again is taking the screen in the new movie "Bullet Train" and gracing the public with more appearances in anticipation of the film's release. The actor — who appeared on the cover of GQ — is known for his scene-stealing roles as a main man in Hollywood in films like "Once Upon A Time In Hollywood" and "Inglorious Bastards" (via IMDb).
"He's one of the last remaining big-screen movie stars. It's just a different breed of man. And frankly, I don't think you can describe exactly what that is because it's like describing starshine," Quentin Tarantino said about the actor, according to GQ.
Brad Pitt is truly one of a kind, and so is his fashion sense. Not afraid to make a statement on the covers of magazines or on the red carpet, Pitt has once again donned a look that has caught everyone's attention.
Brad Pitt wore a skirt to Bullet Train screening
Brad Pitt truly made a fashion statement by wearing a brown knee-length skirt to match his pink button-up, brown jacket, black combat boots, and sunglasses at a screening for his upcoming action film "Bullet Train" in Berlin, Germany, according to People. The look comes 18 years after the actor predicted that skirts would become a staple in men's fashion during the press promotions for his 2004 film "Troy."
"Men will be wearing skirts by next summer. That's my prediction and proclamation. The film answers to both genders. We were going for realism and Greeks wore skirts all the time then," he said at the time, according to Vogue. While it took longer than he anticipated to return to the trend, Pitt has shown that he has the confidence to rock a skirt.
This isn't the first time Pitt has broken the gendered rules of fashion. In 1999, he wore a series of dresses for Rolling Stone. Whether clad in a dress, skirt, suit, or sweats, it seems that the actor can't help but look his best.