Why Jinger Duggar Vuolo's New Hobby Has Fans Seeing Red
Anyone meeting Jinger Duggar Vuolo for the first time would never guess she once lived in long skirts and figure-covering cardigans. As part of the famous TLC "19 Kids & Counting" family, she lived by the strict Duggar dress code that emphasized modesty. Following their interpretation of biblical piety, the Duggar parents made sure their nine daughters always kept covered from neck to knee, and pants were definitely a fashion "don't."
After marrying husband Jeremy Vuolo and moving to California, Jinger gradually decided to stray from her family's rules on clothing. Now she freely wears pants, shorts, and tank tops — and her choice of footwear is changing, too. On July 19, she took to Instagram to share a preview of the latest episode of her new "Jinger & Jeremy" YouTube vlog. In it, Jinger revealed her latest passion: customizing shoes. The Vuolo's visited The Shoe Surgeon, an L.A. store that invites customers to design the sneakers of their dreams. Vuolo is seen picking out a pair of Nikes and retooling them by tweaking the logo, changing laces, and having extra lace holes cut into the upper. "It was a lot of fun going down to the @srgnacademy and designing my own kicks!" she exulted.
Having grown up going to thrift stores and forgoing many luxuries, glamming up a high-end pair of shoes was an experience Jinger probably never imagined she'd have. But there are those who wish she wasn't quite so fond of her new hobby.
Jinger Vuolo's fans disapprove of her preferred shoe brand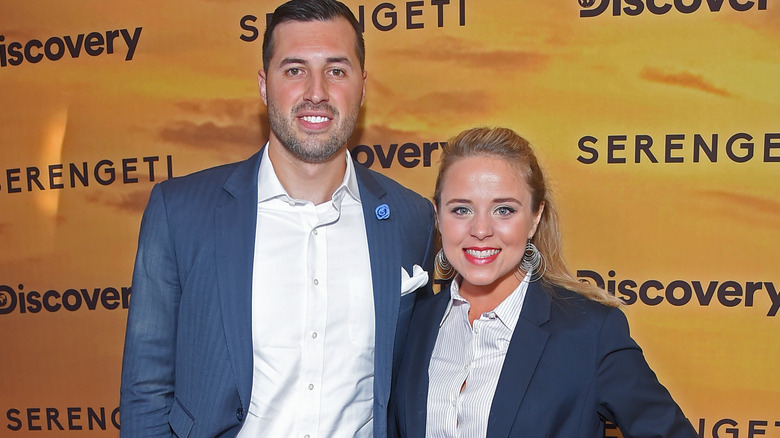 DFree/Shutterstock
Many followers of Jinger Vuolo are delighted to see that the "rebel" of the Duggar family is continuing to embrace a less restrictive lifestyle than the one she observed as a child. "It's so cool to see you living your best life and having so many awesome experiences," one fan raved about Vuolo's latest Instagram post. However, others were more than a little disappointed to see Jinger aligning herself with a design shop that sells Nike footwear. "Nobody needs sneakers that costly," chided one, adding that it made her seem "out of touch" with regular folks. 
There were also lots of criticisms about Jinger choosing the Nike brand. Some disapprove of the company's history of using child labor in its overseas factories. Others consider the company unpatriotic because it backed NFL star Colin Kaepernick's decision not to salute the flag before games. "Very disappointed that you guys are supporting Nike," went one comment. "Are you not in touch with their beliefs and how they REFUSE to stand for the national anthem. Before you support a brand like Nike you should learn about them especially as you're promoting them. Doesn't make you look good."
Taking the middle ground was a follower who pointed out that Vuolo's new interest in customizing shoes was helping her build a skill set toward a potential new career: "While I'm not a fan of Nikes and overpriced sneaks this is a cool experience. Love ya Jinger!"