The Real Reason Queen Elizabeth Left Buckingham Palace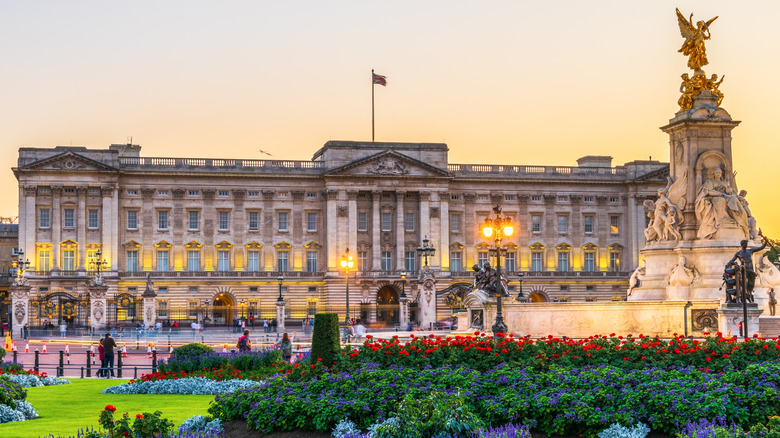 Pajor Pawel/Shutterstock
Two days after holding a virtual audience with Jane Hartley, Ambassador to the United States (via Twitter), Queen Elizabeth II made her annual journey to Balmoral Castle in Scotland (via People). Regarded as one of the monarch's most cherished places in the world, the queen will continue her work at the estate, leaving Buckingham Palace without its royal resident.
While the palace will be open to the public for ten weeks in her absence (via Twitter), the queen hasn't actually resided at the palace for quite some time now. Since the beginning of the coronavirus pandemic in 2020, Her Majesty has been living in Windsor Castle. According to Marie Claire, she and the late Prince Philip "rediscovered the happiness of their early years together" while staying there. It would seem that Queen Elizabeth wants to keep those memories close by continuing to stay there and the tradition of traveling to the Balmoral Estate every summer.
Queen Elizabeth has fond memories of Prince Philip at Windsor Castle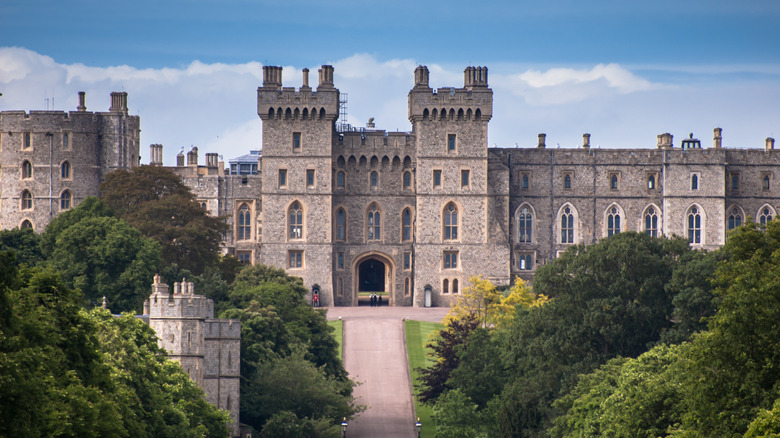 kozer/Shutterstock
In March 2022, reports said Queen Elizabeth II would permanently live at Windsor Castle (via New York Post). According to House Beautiful, the monarch decided to make her weekend home her official one while Buckingham Palace is undergoing a ten-year refurbishment project. Having started in April 2017, as noted on the royal family's website, the works include refitting electrical cables throughout the 775-room residence and updating the plumbing and heating of the palace, which was last done in the 1950s.
The refurbishment work is being undertaken as "a phased program", which isn't expected to be finished until 2027. So in the meantime, Her Majesty has decided to call Windsor Castle her home. "Windsor is the place she loves," royal author Hugo Vickers told The Sunday Times. "She has her memories with Prince Philip there, she has her ponies there and family nearby. It makes sense." As noted by Marie Claire, Prince Edward and Sophie, Countess of Wessex, live 10 miles south of Windsor at Bagshot Park, while Prince Andrew lives in Rowe Lodge on the Windsor Estate.
The Queen is happiest when she makes her annual trip to Balmoral Castle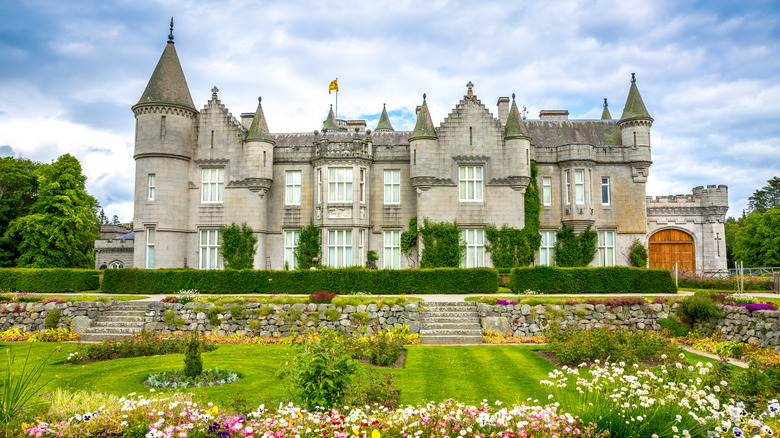 A. Karnholz/Shutterstock
For now, Queen Elizabeth II will be relaxing at Balmoral in Scotland, considered one of her "favorite places on earth" (via Hello! Magazine). Having been in the royal family since 1852, when Prince Albert bought it for Queen Victoria (via Balmoral Castle), Queen Elizabeth has made an annual visit to the estate since she was a child, according to Vanity Fair. It was at the Scottish estate where she and Prince Philip's love truly blossomed and also where he decided to propose. The couple even spent part of their honeymoon there, in the country home of Birkhall.
Described by Princess Eugenie as "the most beautiful place on earth", the Queen's granddaughter noticed how Balmoral made the monarch feel. "I think Granny is the most happy there," she said (via Hello! Magazine). "I think she really, really loves the Highlands." While filming a documentary about the royal family's favorite vacation spots, former "Strictly Come Dancing" judge Darcey Bussell came to understand "why the Queen loves so loves being here, a place where she can let her hair down," per Express.