The Scary Truth About Intruders At Meghan And Harry's California Mansion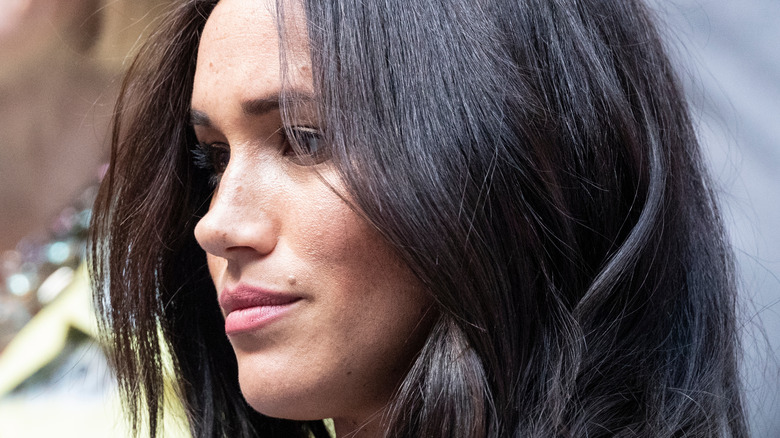 lev radin/Shutterstock
While the British High Court accepted Prince Harry's challenge regarding his security arrangements in the United Kingdom, it appears that the Duke of Sussex has been dealing with a myriad of frightening intruder alerts back in California. The Daily Mail reports that the security alarm at the Duke and Duchess' Montecito mansion has been set off six times within the past 14 months, while their young children were also present.
The most recent events occurred in May, when the couple was at home with their children, Archie and Lilibet. The first intrusion happened on their fourth wedding anniversary on May 19, with the second occurring just two weeks later as they were due to set off for Britain to celebrate Queen Elizabeth's Platinum Jubilee. Per the Daily Mail, Santa Barbara police were called to the residence on both occasions, and the reports were recorded as "trespassing," "property crimes," and "suspicious circumstances."
The Duke and Duchess of Sussex have hired a former secret service agent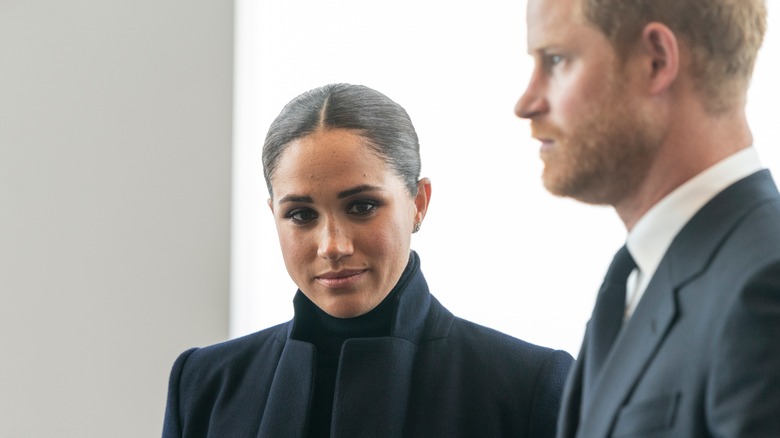 lev radin/Shutterstock
A month before the latest intruder alerts occurred, the Duke and Duchess of Sussex are said to have hired a new bodyguard, Christopher Sanchez (via The Times). Sanchez is reportedly a former U.S. secret service agent who worked for former presidents George W. Bush and Barack Obama. He now works for a security company "that offers tailored security packages to wealthy clients, including business executives and diplomats," according to The Times.
An aspect of Sanchez's work as a former employee of Bush and Obama, The Times noted, was to implement "security advances" inland and outside the United States, "ensuring that travel routes and locations were safe." Sanchez left the Secret Service in 2013 and now works for the security firm TorchStone and the couple's other bodyguard, Alberto Alvarez (via LinkedIn). Alvarez is currently the head of security for the royal couple and has previously worked with the Jackson family and One Direction, according to the Daily Mail. He is presently a licensed security guard for the California Bureau of Security and Investigative Services and is said to carry an exposed firearms permit.
An intruder trespassed onto their Beverly Hills property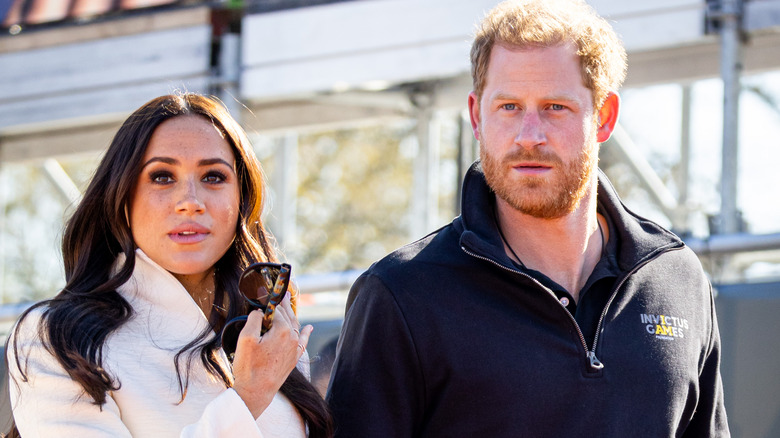 Patrick Van Katwijk/Getty Images
Sadly, this isn't the first time Prince Harry and Meghan Markle have dealt with intruders on their property. On Boxing Day in 2020, a 37-year-old man was arrested for allegedly walking onto the property after being warned about trespassing two days prior, according to The Sun. It was later revealed that the man had traveled over 2,000 miles from his Ohio home when he was found on Harry and Meghan's property, and he was said to be under the influence of substances at the time. 
Two years later, security is still a big issue for Harry. While he and Meghan have a team in place in America, Harry is currently pursuing a legal case in the U.K. against the Home Office for not providing adequate police protection when in Britain. "Prince Harry inherited a security risk at birth," a statement issued on behalf of the royal said in January (via E! News). "While his role within the institution has changed, his profile as a member of the royal family has not. Nor has the threat to him and his family."