The Time Anita Hill Literally Stopped The Presses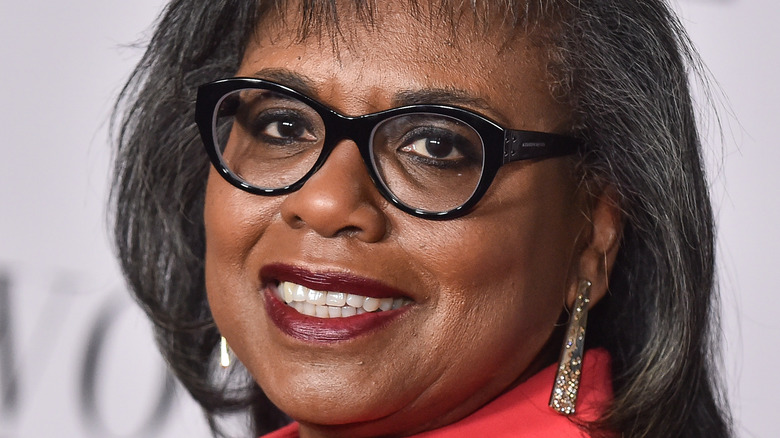 DFree/Shutterstock
Of all the names to be seared into the very fabric of the women's rights movement, Anita Hill is among the most fearless and honest representatives. Finding herself in the national spotlight in 1991, Hill famously testified against then-Supreme Court nominee Clarence Thomas, recounting the harassment she faced at his hands while working as his assistant for the Equal Employment Opportunity Commission (EEOC). The image of Hill — dressed in blue — while detailing her experience in front of an aggressively male Congressional panel is just as evocative of strength in the face of opposition today as it was 30 years ago. As for Hill, the Yale Law School graduate did not let her testimony become her story, and she has since been a trailblazing advocate, professor, and inspiration to many of us. 
Naturally, Hill has been the recipient of a number of awards throughout her career and time in the spotlight, literally stopping the presses while accepting such honors. Her extensive CV includes awards from Glamour, PEN America, the state of Oklahoma (yep, the whole state), and many more awards. Here's how some of those distinctions came to be. 
Her inclusion in Glamour awards was literally last minute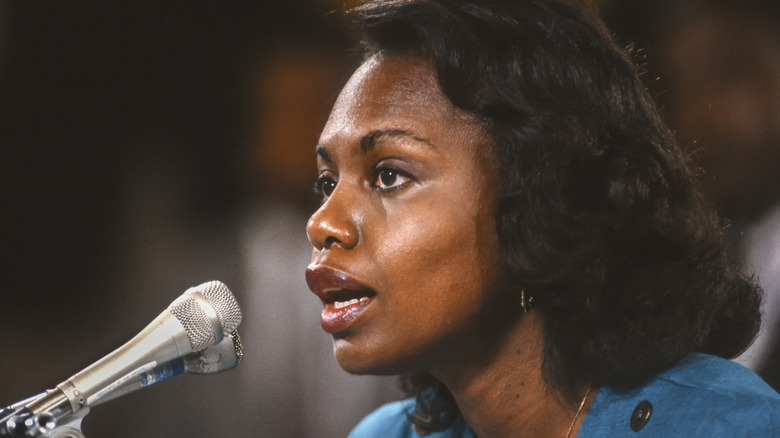 Rob Crandall/Shutterstock
In 1991, Anita Hill became a Glamour Woman of the Year thanks to her brave testimony about the sexual harassment she experienced from Supreme Court nominee Clarence Thomas (via Glamour). However, when she was chosen for the award, the deadline had already passed for the issue, meaning former Editor-in-Chief Ruth Whitney had to rush and stop the presses, quite literally, from printing the magazine without Hill.
The case was a landmark one, with Hill, Thomas' former aide, testifying in front of a Senate Judiciary Committee comprising only men. It was also televised, only adding to the pressure she was under. Though Thomas was ultimately appointed to the court, Hill says she does not regret speaking up. "I do believe that what I did was effective because it opened the conversation publicly in a way that had never been done before," she told NPR in 2021.
This bravery — speaking truth to power for the world to see — is what made Whitney stop the presses so Glamour could include Hill in its list of powerful women.
Anita Hill has been honored in a variety of ways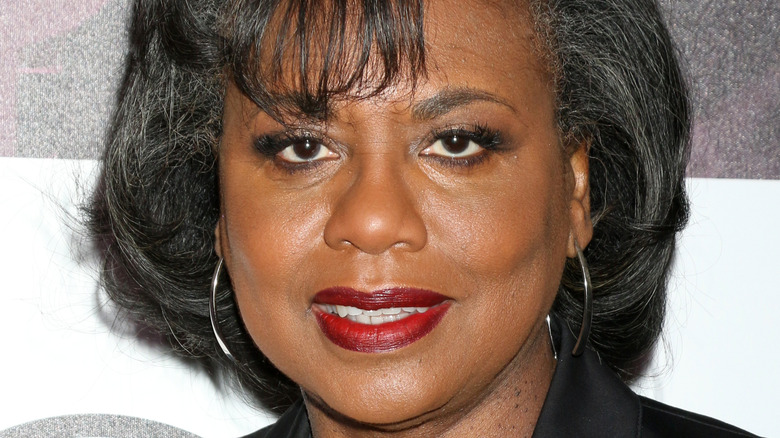 Kathy Hutchins/Shutterstock
In addition to her award as a Glamour Woman of the Year, Anita Hill has been on the receiving end of a variety of awards. As noted by The Washington Post, Hill received PEN America's Courage Award in 2019, with the group expressing their admiration for her famous testimony and work as a professor, human rights advocate, and chair of the Hollywood Commission on Eliminating Sexual Harassment and Advancing Equality.
"Anita Hill stepped alone into the glare of the public spotlight to call out abuses that others insisted be forgotten or overlooked," Suzanne Nossel, PEN America's CEO, stated. "She has devoted her life since then to teaching, writing, and speaking out — in the process, helping to catalyze a global movement that is essential to the achievement of equality."
In addition, Hill received the Women of Achievement Award from the American Bar Association's Commission on Women in 1992, made a member of the Oklahoma Women's Hall of Fame in 1993, and her speech at her famous 1991 hearing was named in American Rhetoric's Top 100 Speeches of the 20th Century. Clearly, there is nothing standing in Hill's way in her journey to a more just world.