Style Moments The Kardashians Want You To Forget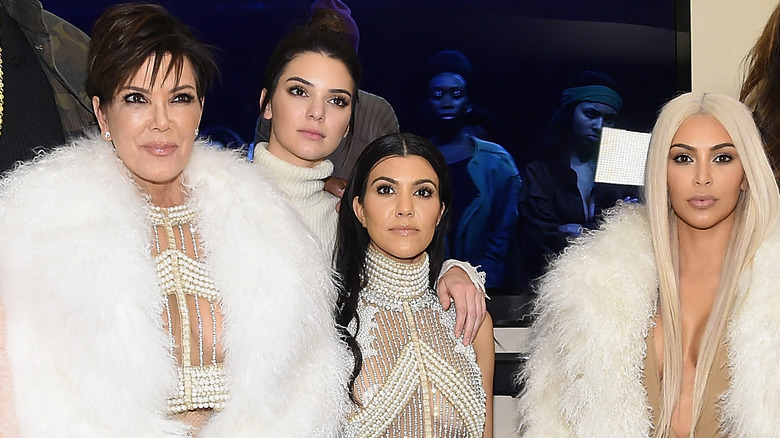 Getty Images
In 2017, the extended Kardashian-Jenner clan celebrated an entire decade of being on the air. In their first confessionals, for the eleventh(!) season of the hugely addictive show, a super-slick-looking Kim and Khloe made fun of how they used to sound on TV, with the elder Kardashian pointing out how hard she would try to seem sexy back in the old days by lowering her voice. What the sisters failed to mention was that they weren't always so perfectly made up and styled back then either.
There was a time when Kim loved nothing more than over-accessorizing her outfits to the point of madness, matching boots to bags and cinching in her already tiny waist with the help of the biggest belts in the history of leather. She favored loud patterns, teeny cocktail dresses more suited to clubbing than red carpets, and the kind of massive, gaudy designer sunglasses everybody inexplicably wanted back in 2002 (it was a simpler time). Her sisters and mother fared no better, their personal style ranging from "satin mini-dress" to "satin mini-dress with garish matching eye-shadow." These are some of the worst offenders from the past ten years of keeping up with America's most fabulous family. 
Matching body-con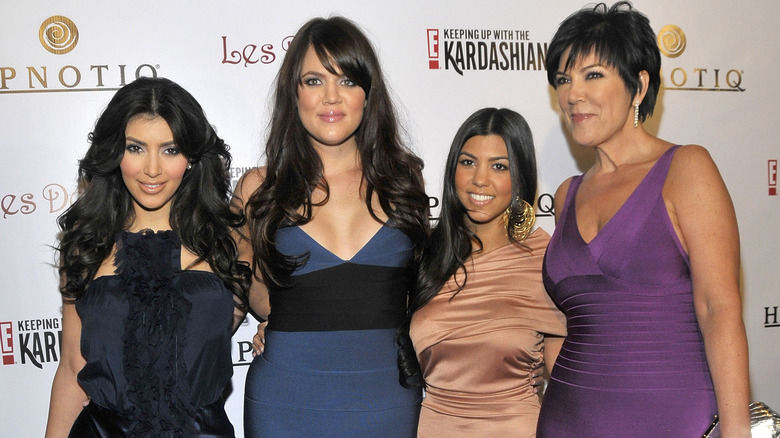 Getty Images
The family that dresses together stays together. Or at least, that's what the Kardashians seemed to be thinking when the three elder siblings joined momager Kris Jenner for a season two promo event, back in March 2008, all of them clad in short, near-identical, tight mini-dresses. Mother-daughter matching outfits can be super cute, particularly when the daughter in question is still, you know, a little girl, but as grown women it's a bit naff. Even when the women in question have millions in the bank. Actually, especially then. 
Never mind the fact that Kim and Kourtney appear to be rocking their own theme entirely (right down to the toothy grins), which throws out any attempt at making a strong, near-identical style statement for a family who, as far as they (and Ryan Seacrest) were concerned, were right on the cusp of being mega famous. Either that or their stylist at the time really hated them. Nowadays, of course, the ladies frequently battle it out to be named the most fashionable. If only they could tell their 2008 selves.
Matching satin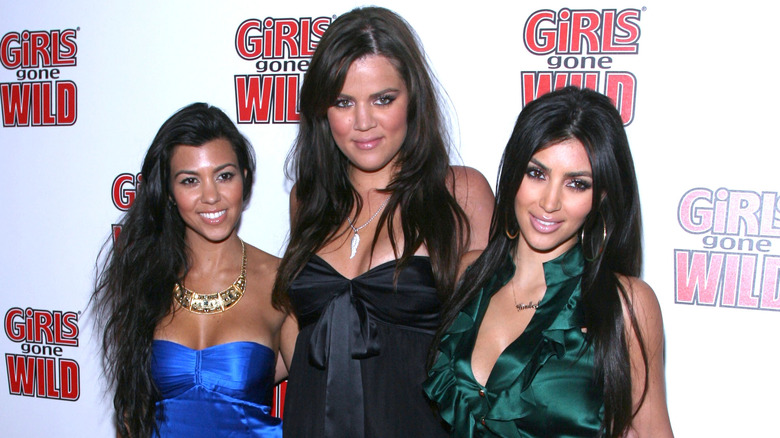 Getty Images
The matching madness didn't end there, however, as another promotional event that same year, apparently for Girls Gone Wild magazine (which thankfully hasn't been a thing since founder Joe Francis ran into legal trouble a few years back) found Kim, Kourtney, and Khloe out in full force, in complementary cocktail dresses once more. This time, they were of the shinier, satiny variety. 
Unlike the season two KUWTK party, this event did not take place at Les Deux (it was at Area, the second stop on a tour of clubs frequented by the cast of The Hills that nobody would actually go on) but the sisters still dressed for a night on the town. In keeping with the theme of the time, all three ladies wore sandals, tousled hair, and way too much false tan. It's also worth noting Kourtney's statement necklace and Kim's giant hoop earrings, to shield them from any accusations of subtlety. Khloe almost seems embarrassed not to be so blinged up.
Underwear as outerwear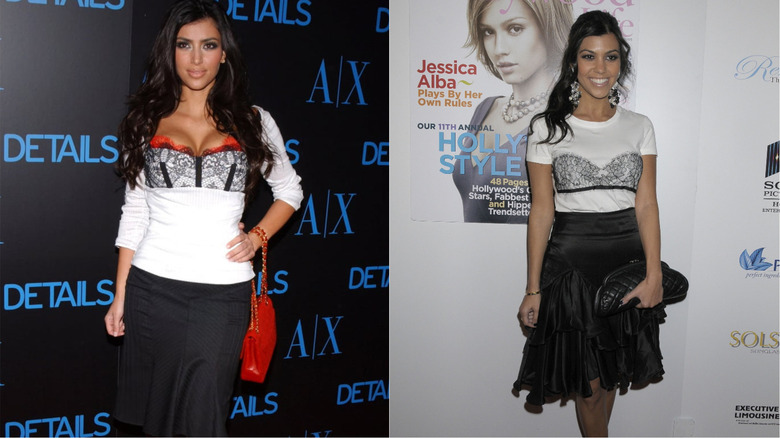 Getty Images
Even now, the trend for visible underwear is actually pretty big in its own right, and Kim Kardashian in particular has been known to dabble in it (though she, er, doesn't always get it right — even with Kanye's help). Looking at these pics, it could almost be argued that she and Kourtney were ahead of their time. But that doesn't explain the black lace bra both women appear to have strapped to the front of their tops before striding down the red carpet. 
To a certain extent, Kourtney seems to be getting away with it just a tiny bit more because, unlike Kim, she doesn't appear to be wearing a second, red bra underneath her shirt. Both inexplicably chose to pair their laundry mishaps with plain, black skirts as though maybe this could be an outfit the normal, everyday woman might see on them and subsequently decide to wear to the office. Not since Regina George unintentionally made cutting holes in your shirt (showing off the brightly-colored bra underneath) a thing has there been such an underwear-based crime against fashion. 
Leggings, leggings, leggings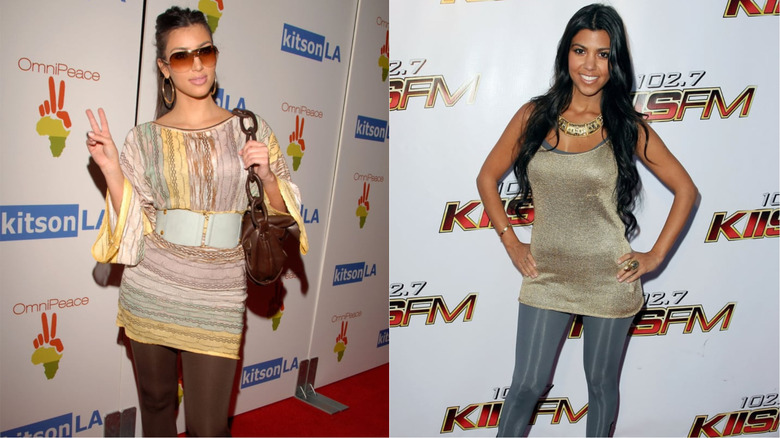 Getty Images
Modern mother and business entrepreneur Kim Kardashian West wouldn't be caught dead in a pair of leggings while running errands (where her street style is frequently snapped and drooled over), let alone on a red carpet. And yet, back in the glory days of the early aughts, they were her go-to, her staple. Whether out on the town or casually shopping in a Bentley, no outfit was complete without a pair of comfy, usually ankle-hugging leggings, accessorized with more items than any human should wear at a single time (even more than Bruno Mars in the "Uptown Funk" video, if you can believe it) including but not limited to huge designer sunglasses, a garish gold/brown bag, matching shoes, and the requisite belt (more on that below). 
Sister Kourtney got in on the action too, opting for the shinier variety perhaps in an attempt to dress up an item usually worn primarily for comfort. What's worth noting about both women in this instance (but particularly Kim) is the choice of a loose, long-line, oversize top to drape over the leggings. They remain the focus of the outfit. As well they should be. 
Statement belts that make a bad statement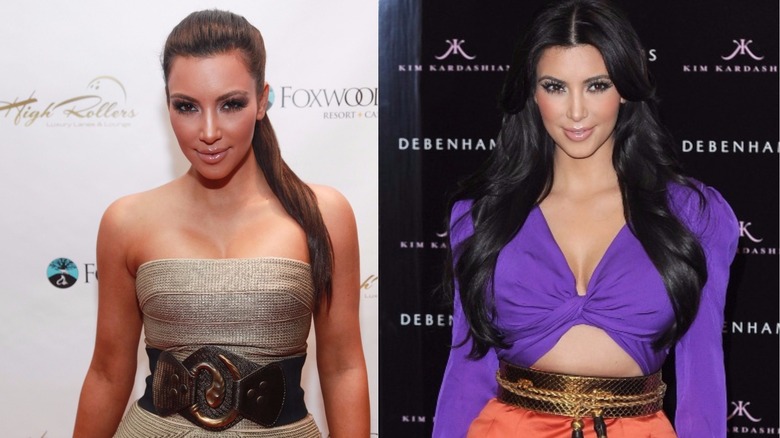 Getty Images
As difficult as it is to believe, ten years ago, Kim K's go-to accessory was a statement belt. Worn with a variety of skirts, ill-fitting pants, dresses and, of course, leggings, Kim's love affair with completely unnecessary waist appendages seems to have waned considerably in the intervening years (luckily for her and us). But we'll always have the memory of when she worshiped at the temple of bad leather, with bags and shoes that had to match even if what hung around her waist was a ghastly white color.
Speaking of which, the worst element to this particular ensemble — aside from the harshly-styled makeup and hair — is that the belt in question doesn't even seem to be doing what it's supposed to be doing. The express purpose of a belt, especially one worn around a dress, is to tighten, to cinch in the waist and give the outfit a bit more structure. This one is hanging off Kim's body like it's given up all hope entirely. Or maybe it's just trying to escape. 
Busily patterned maxi dresses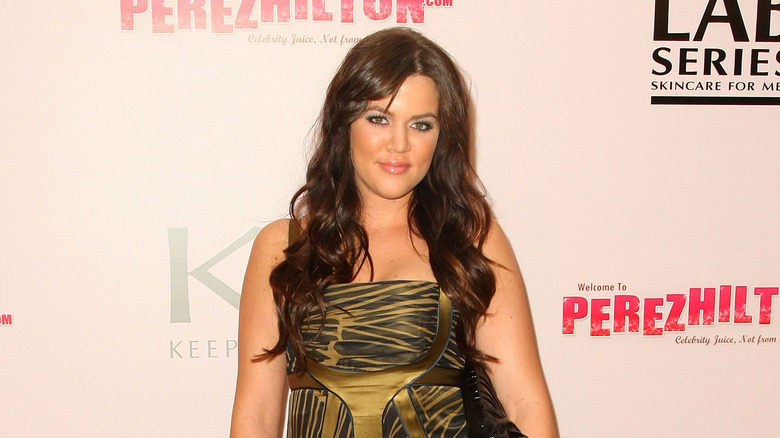 Getty Images
How smart of Khloe to match the carpet at this particular event, with her garish, mucus-green maxi dress that's so long it might just lead to Narnia. Or go on forever. Truthfully, Khloe wasn't the only Kardashian who swished into events wearing dresses even Kyle Richards might deem a bit much, but considering the hideous print (and its aforementioned relation to the ugly carpet underfoot) this might just be the worst example of this particular Kardashian trend.
Maxi dresses tend — by their very nature — to be a bit shapeless, but even the thin, slinky straps don't help this to look like anything more than a bizarrely-patterned potato sack that likely cost more than most of us earn in a year. At least, to her credit, Khloe went understated with the accessories, make-up, and hair. Thankfully, she wouldn't dream of hiding her knockout, hard-earned body under something so unflattering these days. Even if it did match the carpet. 
Egg yolk themed dress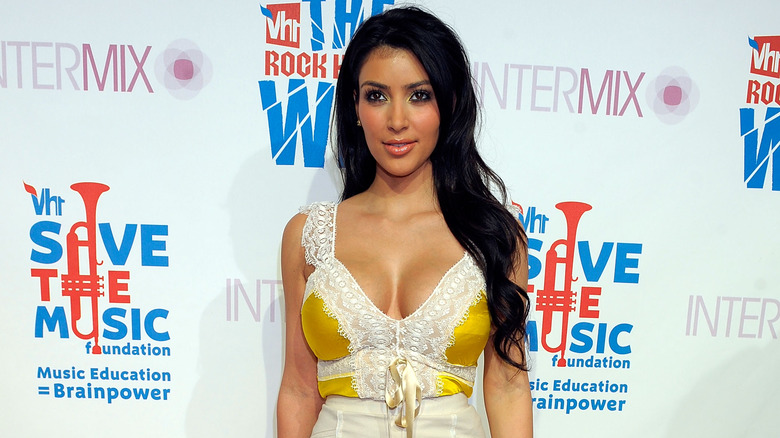 Getty Images
Granted, this sleeker, simpler look is a bit closer to the Kim K we know and love today. It's not exactly chic, but it's closer than virtually anything else on this list. The problem, for once, isn't the hair, shoes, makeup, or even accessories (not a belt in sight). It's the cut of the dress, which isn't the least bit flattering, coupled with the sheer amount of different things going on (lace detailing, ribbon, cleavage) at once. 
That and the fact its yellow-and-white color palette just makes me think of fried eggs. And who wants to wear a dress themed around breakfast foods, unless of course it's edible? This look almost clinches it but not quite. The pic could reasonably be cut off halfway and assumed to end in pants. It wouldn't make any less sense. Also, what's up with her eye-line? Is the photographer dangling above the red carpet or something? 
Matching fluorescent pink (and animal print!)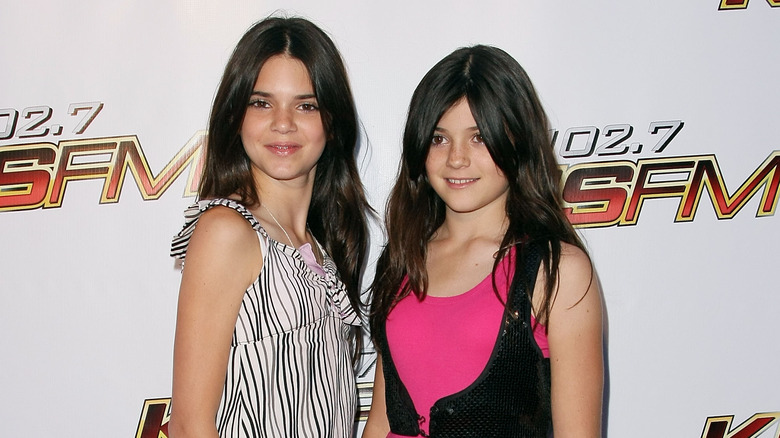 Getty Images
The younger Jenner siblings have been largely left out of these proceedings because they were tiny children back when their older sisters were making their most heinous fashion mistakes (RIP 2008 Kardashians, we shall never forget ye). But, given how both Kendall and Kylie are now supermodels in their own right, not to mention a couple of the most stylish and photographed women on the planet alongside the elder siblings (with coveted wardrobes to match), it's only fair some of their fashion mistakes are revisited too.
Take this appearance, for example, where an adorably tweenage Kendall and Kylie have chosen to match their (age-appropriate) outfits in the typical Kardashian manner; a loud color (in this case, fluorescent pink) and hints of clashing animal prints. To be fair, their footwear is ideal for walking the red carpet as a kid. And Kendall seems quite confident in her choice of attire. But it's difficult to imagine her, or super-cool sister Kylie, looking back on this with anything other than embarrassment. 
Floral basics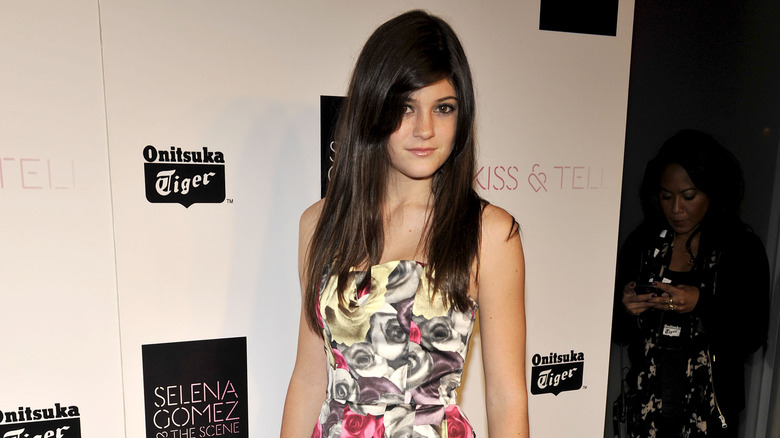 Getty Images
In the beginning, as they were finding their fashion feet, Kendall and Kylie struggled between looking like they were going to a spring formal and looking like they were trying out their fake IDs in the club for the first time. This ensemble is somewhere between the two. The strapless floral dress is so basic, and Kylie's weird, chunky fringe does nothing for her cute, youthful face. Black cage ankle booties(!) give it a kind-of grunge-y vibe but the expression on her face just screams "I am not comfortable in this outfit." 
Of the entire Kardashian-Jenner extended family, Kylie has had arguably the biggest transformation, so it's not surprising her past looks are a bit, ahem, different (read: dodgy). Whether her current style is to your personal taste or not, she certainly seems more comfortable in her own skin now than as the walking section of the Topshop "grunge" section. And she wouldn't have dared wear this to prom, either. 
All of the fabric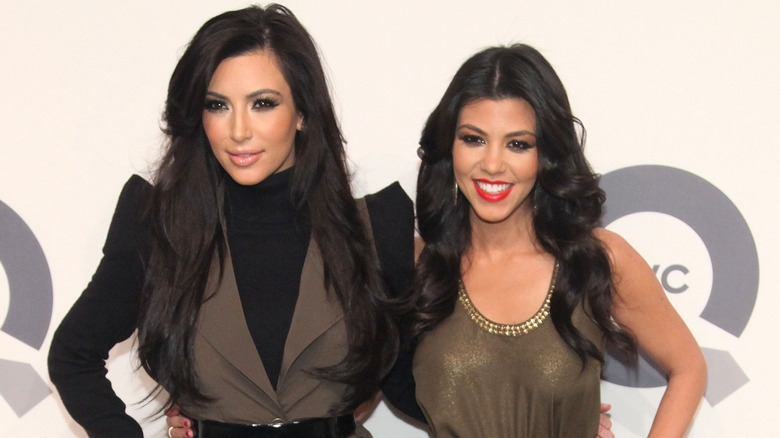 Getty Images
There's just so much to unpack here. First off, this photo was taken in 2011, which wasn't quite long enough ago to give the ladies a pass. Second, did the rest of the world have any fabric left to use after these outfits were made? Kim Kardashian isn't exactly known for covering up, but not even her arms are showing in this case. Meanwhile, the diminutive Kourtney opts for floor-length trapeze trousers, the effect of which is to make it seem as though she may be wearing stilts underneath. 
And finally, proving that a leopard — or a Kardashian — never quite changes its spots, Kourtney matches her horrid gold belt with an equally horrid gold neckline. Those are most likely gold hoops peeking through her hair, too. As for Kim, is that a belt I spy? Could early aughts Kim K have been poking through her sophisticated, 2011 counterpart? Or maybe just going through her wardrobe?
Everything that's happening here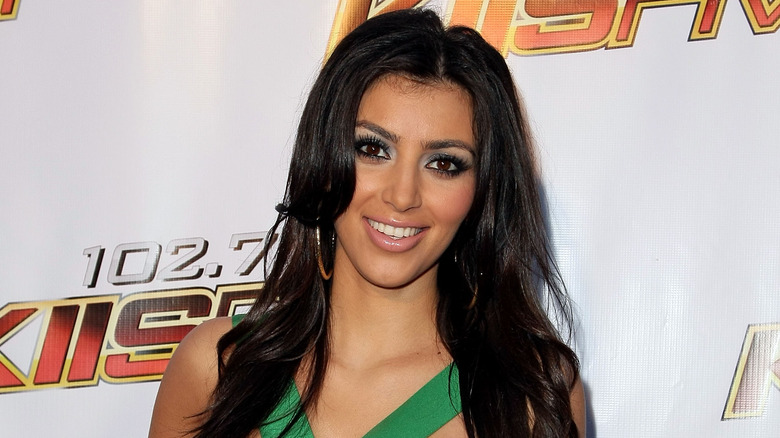 Getty Images
Ever since shacking up with Kanye West, Kim K's style has been pared back considerably, in keeping with the minimalist theme of her hubby's own fashion line. A few years back, however, he wasn't around to advise Kim that less is more, hence why she rocked up to an event (the same one where Kylie and Kendall did their pink/animal print thing) looking like she was heading for the beach. There's an awful lot happening here, from the garish eye-shadow to the glossy lips, massive hoop earrings and tumbling waves that everybody tried to emulate in an effort to feel as though we might just be surfing in California if we believed in it hard enough. 
The dress, though, is so dreadful it makes Khloe's puke-green maxi above look muted in comparison. Hell, at least that one was all the same (terrible) pattern. This is like two different, ugly dresses got together and had a hideous baby. Fifty, thread-thin gold bangles and a basic French manicure complete a look that says, "I just threw all of this together" (no, really). 
All of this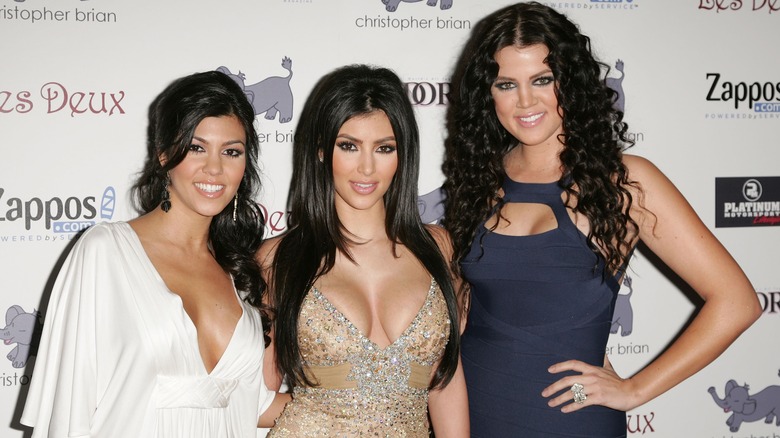 Getty Images
Over the years, the three eldest Kardashian sisters have broken free of their famous family to establish their own personal style(s). Kim is, thanks to Kanye, a minimalist high fashion queen, Khloe, now a fitness guru, keeps it form-fitting and flattering, while Kourtney, a mother of three, is pure relaxed chic. Looks at Kim's birthday in 2007 showcase younger, considerably less evolved style from all three. Khloe resorts to the bandage dress (again), Kourtney throws on a sheet and chandelier earrings, while Kim goes for va-va-voom sex appeal. 
Would it have been better if they'd all matched again? Perhaps, but try to choose one dress from these three that would look good on every sister. It's as though they've all simultaneously gone too far in opposite directions, and there are so many different things competing for attention as a result that none of it quite lands. The accessories can't even be blamed this time around, which means they're really in trouble. 
Leather and lace and leopard print, oh my!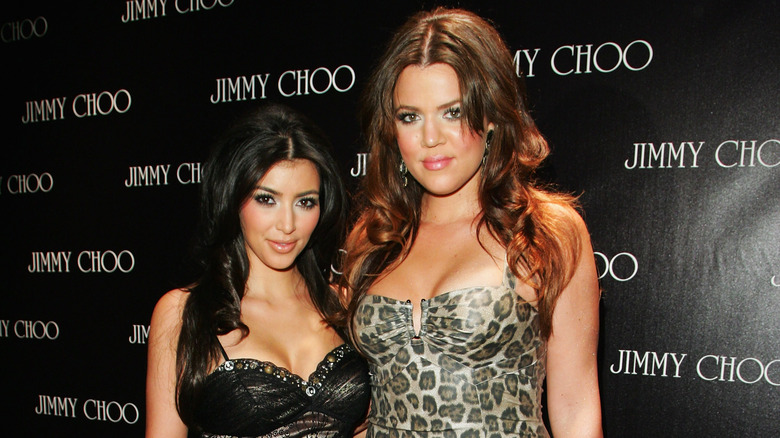 Getty Images
If there's one look that defines the earliest incarnations of reality TV's first family, then it's this. The curly hair, the cleavage, the smoky eyes, it all just screams "sexy" which, as Kim and Khloe noted in their very first dual confessional on the latest series, was their go-to style statement back in the day. Strangely, Kim seems to have been lumbered with the more demure dress on this occasion, her outfit resembling something you might wear to a night-time garden party. 
Khloe, on the other hand, in her skin-tight leopard print body-con calls to mind the very first promotional poster for the show (which Kim hilariously shared on social media to promote season 11) where virtually everyone was wearing leopard print. Er, apart from Rob, who doesn't really count anyway. This is arguably the only time Khloe has looked like more of a typical Kardashian than Kim. It's amazing the very fabric of time and space wasn't ripped open in this moment, only for Kim to emerge, the dress now somehow clinging to her body, victorious once more and winking at the camera while the rest of the family remains in the background.