Ivanka Trump's Testimony About Her Father's Capitol Riot Statement Has Twitter In A Tizzy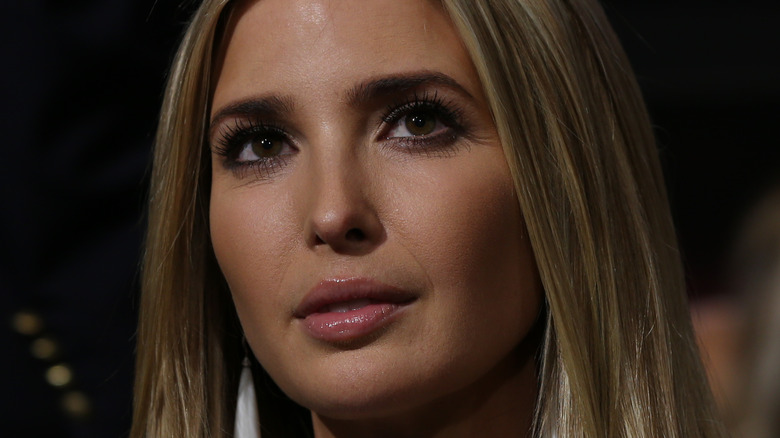 mark reinstein/Shutterstock
Over 800 people have been charged for their actions when protestors stormed the U.S. Capitol on January 6, 2021, per Insider. And some feel that Donald Trump himself should face charges (via US News and World Report). The official U.S. House investigation into what happened was organized in July 2021, and one year later some fairly shocking revelations have come to light during public hearings. Many came from former White House aide Cassidy Hutchinson, who testified that Donald knew some in the crowd on January 6 were armed and that he threw a plate of food at the wall upon hearing Attorney General Bill Barr say there was no evidence that the election was stolen, per CBS News.
Ivanka Trump, for her part, believed Barr, and a video of Ivanka at the hearings confirmed that she "accepted what he said," via NPR. Ivanka showed up on a newly released video where the focus was on how Donald was going to publicly respond to the insurrection; she reacted to seeing a draft of daily remarks from January 7, 2021 and confirmed that it included her father's handwriting, per NBC News. And the edits that Donald made have caused an uproar.
People think Donald Trump's edits were telling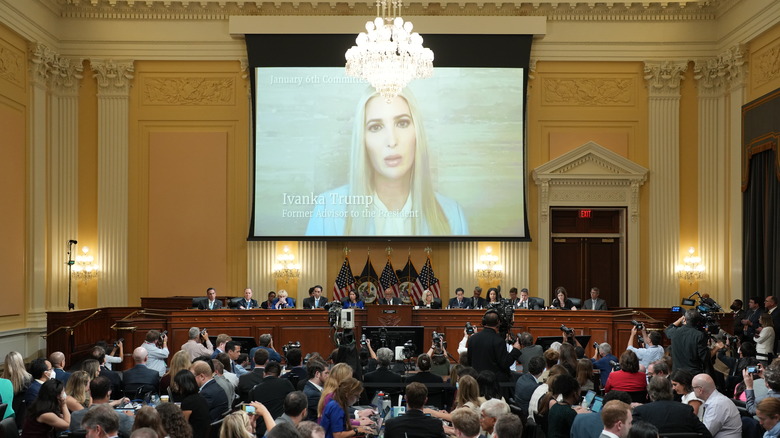 Pool/Getty Images
Ivanka Trump confirmed that it was her father's writing on the draft speech, and one Twitter user agreed with her based on the fact that the edits were done with Sharpie. Donald Trump has long loved using Sharpies, per The Guardian. But more so than the writing implement, people focused on the edits.
George Conway — a frequent critic and the husband of Kellyanne Conway, who worked for the former president — posted the lines that Donald struck through, including: "I am directing the Department of Justice to ensure all lawbreakers are prosecuted to the fullest extent of the law." The draft included several more crossed out lines, including "I want to be very clear, you do not represent me. You do not represent our movement." For that line, one tweeted in jest that "Trump would have scribbled in 'I want to be very clear, you complete me' in its place."
One user pointed out he crossed out "Good afternoon" at the start because it wasn't a good afternoon for him.
Another user thought the entire thing was disingenuous, tweeting "wasn't this short statement delivered strictly to thwart any 25th amendment activity, it wasn't heartfelt & was read like a hostage statement." They weren't alone in the thought. "This reeks of 'I wanted them to do this and if they pulled it off I'd be all in favor but since they lost I have to somehow scold them yet maintain their support,'" another user tweeted.