Donald Trump's DC Greeting Isn't What You Would Expect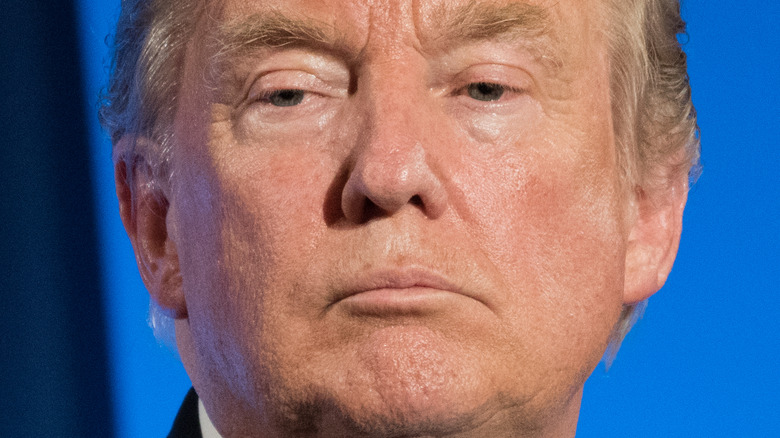 Frederic Legrand - COMEO/Shutterstock
It's no secret that former president Donald Trump is interested in making his way back into the halls of the White House. According to The Washington Post, Trump could be announcing his candidacy for the 2024 election as soon as September, which is before the midterm elections roll around.
Trump's base of supporters is ready for him to announce his 2024 game plan sooner than later. Senator Lindsey Graham told The Washington Post of the rumors, "If Trump is going to run, the sooner he gets in and talks about winning the next election, the better." However, not all conservatives are on board with another potential Trump presidency.
Per Politico, some of Trump's former allies are not interested in seeing him run again. With the ongoing January 6 committee hearings taking place in Congress, some believe he doesn't stand a chance at winning, and therefore, want him to sit this one out. Furthermore, on July 26, the Justice Department announced their investigation into Trump as part of their January 6 inquiry, the "criminal probe" attempting to get to the bottom of Trump's role on the fateful day. Plus, as some insiders have attested, Trump's motives for seeking office yet again may be more sinister than ever before.
Protestors welcomed Trump back to D.C.
Evan El-Amin/Shutterstock
Donald Trump certainly appears confident he has another election in the bag; however, after his recent greeting from Washington, D.C., he might not be so certain.
The twice-impeached president made his first appearance in the nation's capital since the end of his presidency this week (via CNN). He spoke to an audience about putting stricter criminal justice policies in place, stating he wants to "return to stop-and-frisk policies in cities."
His return to D.C. wasn't met with the praise he may have been expecting, though. According to TMZ, protestors were parked outside of his hotel waiting for the right moment to spring into action. Unhappy with his "America first" policy handed forth at his rally, protesters could be heard chanting, "No trump no KKK no fascist USA," in a video posted to Twitter. They were also passing out flyers that read, "INDICT TRUMP PROTECT DEMOCRACY."
The protestors were not just outside of the hotel Trump was staying in, but made their way inside. Across several of the hotel's floors, protestors could be seen and heard. It's unclear if Trump had anything to say about the less-than-warm reaction he received, but time will certainly tell how he fairs in the polls and public amid his return to politics.