Black Friday Deals That Sound Too Good To Be True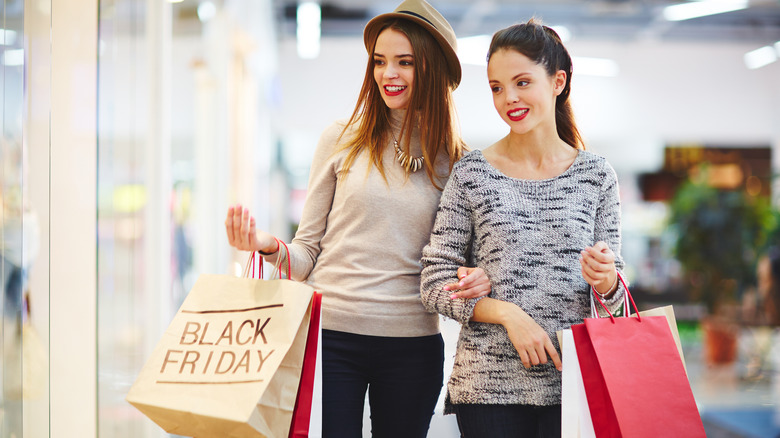 Shutterstock
For a lot of us, November means sales — and there's arguably no bigger sale than Black Friday. Over the years, Black Friday has taken on more and more meaning (as well as more and more days). For many retailers, it now encompasses the entire week of Thanksgiving. Sometimes it's hard to tell whether a Black Friday "deal" is really a deal at all, so we've compiled the best Black Friday deals around (so far). While some Black Friday ads have officially been released, others have only been leaked to sites like BestBlackFriday.com. Either way, it's a lot to look through, so we compiled the best of the best for you.
Whether you're shopping for kids, adults, loved ones, or even yourself (we won't tell), we're doing the legwork so you don't have to. So check out all these great deals and be sure to check back often as we continue to update our list of best Black Friday deals for 2017.
Google Home - $79.99 (reg. $129.99)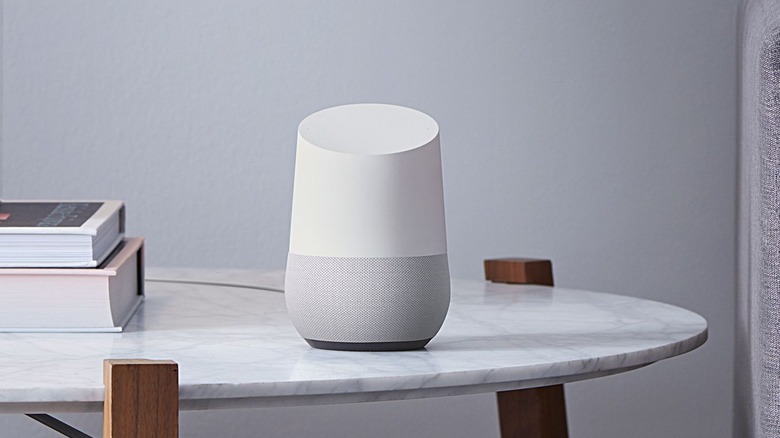 Google Home is an at-home version of the Google Assistant that is available on Android phones. By saying, "Hey, Google" the device will begin listening for a question or voice command to determine its response. The responses range from playing music to controlling your lights and home appliances, depending what other smart devices you've paired with it. It will also answer general questions (think: anything you'd typically Google). 
While it is regularly $129.99, several stores will have it available on Black Friday for just $79.99, including Kohl's, JCPenney, Walmart, Lowe's and Target. If you pick it up at Kohl's you can also enjoy $15 in Kohl's Cash. 
Not ready for the full-blow Google Home? Target is also offering a deal on the Google Home Mini. Regularly $49, get it at Target for $29. Bonus: you'll also get a free $10 Target gift card. 
Sony Playstation 4 console - $199.99 (reg. $299.99)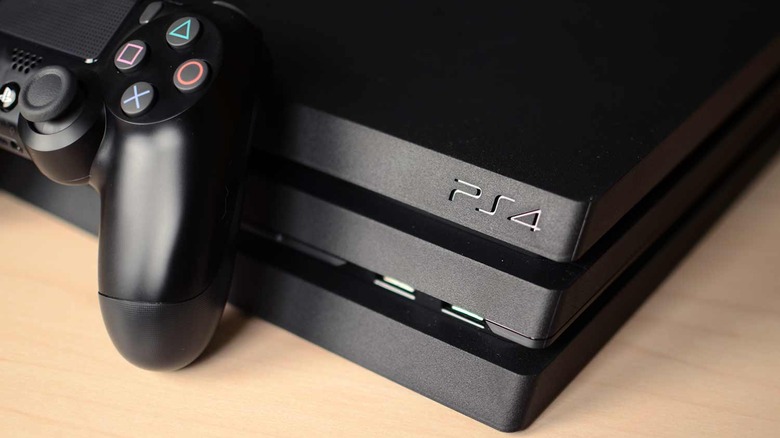 The Sony Playstation 4 has a 1TB hard drive and allows you to not only play games, but also watch TV and listen to music with apps for Netflix, YouTube, and more available for the device. You can do all sorts of cool things with the PS4, so it's likely that your kids (or even the adults in your life) are wishing for one. 
Regularly $299.99, several stores will have the console and controller available on Black Friday for $199.99, including Target, Kohl's, JCPenney, and Dell. Games are sold separately, but many of the retailers that have specials on the console will be having specials on the games as well. 
Walmart also has the console for $199 or, if you already have a PS4, you can get the GranTurismo Sport VR bundle that includes a camera, headset, and the GranTurismo Sport game for $299 (regularly $399).
Samsung 55-inch 4K Ultra HD Smart TV - $499.99 (reg. at least $699)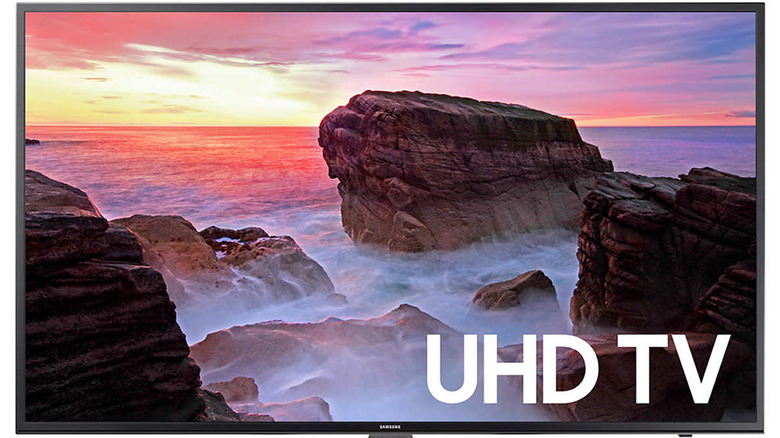 If you haven't yet heard of 4K televisions, buckle up. These TVs are known as "ultra HD" and have a resolution of 3,840 x 2,160 (four times the standard HD television). This means a much sharper image, and it just so happens that a lot of recent programming (including Netflix original programming) is being produced in 4K resolution. That said, they ain't cheap, especially if you want to go for a larger size TV. 
But you're in luck! The Samsung 55-inch 4K Ultra HD Smart TV is a Black Friday special at several retailers. Kohl's and JCPenney will both have it available for $499.99 and at Kohl's you'll also get $150 Kohl's cash. Kmart is offering it for the same price, plus $50 cashback points. It's $599.99 from Dell, but you'll get a $100 Dell e-gift card if there's another Dell product you've been eyeing.
Nest indoor security camera - $149.99 (reg. $199.99)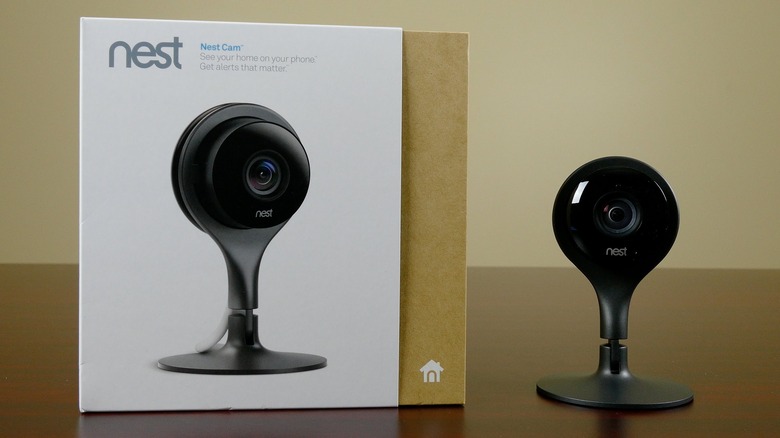 If you've been looking for an indoor security camera, this is it. The Nest Cam not only allows you to record what's going on in your home, it will send you phone alerts if it senses movement or loud noises (like a window breaking or a loud crash). You can also listen and talk, so it doubles as a great pet cam. There are tons of extra features and a subscription service that allows you to record 24/7, but even in its most basic settings, you can't get much better. 
Regularly $199.99, both Lowe's and Kohl's will have it for $149.99 on Black Friday. If you get it from Kohl's, you'll also get $45 in Kohl's Cash.
KitchenAid Artisan Stand Mixer - $279.99 (reg. $379.99)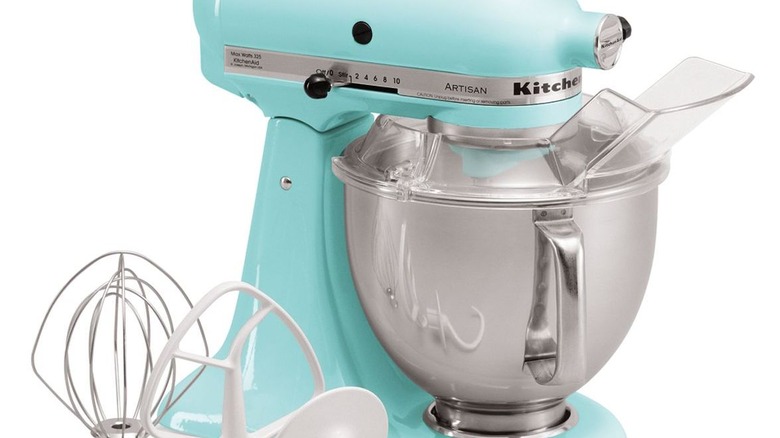 If you or someone you know is a baker, a stand mixer is a must. The KitchenAid Artisan Stand Mixer has ten mixing speeds, a tilt-up head, and a "power hub" where you can buy and attach additional accessories (like pasta rollers, a grain mill, an ice cream maker, and more). It comes with a stainless steel bowl, wire whip, flat beater, and dough hook. It also comes in tons of colors so you can match any kitchen decor. 
Regularly $379.99, it's $279.99 after mail-in rebate from both Kohl's and JCPenney on Black Friday. Macy's will also have it for $279, plus an extra 20 percent off on those fabulous optional attachments we just mentioned.
Fitbit Blaze - $149.99 (reg. $199.99)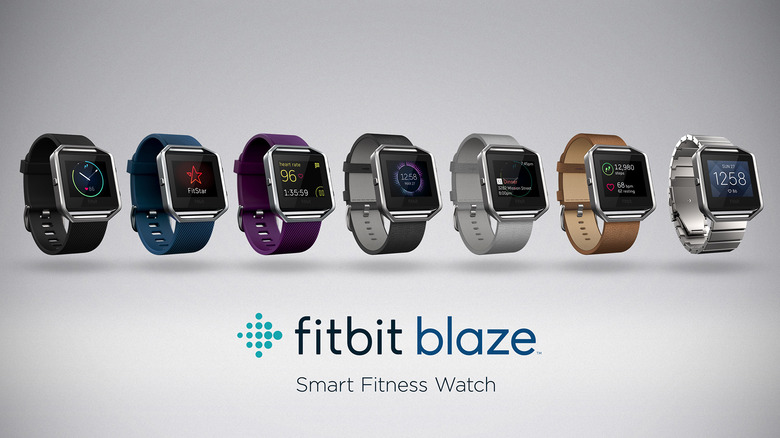 There are lots of activity trackers available for the fitness fanatic in your life, but the Fibit Blaze is a smart watch that tracks your heart rate, fitness level, smartphone notifications, your GPS activity, and can even lead you through breathing sessions. It also lets you control your music, track your sleep, and reminds you to move. 
Regularly $199.99, get it at Kohl's for $149.99 on Black Friday!
DJI Spark mini drone - $399.99 (reg. $499.99)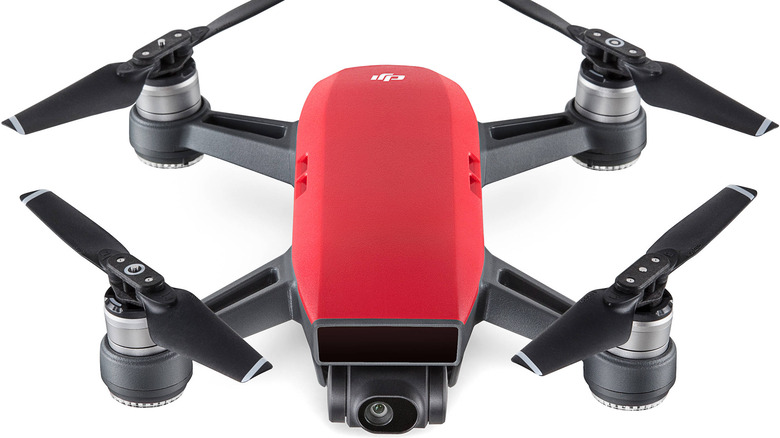 We all have the one tech-obsessed person in our lives who can't get enough "toys" — and this might be the winning gift. The DJI Spark is a mini drone with a 12MP camera and facial recognition. It comes with a remote, but you can also control it with your hand or smartphone, depending on the distance. It hovers in place for group photos or (if you tell it to) follows along on your adventures, always keeping you in the frame. 
It's regularly $499.99, but on Black Friday you can get it for $399.99 from Target or Kohl's.
Ninja Coffee Bar - $99.99 (reg. $199.99)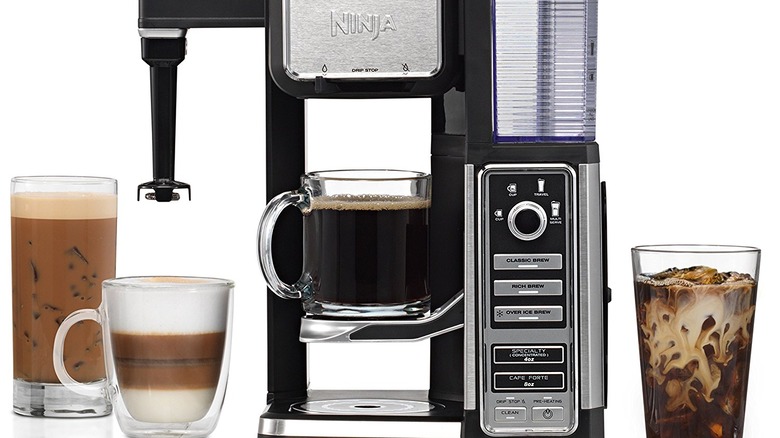 If you're buying for a coffee lover, look no further than the Ninja Coffee Bar. It makes hot or iced coffee, has a built-in frother, and can make single or multiple servings. If it's good enough for Sofia Vergara, it's certainly good enough for us mere mortals, right? 
Regularly $199.99, get it from Target or Kohl's for $99.99 on Black Friday.
Mermaid sequin pillows - $8.99 (reg. $27)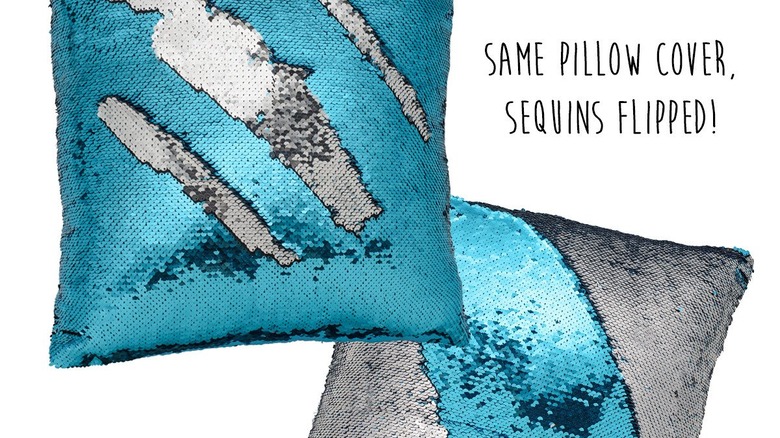 If you haven't seen a Mermaid sequin pillow yet, you might not understand why they're all the rage. Check out some of the super satisfying videos of them and you'll totally get it. Basically they're sequined pillows that when you rub them one way are one color, but rubbed the opposite direction the sequins are a different color. This means you can create designs, words, etc. and then brush it all away with a swipe of your hand. 
These pillows are regularly $27 at JCPenney, but on Black Friday will be just $8.99 each. 
Samsung 4-piece kitchen package - $1,665 for set (save $1,031 by bundling)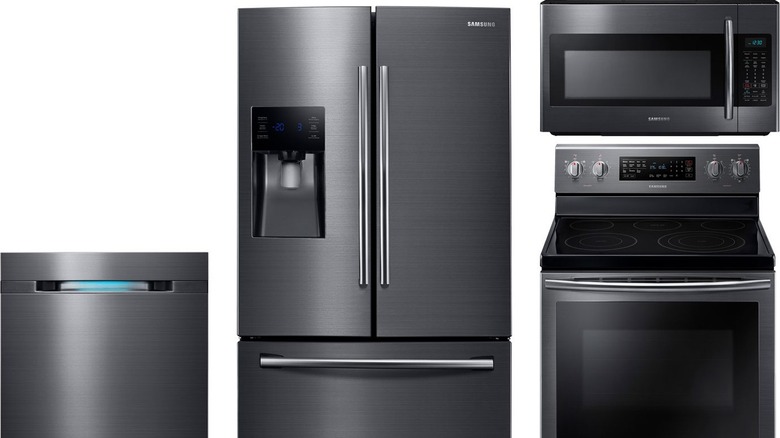 If you're thinking about remodeling your kitchen and getting all-new appliances, JCPenney has a Black Friday kitchen appliance bundle you'll definitely want to check out. For $1,665, you can get a Samsung 4-piece bundle including a 24.5 cu ft side-by-side refrigerator, a 5.9 cu ft free-standing electric range, a 1.5 cu ft over the range microwave, and a 24" hybrid dishwasher. By bundling them together, you save $1031 off the regular, individual price.
Jetson V12 all-terrain hoverboard - $199 (reg. $299.99)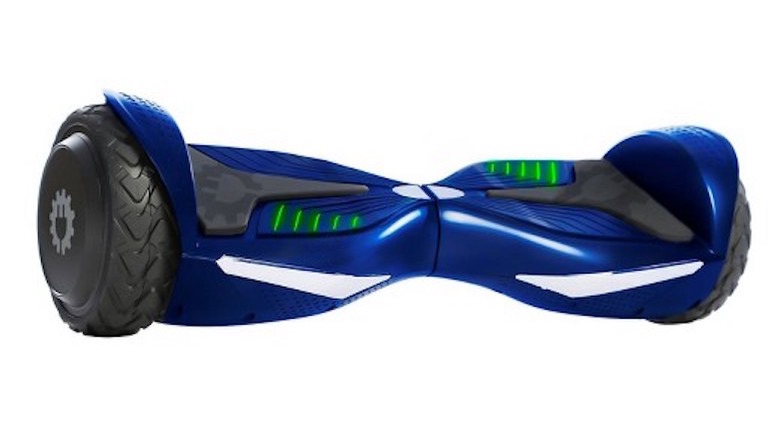 If you or the kids in your life are looking to hop on the hoverboard bandwagon, Target has you covered on Black Friday. Their Jetson V12 all-terrain hoverboard has Bluetooth speakers, customizable lights, and (super importantly) meets all government safety standards. It has a maximum cruising distance of 12 miles and a maximum speed of 8mph. Regularly $299.99, it will be available for $199 on Black Friday.
Canon Rebel T6 DSLR bundle - $449.99 (reg. 749.99)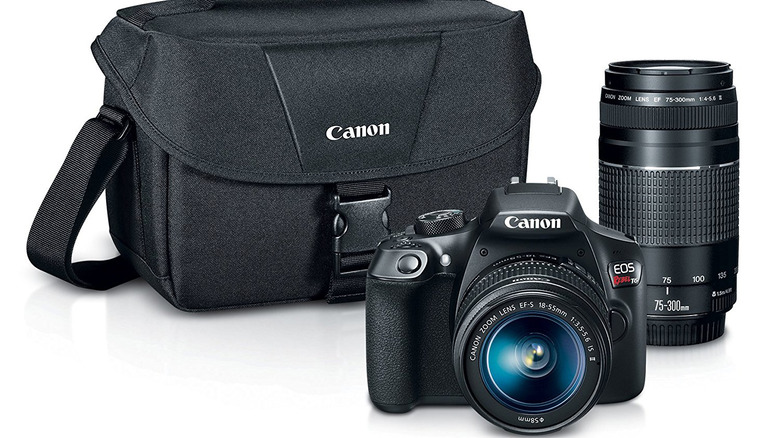 It's time to take your Instagram game up a notch. DSLR cameras aren't cheap, and that's one reason this bundle is such a great deal. Not only will you get the Canon Rebel T6 DSLR, you'll also get the 18-55mm lens, a 75-300mm zoom lens, a camera bag, and a 16GB memory card. The bundle would normally cost you $749.99, but on Black Friday at Target you can get it for $349.99!
VTech digital video baby monitor - $89.99 (reg. 179.99)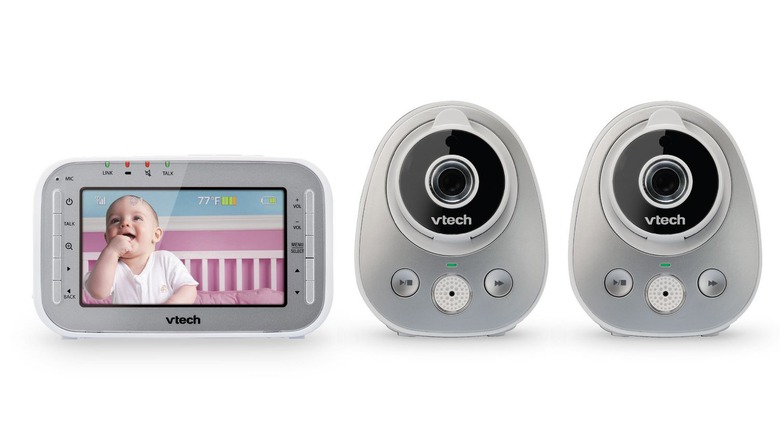 For the new mom or mom-to-be, Target is running a Black Friday deal on the VTech digital video baby monitor that you don't want to miss. This monitor comes with two cameras and both a wide angle and standard lens. It's full color, allows you to talk to your baby, and has automatic night vision so you can keep an eye on your little one day and night. You can also attach two additional cameras (not included) to keep an eye on kids in multiple rooms. 
Regularly $179.99, Target will have it for $89.99 on Black Friday.
Graco Nautilus Harness Booster car seat - $99 (reg. $149)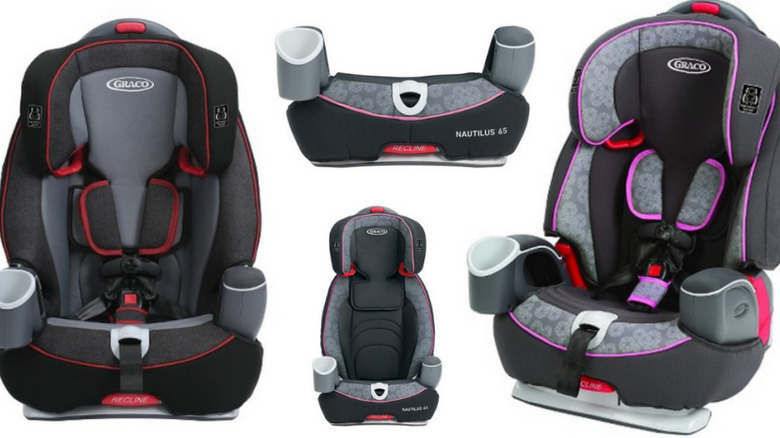 Another great gift for new parents (or great savings for yourself) is the Graco Nautilus Harness Booster car seat. It's regularly $149 at Walmart, but you can get it for $99 on Black Friday. Its 3-in-1 design means it will grow with your little one. The five point harness option is for kids ranging from 22-65 pounds, the high-back booster serves kids from 30-100 pounds, and the backless booster option serves kids from 40-100 pounds. Don't forget, any car seat that's been in a car during an accident needs to be replaced (even if your kiddo wasn't in the seat). If in doubt, switch it out.
Whalen Fireplace Media Console - $155 (reg. $199)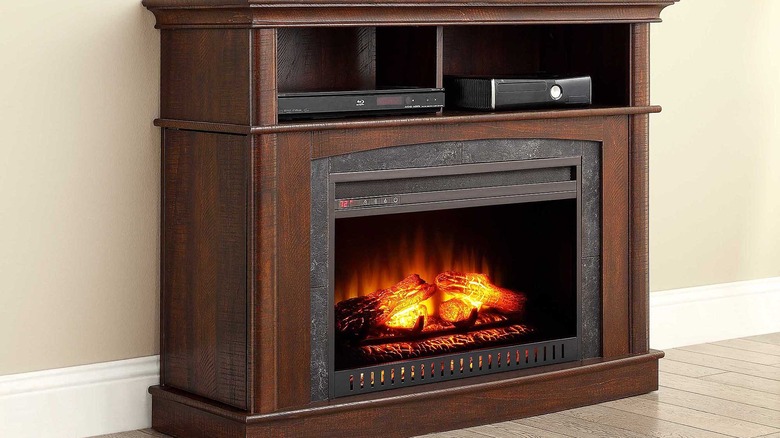 If your Black Friday shopping list includes something beautiful and functional, this fireplace and media console from Walmart is a great option. Not only does it support up to a 50" flat panel TV for all your Netflix needs, it heats up to 400 square feet. Talk about the perfect way to stay toasty warm and entertained on those long winter evenings. Regularly $199, you can get it on Black Friday for $155. It also has space for your other electronic devices, like that awesome PS4 you also bought on sale on Black Friday.
Black & Decker 4-Tool cordless combo kit - $99 (reg. $179)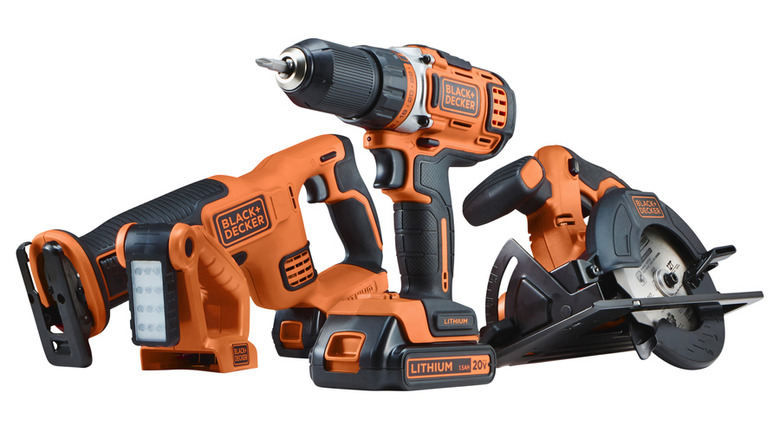 If you have a handyman or woman on your Black Friday shopping list, this is the deal for you. This four-piece tool set from Black & Decker includes a 1/2-inch drill/driver, a circulating saw, a reciprocating saw, and an LED work light all with 20-volt MAX lithium ion battery power. It comes with two battery packs and the light has an 11-hour lifespan on a full charge. It's the perfect starter kit for small projects with a budget. Get it for $99 at Lowe's where it was originally $179.
DeWalt 10-Tool 20-Volt Lithium Ion cordless combo kit with soft case - $599 (reg. $799)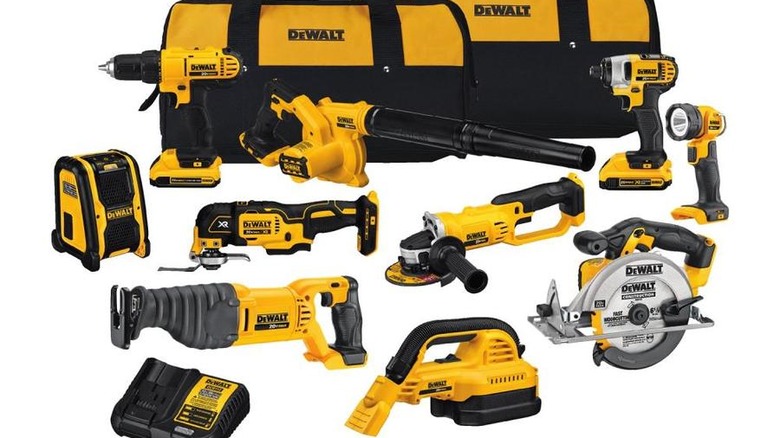 If four cordless tools aren't enough for you on Black Friday, Lowe's also has a ten-piece set from DeWalt for bigger projects that need a bit more power. This set includes a 1/2-inch compact drill, a 1/4-inch impact driver, a reciprocating saw, a circular saw, an oscillating multi-tool, a grinder, a blower, a charger, a bluetooth speaker, and an LED work light. Oh, and soft cases to carry them all around. This set was originally $799, but you can get it on Black Friday for $599.