All The Times Billie Jean King Has Received Awards For Being The Tennis Legend That She Is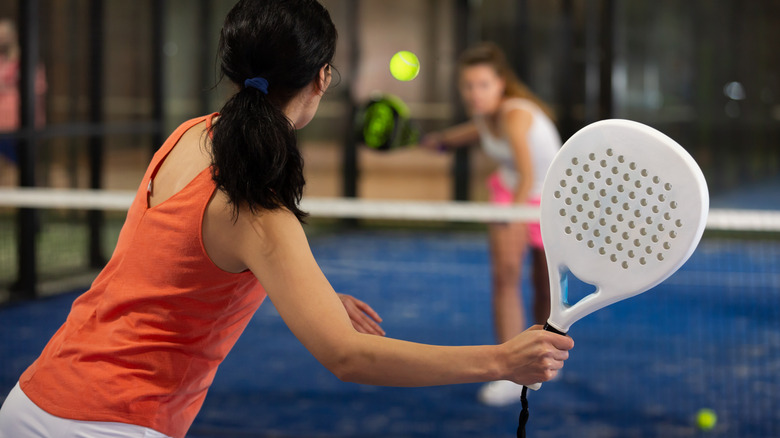 BearFotos/Shutterstock
The Glamour Woman of the Year awards have been taking place since 1990. Since then, the publication has kept up the tradition of honoring female trailblazers who have fought, and are currently fighting, the good fight for other women. They are the pioneers for change they wish to see in the way society views and treats women. Civil rights leaders like Dr. Myrlie Evers-Williams and political trailblazers like Kamala Harris are just some of the awe-inspiring women who have been honored over the years. In 2006, tennis legend Billie Jean King, known for her skills on the court and her ongoing battle for equal pay, won the prestigious award.
For those unfamiliar with King's legacy, she received 39 Grand Slam titles throughout her inspirational career, including 20 titles from Wimbledon alone, per her official website. Recently, the tennis legend was depicted by actress Emma Stone in the movie "Battle of the Sexes," which showcased King's historic match against fellow player Bobby Riggs, played by Steve Carell. According to King's website, the original match captured the attention of nearly 90 million people across the world. As someone who's always been a fierce advocate for gender equality, King went head-to-head with Riggs to prove that women weren't inferior to men — on or off the court.
Her award in 2006 is just one of several ways the tennis legend has been honored over the years for her groundbreaking accomplishments, both personally and professionally.
Billie Jean King has been acknowledged numerous times for her accomplishments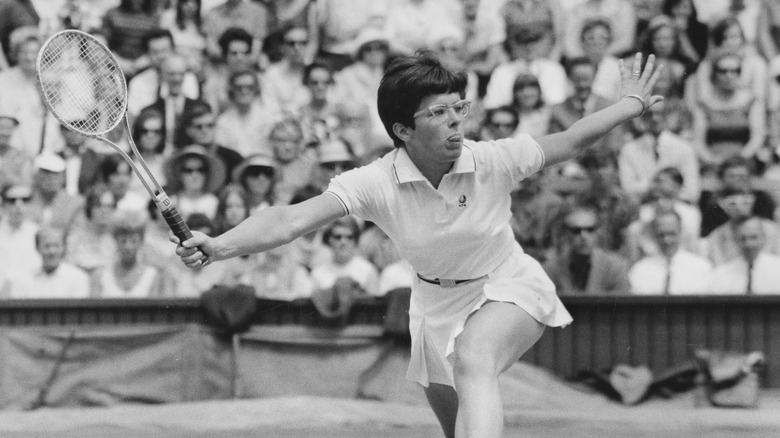 Leonard Burt/Getty Images
"To me, true champions lift up others," Billie Jean King said during her acceptance speech in 2006, when she received Glamour's Woman of the Year award. These weren't just empty words she spoke to those in attendance — King has been living by her words since coming into the spotlight as a tennis player several decades ago.
In 1971, she became the first female athlete to earn "over $100,000 in a single season" (via National Women's History Museum). However, she wasn't satisfied with being the only one breaking the pay ceiling. King raised her voice to speak out about the continued struggle for women to have the same pay as their male counterparts in the sport (per History). Because of her, and many voices like hers, female tennis players are now among the highest-paid female athletes in the world (via Tennis.com).
Most people know her as the winner of the heated "Battle of the Sexes" match against Bobby Riggs, a self-proclaimed "male chauvinist" who denounced women's tennis as being inferior (our hope is that he reevaluated that opinion after his loss). However, King has also been honored with several important awards throughout her lifetime, aside from the stunning titles she received due to her athletic endeavors.  
She was recently placed in the Team USA Hall of Fame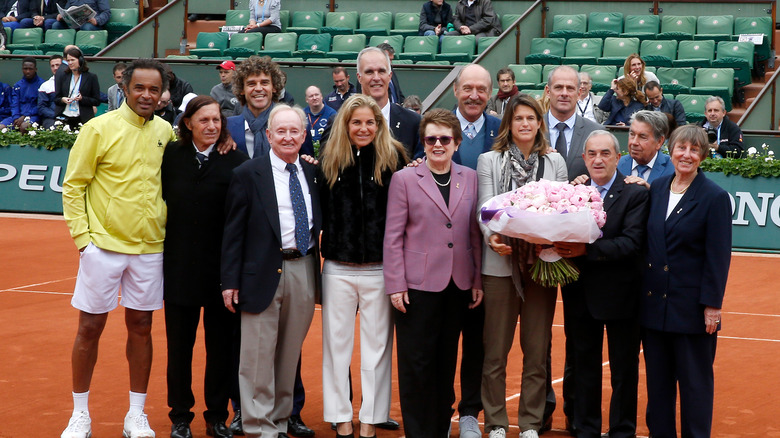 Rindoff Petroff/hekimian/Getty Images
Billie Jean King's accolades are only continuing to grow. Due to her unending passion for sports and women's rights, King has received numerous awards and acknowledgements. Even after retiring with 39 Grand Slam titles under her belt, according to her website, she went on to become a coach for future tennis stars and even Olympic athletes.
Although King was a coach for the U.S. Olympics team, she never had the chance to compete at this level herself. However, her contributions to the world of sports did not go unnoticed. In 2022, she accepted her place in the Team USA Hall of Fame in the category of special contributor (via Team USA). She was the first woman to be inducted into the category. In her acceptance speech aired on NBC, she called this moment, "a true honor." She continued by adding that her hope was for more women to be inducted into the category.
Additionally, the California native received the Presidential Medal of Freedom award in 2009 from former president Barack Obama, as well as the Sports Illustrated Muhammad Ali Legacy Award in 2021, per her official website.