General Hospital's Kathleen Gati Celebrates A Liesl Obrecht Milestone She Never Expected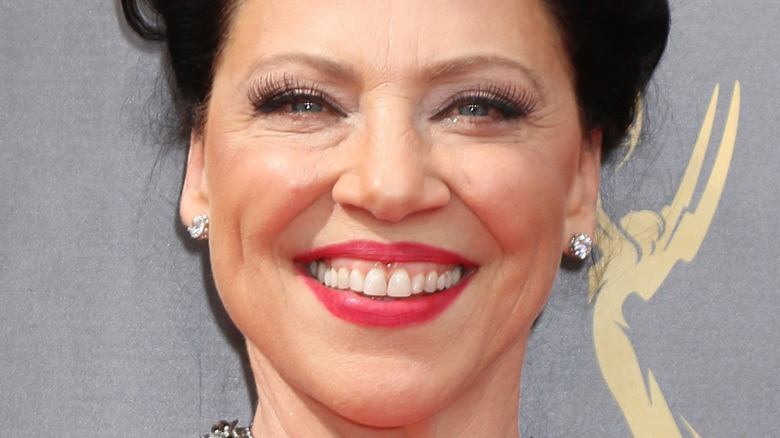 Kathy Hutchins/Shutterstock
The Hungarian-Canadian actress Kathleen Gati got her first recurring role on the soap opera "All My Children" where she played Taffy Winslow for a short time in 1989. She went on to pursue other roles both in the U.S. and overseas, appearing on shows like "24," "Weeds," and "Arrow." The actress also appearing in an episode of "The Young and the Restless" in 2010.
When Gati returned to daytime in 2012 as the menacing Dr. Liesl Obrecht — a character you'd hate to know in real life but love to see on "General Hospital" — the role was only supposed to be temporary. "They just needed some Swiss-German character to come in and be the head of this clinic and do some bad things and then good-bye," she explained in an interview with Soap Opera Digest. However, "GH" head-writer at the time Ron Carlivati was so impressed with Gati and the response to her character that they decided to bring her back, and she has become a beloved fixture on the show in the years since.
Liesl Obrecht has committed a plethora of crimes and morally bankrupt misdeeds during her time in Port Charles, including many kidnappings, attempted murders, prison breaks, and more. However, there is a level of humor that Gati brings to the character that keeps viewers hooked. Fans' devotion is part of the reason why the actress has reached an exciting milestone on the soap.
Kathleen Gati's played Liesl Obrecht for 10 years
Kathleen Gati recently took to Twitter to share a photo of herself outside the "General Hospital" set. She revealed that this week marks her 10-year anniversary playing Dr. Liesl Obrecht. "First day at this studio was July 31, 2012 for a quick stint," she wrote. "Thank you [Frank Valentini, executive producer], [Mark Teschner, casting director], and to all cast and crew, and of course to all you amazing ["GH"] fans for the ten years of love and kindness!"
In the past, Gati has revealed that some of her character's more nefarious actions had her worried fans of the soap would turn against her or grow tired of her antics (via Soap Opera Digest). However, "GH" fans continue to shower her with love and support. Obrecht has had some redemptive moments — such as the death of her son Nathan West — that helped humanize her, and she also brings a surprisingly lighthearted energy to the show with her snappy one-liners and her longtime feud with Anna Devane (Finola Hughes).
Gati is grateful each time she is asked back to the set of "GH." told Soap Opera Digest, "I love the fans, I love the show, I love the actors, the writing, the material and most of all, I love my character ... As an actor, you get to do everything in this role. I get to do everything from being comedic and campy and broad to being very sad and miserable and dark. Every actor ... would drool for this."
Congratulations to Kathleen Gati for 10 years playing Dr. Liesl Obrecht, and here's to 10 more!