If You've Never Read Anything By Maya Angelou, Here's The Book You Should Start With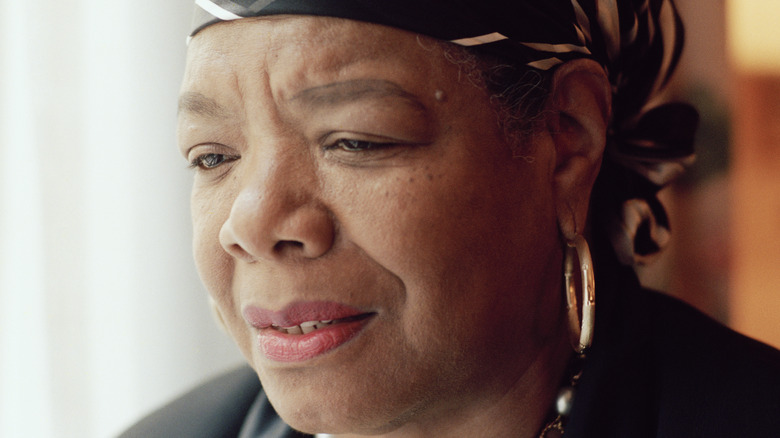 Michael Brennan/Getty Images
"Language is man's way of communicating with his fellow man, and it is language alone that separates him from the lower animals," writes Maya Angelou in her groundbreaking 1969 debut, "I Know Why The Caged Bird Sings" (via ThoughtCo).
In this autobiographical novel, Angelou finds solace in language after she loses it entirely. After being raped at the age of eight by her mother's boyfriend, her rapist went to trial, where Angelou testified against him (via Mental Floss). But just one day into his jail sentence, he was beaten to death, reportedly by men in Angelou's family. Believing her voice killed her attacker, she stopped speaking for five years. Only when Angelou began reading poetry out loud did she find her voice again.
Later, when Angelou "met and fell in love with William Shakespeare," she began a lifetime affair with poetry and the English language (via Penguin Random House). Her singular voice and devastating depiction of Black southern life during segregation paved the way for other Black female writers to write about their experiences (via New York Times). For her contribution to American culture, Barack Obama awarded Angelou the Presidential Medal of Freedom in 2010.
"I Know Why The Caged Bird Sings" is one of the many books Angelou published before her death in 2014 at the age of 86, and it's a perfect introduction to her glorious body of work.
I Know Why the Caged Bird Sings is one of the best non-fiction books of all time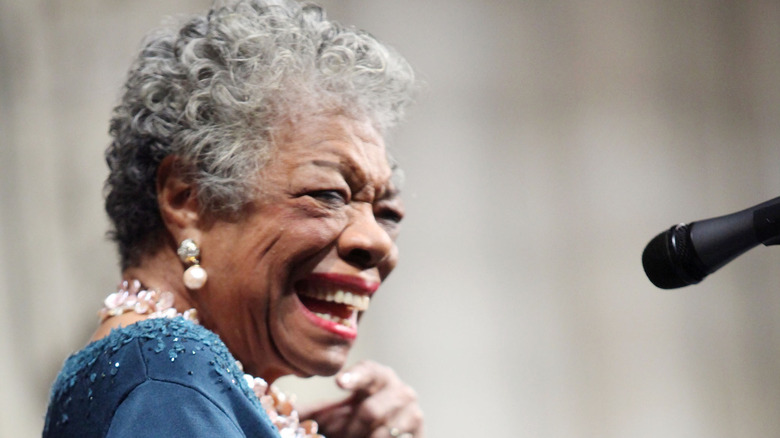 Astrid Stawiarz/Getty Images
As soon as "I Know Why The Caged Bird Sings" was published, public and critical acclaim poured in (via Smithsonian Magazine). In 1970, it was nominated for the prestigious National Book Award and spent two years on the best-seller list. The book continued to sell well, becoming an instant classic. When Maya Angelou read one of her poems at Bill Clinton's inauguration, "Caged Bird" found its way back onto the best-seller list (via Mental Floss). (Amanda Gorman, the young Black female poet at Joe Biden's inauguration, has Angelou to thank for shattering those glass ceilings.)
In 2011 when Time Magazine released their list of the top 100 non-fiction titles, "Caged Bird" topped the list at number five alongside Barack Obama's "Dreams from My Father," Richard Wright's "Black Boy," and "The Autobiography of Alice B. Toklas." GoodReads boasts nearly half a million reader reviews with an astonishing 4.27 stars. As of 2020, "Caged Bird" had sold more than a million copies and is available to read in 17 different languages, bringing Angelou's genius worldwide.
Caged Bird made history by depicting the truth of life for black women in the segregated South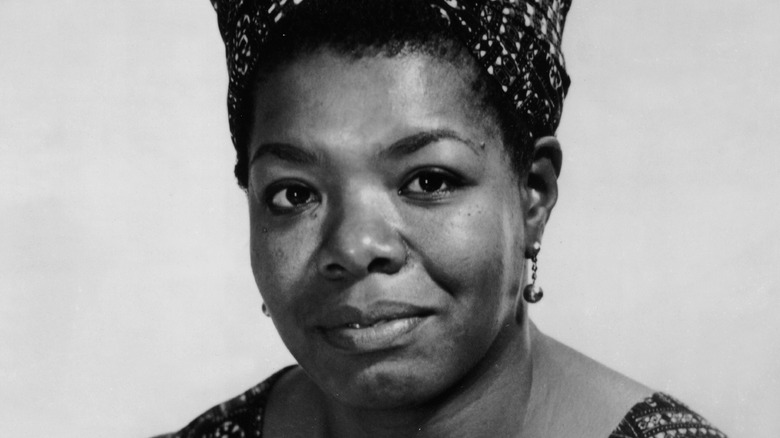 Michael Ochs Archives/Getty Images
Before "I Know Why The Caged Bird Sings," much of America had not been exposed to the brutal realities of life for a young Black woman during the age of Jim Crow (via New York Times). Maya Angelou accomplished this daunting feat through her masterful use of poetic devices. "If growing up is painful for the Southern Black girl," she writes in "Caged Bird," "being aware of her displacement is the rust on the razor that threatens the throat." Such vivid descriptions of the smells, sights, and sounds of her surroundings transport readers into Angelou's world and opened a window into empathy for the Black experience (via Smithsonian Magazine)
In "Caged Bird," Angelou also wrote about people whose lives had not previously entered the canon of American non-fiction — people like her teacher and friend Bertha Flowers, who suggested that Angelou read poetry to overcome her muteness. Her writing gave insight into the harsh realities of racism, especially against women of color, that the American public had previously ignored.
"Caged Bird" was the first of seven autobiographies and marked the first time a modern Black woman's autobiography touched such a large number of readers. If you haven't yet had the pleasure of reading Maya Angelou's lyrical prose, grab a copy of "Caged Bird," and prepare to be humbled and wowed.
If you or anyone you know has been a victim of sexual assault, help is available. Visit the Rape, Abuse & Incest National Network website or contact RAINN's National Helpline at 1-800-656-HOPE (4673).