What General Hospital's Maura West Has To Say About Evil Esme Might Surprise You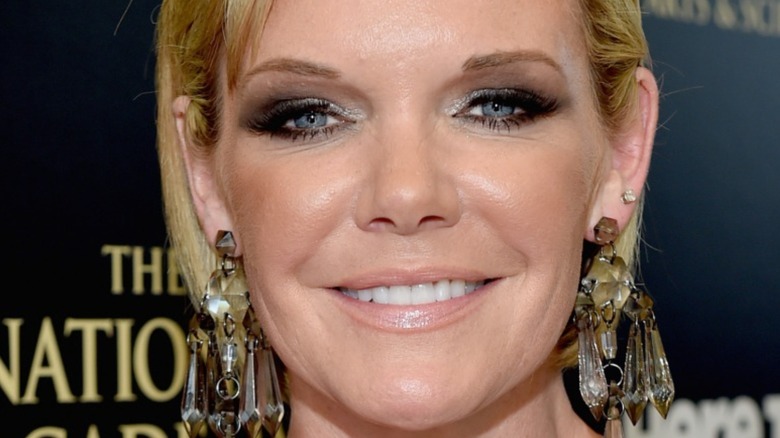 Alberto E. Rodriguez/Getty Images
Day in and day out, soap star Maura West gives a master class in acting on "General Hospital." This isn't her first rodeo as she's appeared in two other soap operas – CBS' "As the World Turns" and "The Young and the Restless." The three-time Emmy-winner is a bona fide scene stealer, and captivates her audience each time she steps into Ava Jerome's impeccable shoes. 
Ava has been the mastermind behind many schemes since her introduction to the soap in 2013. Its credit to West's extensive range that her character remains a fan favorite and has come back from the impossible, including murder, prison escapes, and a revenge plot against her own daughter, per Soaps in Depth.
West's performance and overall delivery during the heartbreaking reveal that her husband, Nikolas Cassadine (played by Marcus Coloma), slept with resident baddie and her current arch-nemesis, Esme Prince (played by Avery Pohl), was trending on Twitter for two days straight, per Soaps.com. To further complicate things, Esme is dating Nikolas' son, Spencer (played by Nicholas Chavez). 
As Esme, Pohl (whose first on-screen kiss was with Chavez) always gives as good as she gets and then some. The verbal sparring that goes on between Ava and Esme will go down in soap history. It only makes sense that "GH" would pair Pohl and West, considering their characters' similar mindset and temperament.
Maura West sees Avery Pohl's Esme as a formidable foe
During a Zoom Q&A session for "General Hospital" Fantasy Events, fans got the opportunity to quiz their favorite soap stars from the show about behind the scenes, per Soap Hub. One fan asked Maura West, "How is it acting with Esme, the character, and the actress who plays her?"
Avery Pohl plays the role of Esme so well that she regularly gets hate for the diabolical acts her character commits, per Soaps.com. According to Soap Hub, West spoke in detail about working with Pohl and why Esme is the perfect match for Ava. "I understand it, and I love it, first of all, Esme, in a different time and a place, that's a young Ava," she started out. "She's burdened with this situation, with Ryan [Chamberlain, Jon Lindstrom]. She's a little tweaked, and so I love it. It's an interesting character."
West also added that Pohl's role is a very difficult one because fans are supposed to hate her character, and that she's in the unique position of understanding exactly where Pohl is coming from since Ava was there not too long ago. "And then I also really understand Avery's task because I have been tasked with that myself, and it's hard," West readily admitted via the soap outlet. "It's hard to be the person who carries the weight of being the bad guy that's moving the story forward. Bad guys move story forward."