How Tom Hanks Was Really Able To Transform Into Mister Rogers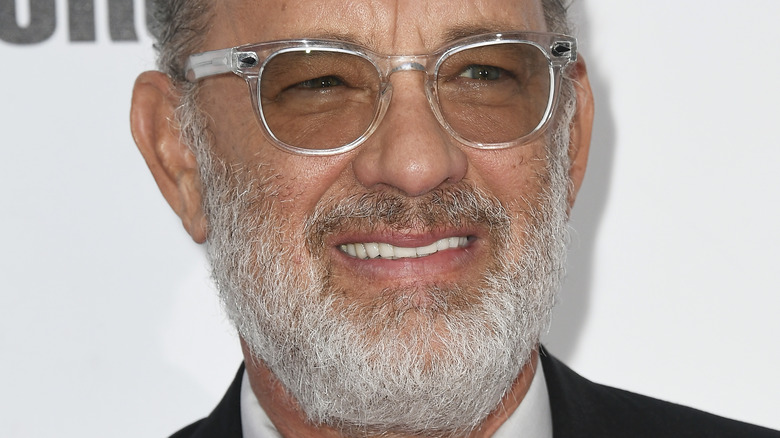 Frazer Harrison/Getty Images
There was nothing like listening to the comforting and gentle tones of Mister Rogers growing up. Children across America were treated to Fred Rogers' whimsical tales and lessons for over three decades, having started "Mister Rogers' Neighborhood" in 1968 (via Fred Rogers Productions). However, the 2018 documentary "Won't You Be My Neighbor?" showed how the television host captured the hearts and attention of his young audience (via YouTube).
A year later in 2019, a 1998 profile of Rogers written by Tom Junod for Esquire inspired the film "A Beautiful Day in the Neighborhood." Junod was renamed Lloyd Vogel in the movie and played by Matthew Rhys, who you might recognize from the FX spy drama "The Americans" (via IMDb). He also starred in Steven Spielberg's "The Post," alongside Meryl Streep and Tom Hanks.
Speaking of Hanks, if there was one person destined to play Mister Rogers in a biopic, it was him. But how did the veteran actor prepare for such a challenging role?
Tom Hanks went to journalist Tom Junod for advice
Unfortunately for Tom Hanks, Fred Rogers passed away in February 2003 (via The New York Times), so the actor didn't have the opportunity to talk with him. However, there was a wealth of footage available to study thanks to the nearly 900 episodes of "Mister Rogers' Neighborhood" (via IMDb), as well as interviews, and the documentary "Won't You Be My Neighbor?"
Tom Junod was also on hand during the filming of "A Beautiful Day in the Neighborhood" to answer any questions Hanks and Matthew Rhys may have had about his work. And seeing as the journalist spent a lot of time with Rogers for his 1998 profile, he was the perfect source for Hanks to go to. According to Hanks, Junod's primary goal in his work was to figure out "what [Rogers] was trying to sell" (via PBS). And, as Junod realized, Rogers "wasn't trying to sell anything. He was trying to make little kids feel safe," Hanks explained.
The actor dived deep into the mind of Fred Rogers
Knowing why Fred Rogers produced "Mister Rogers' Neighborhood" was the first step for Tom Hanks to get into character. He told PBS, "For me, as an actor, it's like, what are my myriad, natural tendencies as a human being that are going to have to be whipped into submission so that I'm not falling into the same brand of cynical presentation?" In other words, how could Hanks make the audience feel like Rogers genuinely cared for the children rather than producing the show solely for financial gain?
Hanks simply watched those nearly 900 episodes of "Mister Rogers' Neighborhood," listened to audio interviews of Rogers speaking about the show's production (via YouTube), and put his "faith in the process" to bring Rogers to life. That and feeling comfortable in Rogers' signature red cardigan and boat shoes. "There is a DNA that you sort of have to inject yourself at the same time that you put on that version of Batman's cape and cowl," Hanks explained in the video, "except it's a red cardigan sweater and blue deck shoes."