The Audiobook You Never Knew Rachel McAdams Narrated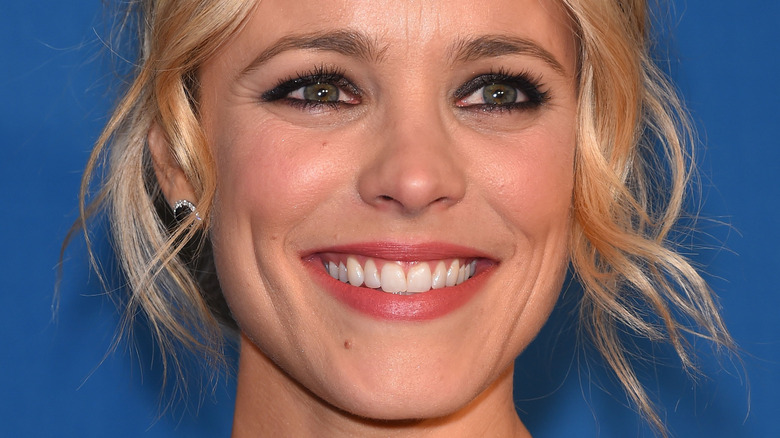 DFree/Shutterstock
From drafting the Burn Book in "Mean Girls" to doing an entirely different type of journaling in "The Notebook," Rachel McAdams is responsible for some of the early 2000s most iconic characters. Queen Bee Regina George is one of the actress' most quoted roles – "Get in loser, we're going shopping" fully entered the cultural lexicon after "Mean Girls" was released in 2004. Now a member of The Marvel Cinematic Universe, McAdams has transformed into a Hollywood A-lister, starring in everything from Oscar contenders (she was nominated for best supporting actress in 2016 for "Spotlight") to high school comedies.
Born in Ontario Canada, McAdams made her acting debut in 2001 in the Disney Channel show, "The Famous Jett Jackson," and shortly after was cast as the star of "The Hot Chick" alongside comedian Rob Schneider (via IMDb). From here, she quickly rose to fame, with both "The Notebook" and "Mean Girls" under her belt by 2004 (via Britannica). As explained by The New York Times in a 2018 spotlight on the actress, McAdams likes "to keep things unpredictable in an industry that can only imagine you as the last character you played." As a result, she's been able to defy type-casting, seamlessly bouncing between genres. Off-screen, the "Mean Girls" star has lent her creative talents to the world of audiobook narration.
Rachel McAdams takes us back in time with Anne of Green Gables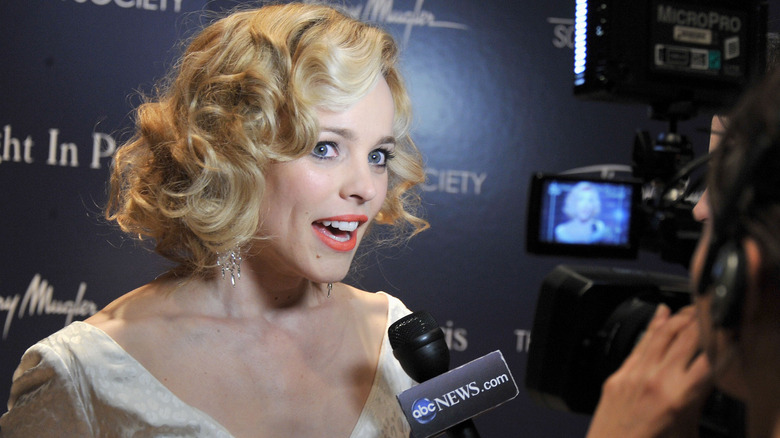 Stephen Lovekin/Getty Images
In 2016, the same year McAdams was nominated for Best Supporting Actress, she recorded "Anne of Green Gables," available to borrow on Audible. The reading received overwhelmingly-positive reviews, with over 13,000 listeners rating McAdams' performance five out of five stars. Post Magazine also dished-out praise — albeit more hesitantly — claiming, "like Anne, McAdams wins you over. Just about."
Originally published in 1908 (via Britannica), "Anne of Green Gables" was a success among young readers. The novel tells the story of Anne Shirley, an orphan girl sent to live and lend a hand on Green Gables, a farm owned by the aging Cuthbert siblings. When Anne shows up, the Cuthberts are surprised to see an orphan girl, not a boy as they requested. However, they ultimately take a liking to Anne in all her red-headed rambunctious glory, as Britannica explains. 
Like Rachel McAdams, author Lucy Maud Montgomery is Canadian, basing the book on her childhood on Prince Edward Island in the late 1800s (via L.M. Montgomery Institute). Despite her Canadian roots, Anne is a popular heroine around the world. According to the L.M. Montgomery Institute, "Anne of Green Gables" has been translated into well over 20 languages since it was first published. In Japan, especially, the novel is particularly-beloved. Visitors can even tour a replica of Green Gables at the Canadian World theme park in Hokkaido (via BBC).
Anne of Green Gables has countless screen adaptations
As well as the seven sequels written by Lucy Maud Montgomery, the story of Anne has been repeatedly continued on screen over the decades. The 1979 anime garnered a large following in Japan, inspiring an influx of tourism to Canada's Prince Edward Island (via Vanity Fair). Perhaps one of the most-loved adaptations is the 1985 Canadian mini-series which, according to Vanity Fair, was "the most popular TV program ever to air in Canada." The show also received attention among American audiences, receiving a Primetime Emmy in 1986 and a Peabody in 1987 (via IMDb).
Months after Rachel McAdams recorded the audiobook, "Anne of Green Gables" was brought to Netflix in the hit 2017 series "Anne with an E," described by The New York Times as a richer adaptation of the original story. This newest series further develops Anne's backstory, giving us insight into her life before the Cuthberts. The modern resurgence of Anne has inspired a new generation of young girls to cherish their imaginations, pushing boundaries imposed by gender roles. According to an exclusive interview with ET, McAdams herself wanted to be Anne when she was a young girl. As explained by the actress, "She's a really strong female character, but not in a typical way." Ultimately, "It's just a very transporting book," McAdams notes, allowing the audience to rejoice in the simplicity of late 1800s rural life.