Sarah Podemski Talks Reservation Dogs, Resident Alien, And More - Exclusive Interview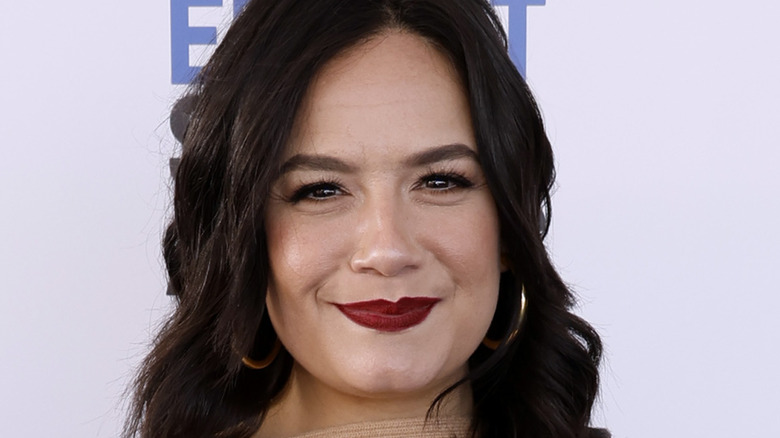 Frazer Harrison/Getty Images
As her IMDb profile indicates, Sarah Podemski has an extensive roster of screen credits, particularly in her native Canada. Among her many TV series, viewers will likely recognize this talented actor from such shows as Netflix's "Between," Prime Video drama "Tin Star," and The CW's "Coroner," to highlight just a few. 
Podemski also boasts a distinctly unique heritage — half Anishinaabe First Nations, half Ashkenazi Jewish — a cultural mélange that continues to inform her art. These days, Podemski can be seen on not one but two acclaimed TV series: On "Reservation Dogs," an award-winning, Taika Waititi-produced comedy about four Native American teenagers growing up on an Oklahoma reservation, she plays Rita, mother of one of the teens; then, on the Allen Tudyk-starring Syfy comedy "Resident Alien," she plays Kayla, cousin to Asta (Sara Tomko).
In an exclusive interview with The List, Podemski talked about both her current TV series, her long association with Waititi, the importance of Indigenous people telling their own stories in film and television, and more.
Sarah Podemski on her half-Jewish, half-Indigenous heritage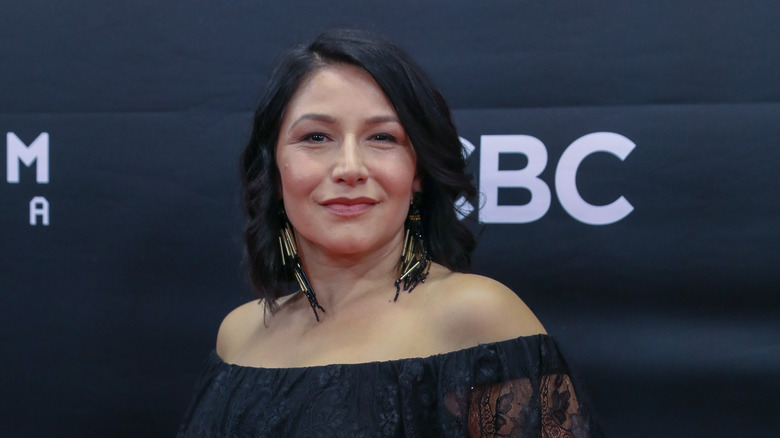 Shawn Goldberg/Shutterstock
I was doing a little bit of reading about you, and your heritage is fascinating. When we're little, we all think that our family backgrounds are normal — when did you realize that your heritage was so unique?
That's a great question. I have two older sisters. Anything that would've happened for me naturally happened maybe a bit earlier because I had two sisters to have that experience first. Then, either I saw it or we spoke about it, but I knew from a really early age. I went to Jewish summer camp. I wasn't fully Jewish, so I felt a little bit like something was off. Then I would go and do something in the Native community, and I would also feel like I was white-passing, so I never felt 100% Native. 
Probably around 10, 11, 12, I realized that I didn't feel fully one way or the other, which was a unique experience, and which probably led me to start figuring out what that meant, having that duality. I knew I was unique because I felt different. Then, as I grew up, I understood that uniqueness was a bit of a superpower, almost.
When you're involved in these various TV productions such as "Reservation Dogs," does that make you more conscious or aware of your heritage?
Yeah, for sure. It's an interesting balance because part of me always wants to make sure that I understand my place in it all, which is I'm an actor. I'm going to always do my best to represent myself. I can't represent the Native community and I can't represent the Jewish community. I can only do my best to play a role and to show a human experience that's happening with the character. 
But with social media and the media, it is challenging in terms of ... It's a very divisive time, and you want to be able to speak respectfully on these issues. I'm very mindful of that, and I don't take it for granted. I want to make sure that I'm never speaking over anybody or taking up space that I don't need to be taking up space in. It's a challenging time. It's a challenging time for anybody in the entertainment industry, on television and in film, but especially for BIPOC creators because we're having this kind of exposure that we haven't had before. You have to tread lightly and be super mindful that you can't please everybody.
On the acclaim Reservation Dogs has received
There is that exposure, which opens me to congratulate you on the new season of "Reservation Dogs." It's been hailed as being groundbreaking, which is always a great thing for a show. But it's another thing entirely to actually get people to watch it, and you guys have managed to do that very, very effectively. How do you feel about the reception that the show has been receiving?
It's amazing. It proves that audiences are ready for our stories and ready for our stories told by us with lived experience writing these characters, directing these stories, having actors who have the lived experience portraying these characters. It feels really good to have the audience come on this journey with us and to show that there are people that want to see our stories told by us. 
For a long time — I know [for] me, personally — I played a lot of Native characters that weren't written by Native people, and that was the norm. It's exciting now to see the support for Indigenous-led content, and it doesn't seem like it's going away. Now that people have seen the kind of talent that we have, they want more of it.

Beyond that, as someone who writes about television, it's rare that I find something that is fresh that I can't compare to something that's been done before. "Reservation Dogs" really did fit the bill. Did you realize when you were shooting the first season that this was a very unique and very special project?
Yeah. We all felt there was something special that we were doing, but not ... It's funny because we knew it was special, but also, it was just the writers writing their experiences, which is new for audiences. For us, we were doing what we've always done. We're storytellers, we're creating these dynamic characters, and we had the freedom and the trust of Sterlin [Harjo] and Taika [Waititi] and FX to actually dive into subject matter and characters that we haven't seen before this nuanced and this dynamic.
Even though it seemed new for the audiences — the non-Indigenous audiences — it's been validating that this has always been our perspective. We've always written like this. Sterlin's been making films forever. Taika's been making films forever. Filmmakers in our community have been telling our stories in this way for a long time. It's just that we hadn't had the platform. 
It's exciting to finally see people responding and appreciating that new perspective. We're always looking for that fresh point of view, especially as viewers, and we haven't been able to see this perspective in this way before. It's a real treat that people went on this journey with us.
On the importance of Indigenous people telling their own stories
The show is also very, very funny, which anybody involved in making comedy for television will tell you is not easy to do. How did that come together? Did you realize that you were doing something so fresh, so funny? It's showcasing a part of the Indigenous experience that a lot of the mainstream doesn't seem to get.
Totally. You're so right. That has been the most challenging thing because we are so funny. We have to laugh in the face of adversity. It's very similar to my Jewish background where Jews are known for comedy — very similar. Because what can you do with trauma? You have to laugh about certain things and remember the joy in life and share laughter with each other. 
Natives are so funny, and we've always known that we're funny. We have a very specific kind of humor, and I think that's why it's so fresh for people to see. We've always been ... A lot of Indigenous storytelling has been done by non-Indigenous people, so there's been a lot of trauma and drama and documentary and hard-hitting stuff that is 100% true and exists in our communities. But up until this point, I don't think anybody was given the opportunity to see how funny we are. It's surprising to people, but it feels good to finally be like, "Yes, we are really funny. That's how we get through our experiences; we laugh with each other and we poke fun at each other." That's a really important part of our culture.
She's had a long association with Reservation Dogs producer Taika Waititi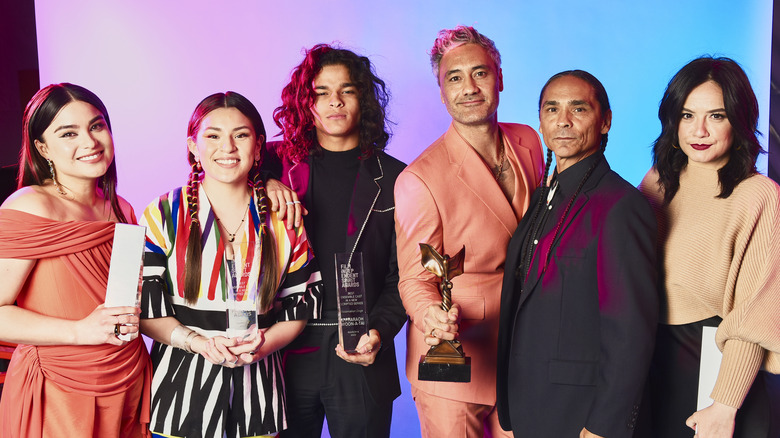 Irvin Rivera/Getty Images
I was reading that you have known Taika Waititi for a lot longer than your association with the show. Can you tell me a bit about that?
There is a close-knit group of Indigenous filmmakers that have been part of the Sundance Film Festival. Bird Runningwater had a huge hand in developing a lot of talent, like Sterlin [Harjo], like Taika, like Sydney Freeland. My sister Tamara was in a film for Sterlin years ago; we all went to Sundance. There was a little tight-knit community of Indigenous filmmakers hustling to get their work done. That's where I met Taika. It's been incredible to be able to see his work over the years and then slowly see his star rise. During that time, I was able to make a film with Sterlin.
It was a little community. It was a really tight-knit community of Indigenous filmmakers, actors, writers, directors — we were all fighting for the same thing, which was representation, getting Native people in the room to tell their own stories. It's been incredible being able to go through this with some of the similar faces and personalities over the last 15 years. It's been amazing to see everybody rise and get incredible opportunities and now be able to work together. I feel really lucky that we've been able to all come up together. [Taika], obviously, he's come up to a different level than I'm at.
Having someone like Taika Waititi aboard certainly gives the show a lot of juice, and I'm guessing probably a lot more freedom to do things the way you feel they should be done than if you were with a different broadcaster without somebody with the kind of influence he has.
For sure. Sterlin and Taika have known each other for a long time. The success that came for Taika gave him the opportunity to elevate other Indigenous voices, and he did that with this show. Then Sterlin is doing that with all the writers in the room. To see this level of support — everybody wants everyone else to succeed. That's a really important part of our community ... It's a ladder. The entertainment industry is a ladder, and it's hard to climb it if you don't have the right people championing for you. Having someone like Taika, it's been huge, and what he's been able to do to elevate this show is incredible.
But he also knew and trusted that we had the talent to do it. Sometimes it's hard to convince funders or networks or streamers ... to trust people who may not have the track record yet, which is a real barrier to access. Now that we have all of these shows that are coming out with Native writers in the writers room, Native directors directing, it finally feels like we've proven what we've known all along: that we have so much talent in this community. People are finally acknowledging that, which feels really validating.
On Indigenous storytelling making inroads into the mainstream
That also says something about how things are changing in terms of mainstream acceptance, these media companies being more open to diverse voices and projects that reflect that.
For sure. Like anything, it's a business, it's an industry, and people want to make money. The great thing about a show like "Reservation Dogs" is that we can prove now that people will watch. We didn't have a show like that before where we had the kind of platform or the stage to shine the way that we have with "Reservation Dogs." We have been making content for so long in the Native community, but it wasn't at a level where people were willing to trust us to be at the helm.
It's great now to see that we've proven that people want to see stories made by us. They want to see a fresh new perspective, which we have. There's a recognition now that our stories have been told from a predominantly non-Indigenous lens since the beginning of cinema, so there's an understanding that that's not going to happen anymore. We have too much talent in this community to [not] be doing it ourselves. It's a really exciting time. We've finally been able to shine in the way that we've always known that we can.
Sarah Podemski talks the future of Resident Alien
You're in a fortunate position where you have another show on television. I wanted to ask you about "Resident Alien" and if there was any update on whether there's going to be a third season.
I don't know about a third season, but we have the second part of the second season coming out on August 10. There's been a little bit of a hiatus for fans, but I'm excited for everyone to see the conclusion of the second season. That's also another great surprising show. I feel lucky that I can be part of two shows that are so thoughtfully written. The talent and the ensemble cast is so strong. There's also similarities in terms of the message of humanity and community and family and what this traumatic experience, being a human and becoming a human, is. It's nice to be on two different shows where ... I like being a part of them and I like watching them.

Are there any projects you've got coming up on the horizon that you can talk about?
I'm really excited; I'm getting to do a feature film with Shane Belcourt, who's a Métis filmmaker, called "Warrior Strong." I'm going to be shooting that in August. I'm very excited about getting to work in Northern Ontario and getting into film world, because I'm usually in the TV world. I'm excited about that, and then my husband [writer, composer, producer, and filmmaker James Gadon] and I have a little docuseries that we hosted, wrote, directed, [and] produced with [Canadian cable company] Bell Fibe ["Six Miles From the Grand"]. That should be coming out soon. [I'm] keeping busy and trying to continue creating.
The second season of "Reservation Dogs" premieres August 3 on Hulu; the second half of Season 2 of "Resident Alien" will debut August 10 on Syfy.
This interview was edited for clarity.