The Full House Episode That Also Featured Kirk Cameron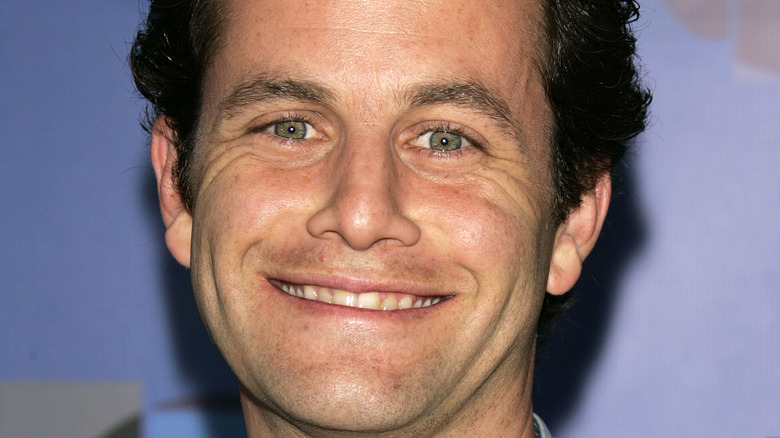 DFree/Shutterstock
While thinking about late '80s, or even early to mid '90s, television sitcoms, it's almost impossible to not recall "Full House" as one of the most popular of its time during its tenure on ABC from 1987 to 1995 (via IMDb). Not only did the show birth the career of Mary-Kate and Ashley Olsen, but during the feel-good family show's whopping 193 episodes, there have been an array of special guests, some of which include The Beach Boys, Little Richard, Kareem Abdul-Jabbar, and Suzanne Somers.
Throughout the eight seasons, the "Fuller House" prequel had some unforgettable moments, and one of those is when Candace Cameron Bure, who played the eldest sister, D.J. Tanner, co-starred with her then-famous heartthrob brother, Kirk Cameron. Cameron is most popularly known as Mike Seaver in the similarly ABC familial sitcom "Growing Pains." His guest star role happened in the sitcom's first season. Here's everything we know about that episode, and what went on behind the scenes.
Kirk Cameron played his sister's on-screen cousin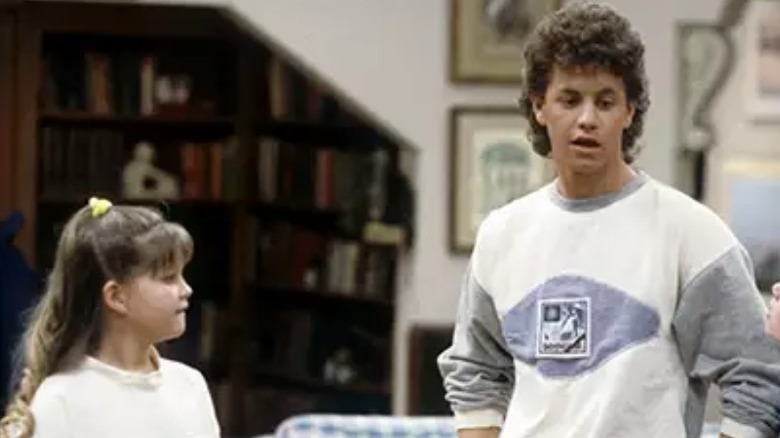 ABC Photo Archives/Getty Images
It's hard to imagine that "Full House" was nearly cancelled after the first season despite being so iconic today, IMDb reported. And during that first season while the sitcom was still finding its footing, a teenybop hunk who also hailed from a hit ABC show joined his little sis on-screen.
Superfans of the show will remember that before the fandom really kicked into gear, Kirk Cameron from ABC's "Growing Pains" played Candace Cameron Bure's older cousin, Steve, who visited San Francisco after not seeing the Tanner family since his unrecognizable post-puberty transformation. Even on-screen, both Candace and Kirk's bond translated to viewers. In the episode, "Just One of the Guys," which came out in 1988 (via IMDb), Candace's character, D.J., battled her jealous feelings for Steve who was hogging all of the attention of the three men of the iconic San Francisco house: Danny Tanner (Bob Saget), Joey Gladstone (Dave Coulier), and Jesse Katsopolis (John Stamos).
A Today clip in 2019 with the Camerons show the two '80s sitcom stars talking about their experiences as guest stars on their own respective shows. "I don't know exactly how I got onto 'Full House,'" Kirk explained. "I'm sure Candace pulled a few strings and got me on somehow. I didn't even have to audition." "I think the episode [on 'Full House'] rings true because we're still sitting here together doing this interview," Candace said.
Candace Cameron Bure and Kirk Cameron's relationship
Since "Full House" and "Growing Pains" ended in the 1990s, siblings Candace Cameron Bure and Kirk Cameron have grown up, both going after different endeavors, but still remaining close. 
After "Fuller House" was cancelled in 2020, Candace returned to acting mainly for films on her own network, Great American Country Media (GAC), according to an interview with Good Housekeeping. Kirk, on the other hand, has made the switch over to making solely Christian movies (via IMDb), and has made heads spin with his belief to only kiss his wife, even while making movies, according to Today. That's not the first time his devout Christian beliefs has made people talk because in 2020, he publicly and controversially defied stay-at-home orders while Christmas caroling maskless (via Today).
Despite her big bro making headlines, Candance made it clear she was not involved in Kirk's arguable decision to challenge the government's orders. "I did not attend any recent caroling events," she tweeted on Christmas Eve in 2020. "Also, I choose to follow the greater guidelines by wearing a mask and social distance when I'm in public. However, I don't appreciate the vile tweets about my family."
Since then, there have been minimal social media posts of the siblings. However, just this past year, Candace appeared as a guest on the Christian YouTube network, TBN, where Kirk has his own show "Takeaways with Kirk Cameron" where the subject of faith is discussed.