Anila Sajja Of Married To Medicine Talks Bravocon And Fall Fashion Trends - Exclusive Interview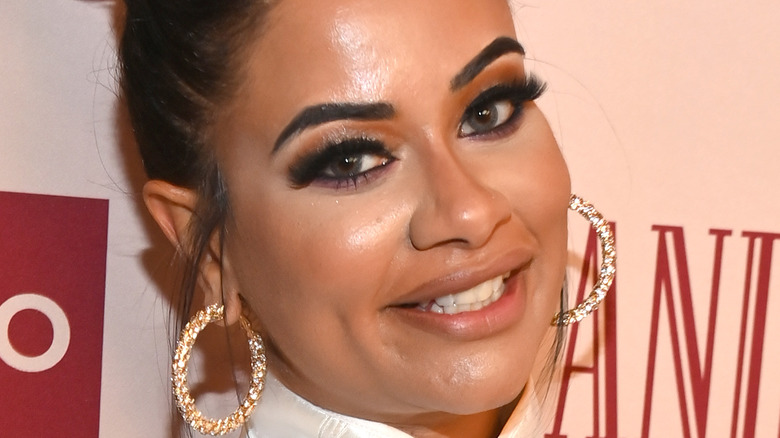 Paras Griffin/Getty Images
This article contains spoilers for Season 9 of "Married to Medicine."
Anila Sajja joined the cast of "Married to Medicine" during the reality show's eighth season in 2021. One year in, and she's proven to be an exciting addition to the Bravo network. The star will be a featured guest at Bravocon 2022 this October; she also managed to find a spot for herself on screen amid familiar cast members such as Dr. Jackie Walters and Dr. Simone Whitmore. Sajja and her family, including her husband, Dr. Kiran Sajja, are back for the series' ninth season. Although she's relatively new to the world of reality TV, the style influencer is no stranger to speaking to the masses. According to her bio on Bravo, she's run a successful style blog and keeps followers up to date on her chic looks via social media. 
While Sajja is a newer addition to the show, she spoke exclusively to The List about finding a sense of camaraderie with the rest of the cast based on their shared experiences as part of the Atlanta medical scene. She opened up about joining "Married to Medicine" and how she felt returning for the ninth season. In the process, she dove into some of the personal drama that plays out on our TV screens — including the retirement of Ms. Gomez, her family's longtime nanny. The fashion-forward star also broke down her style and shared some essential tips about must-have beauty products, upcoming fall trends in fashion, and incorporating vibrant colors — such as her personal favorite pink — into your wardrobe.
Anila Sajja developed 'real relationships' with her castmates
What drew you to "Married to Medicine" in the first place?
I was good friends with Toya [Bush-Harris]. She introduced me to the girls. It went from there — meeting her, introducing me to the ladies. [Dr.] Simone [Whitmore] was one of the first ladies I met. We all hit it off. I felt comfortable with the girls, got to know them really well. It's always great when we have something in common, like our husbands.
We have husbands, or some of the ladies are doctors. There's that medical thing that's in common. Toya and I both had husbands that were doctors. Whenever you have something like that in common, that's always a plus.
It's such a specific world, so it's great to have that support community and to have friends who understand what's happening.
Exactly. Doctors are a different breed. When you meet other housewives that have husbands that are doctors, you have that instant connection right away.
You joined in the eighth season. It sounds like it wasn't hard, but were there any challenges being one of the newer people on a show that's been around for years?
Absolutely. These ladies have been around each other for years, so there's a lot of history between all of them. Coming in as a new person, it's [about] trying to get to know them and not step on any boundaries. There were definitely the challenges of getting my voice heard — people listening to my opinions and things like that. It was definitely challenging in the beginning, but this year, I felt like I have had some good connections with these ladies.
[Dr.] Heavenly [Kimes] and I talk almost every day, surprisingly. The new girl, Audra [Frimpong Curry], and I are good friends. Quad [Webb] and I ... For a while there, we were meeting almost every week and grabbing lunch. I went to Cabo with her for her birthday. There's real relationships there.
There's plenty more drama coming during the ninth season
This season's been airing for a while now. How are you feeling about how it's going so far?
It's a very dramatic season, I will say. But first of all, I love that I was able to showcase the Diwali and our housewarming combined party that we threw. I love to share my culture with everyone. I feel like South Asians haven't really had a big platform to share all the different fun things that we do in our culture. It's wonderful to be able to share that.
Now, yeah, there's definitely a lot of drama — especially the last episode was intense, but you guys will have to keep watching. There's more to come. There's a lot that's going to keep on coming. You guys need to stay on the edge of your seats because we have a lot for you guys.
The drama's not over yet is what I'm hearing.
Mm-hmm.
One of the big plot points for you this season was Ms. Gomez leaving the family. How are you guys holding up now that she's gone?
It's been really tough. I know that people are throwing out there, "How can you not be a mom with your kids? You only have two kids." It's not really me needing a nanny, and I can't handle my kids. Ms. Gomez gives us a sense of doing whatever we do in a better manner, if that makes sense. Kiran can do his job better having her. I can do what I do better. I can be a better mother. I can be better in being an influencer and the businesses that I'm working on. She makes us do our things better.
Even our relationship — me and Kiran's relationship is better having that mother's help. She's like a mother's helper. It's sad for her to not be with us because ... now we're trying to pull and get all these pieces together. There's fights that happen because we're both trying to share duties. It becomes tough altogether. When we had her, she made me and Kiran a better person.
Anila Sajja is used to sharing her life with the world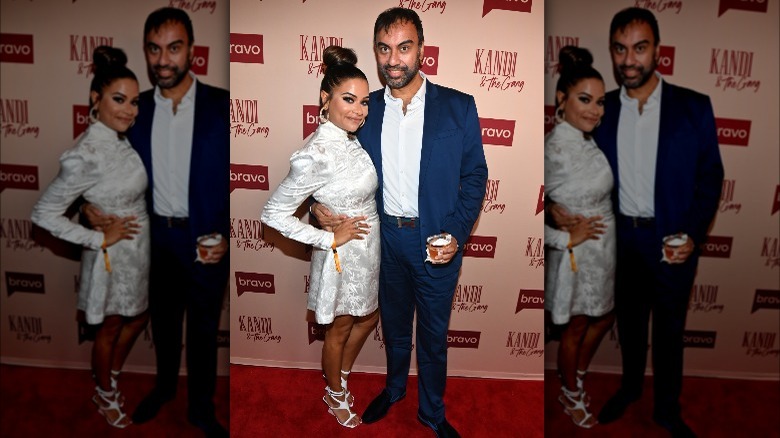 Paras Griffin/Getty Images
It looks like your parents are going to help out with the kids. It's always great to have family involved, but everyone knows it can be hard to set boundaries. Do you have any advice on how to do that?
That is definitely one of the challenges that I do face with my mom. It's always hard having a family member in your home with you guys and trying to tell her where her limits are and all that. That's what you'll see in the next few episodes, how that turns out. It's challenging. It's challenging for anyone. When you have a family member move in, being able to tell them what they can do and what they can't do — it's never easy because when they're family, they feel like they can do anything. Especially when you're dealing with someone that's very strong-minded, like my mom, it's definitely not easy. You'll see those challenges as we move forward.
It's always interesting when family's involved. There's a special level of care you have to pay.
Well, I think my mom also thinks that I'm still her child. Even though I'm 40-plus years old, I still think in her mind, I'm still that 10-year-old child that she's with. It's not set in that I'm a grown woman, and I have a family. I'm married. I have kids. I know how to take care of my family.
You reveal a lot on the show. Another example is the burglary that happens this season. Are there ever moments that you wish that the cameras weren't rolling?
Not necessarily. I don't think the cameras have anything to do with the robbery or anything like that. I feel like everyone's home gets shown equally. There wasn't anything specific that they showed that could've triggered that. I don't think the cameras have anything to do with it.
Is it ever hard to have those more private moments of your life on camera?
Even before the cameras were in the picture ... I've been an influencer for years. I always put my life out there. We're not that much of a private family. I always will talk about places we go, restaurants we go to. My life has always been pretty much out there. The camera was just another platform of showing it to a bigger platform. But my life has already been out there anyways.
Meeting other Bravolebrities will be a highlight of Bravocon for Anila Sajja
You're taking part in BravoCon this year. What should people expect from you with the event coming up?
I honestly don't know what I'm doing yet. I know I'll be there through the whole time. I'm excited to experience it because this will actually be my first time. I'm ready to be there throughout the entire show. I don't know what my schedule's like yet, but they're definitely going to see me. I'll be there. I'll be dressed up, ready to go. I'll be there the whole entire time.
Awesome. Is there anything in particular that you're looking forward to with the event?
I'm looking forward to meeting some of the other Bravolebrities — the ones that I've watched on TV and ones that I would love to meet. I'm excited to see how everything is and meet everyone that's there.
What else do you like to watch on Bravo?
Obviously, "Real Housewives of Atlanta," especially because I've met a lot of the girls. I'm excited to also see them. I watch that. I watched bits and pieces of "[The Real Housewives of] Potomac." I used to watch "Vanderpump" a lot. I was obsessed with that. Let's see — what else? Some of the "Below Deck" I'll watch. I always have it on in the background, so I'll always ... "[The Real Housewives of] Dubai" I've been watching a little bit too.
You're plugged in! You have some shows you keep an eye on.
Yeah. "Family Karma" is another one because they're Indian, and I have met them. I think I will make one of their episodes. Anisha Ramakrishna had a fashion show, and she invited me to it. It was when they were filming, so I walked her fashion show. That'll be interesting; I'm really good friends with her.
Anila Sajja is an advocate for playing with color
I wanted to talk to you about your style. You always look so chic and incredible on the show and social media. How would you describe your style?
I'm really on-trend. Anything that's in — that's in style — I'm all about it. You can see me dressing in all types of ways, [from] even work attire to going out to the club. If it's in and it's trending, I'm all about it. I have that side. 
There's a couple brands that I love to wear — Balenciaga is one, Fendi. You'll see me wearing a lot of the labels, too. I was born loving fashion. Anything that's trending, that's my thing. You can tell from the show that I'm really into color. I like bright, bold colors — statement colors. That's my thing.
I saw a photo on Instagram that I fell in love with — you had this gorgeous blue and green lower lash line eyeshadow, and then you were wearing a peach top. Do you have any advice for people who are looking to bring more color into their wardrobe?
I say do it. Color is beautiful. I know there's some people that are just into the blacks, whites, and grays, but [color] brings a lot out. My makeup artist will do a lot of those eyeliner colorful things under the eye to make the eyes pop. Color makes anyone pop. I say that even if you're shy from it or afraid, give it a shot. Try it. You'll be surprised how beautiful you can look with different color eyeshadows, different color liners, and then doing a different color attire, switching it out. Nothing has to even match.
I agree. I love playing with color. It's so nice to hear you say that. Do you have a favorite color you like to wear?
Well, everyone knows this, but I love pink. Pink is my favorite. All the different hues of pink, I'm for it. Magenta, light pink, dark pink — I'm a pink person. I don't know; I love it. I'm like Lisa Vanderpump. I love pink like she does.
Anila Sajja's beauty must-haves include staples from Tarte and Fenty
You mentioned makeup, and your makeup game is also breathtaking ... Is there a must-have product that you use every day?
Yes. Oh, my God, there's so many. Tarte is my favorite concealer. I love Tarte. I do wear MAC foundation still. I've been wearing MAC foundation forever now. But as a South Asian Indian, it's always been tough growing up to find that color match for my skin tone. MAC has always nailed it in terms of that color, finding that right shade, so I wear that foundation. NARS has good blush. I love NARS blush. Those would be my favorite.
What else ... ? Lipsticks — I try lots of different lipsticks. I will try out different brands for lipstick, but MAC is definitely who I go to and ... I also like Fenty. I love her for her contour. She has the best contour stick ever. I'll definitely recommend that, then Tarte for the concealer. I always have to have that good coverup under the eyes, and Tarte always does a good job.
Do you have a favorite eyeshadow brand, since it seems like you use some good color there?
Yeah — what is it? Where is it? Oh, my gosh. It's the one in the black [case] with the white writing ... Morphe. That's right here.
Of course, a classic.
I have small ones. I have big ones, but I love their eyeshadow colors. Their pigment stays on really well. I definitely recommend their eyeshadows.
It's an affordable brand, too, which is nice.
Mm-hmm. It works really well. They have those big size palettes with all the colors. You can mix and match and have fun with it.
She's looking forward to a season of vibrant fall colors in fashion
With such a fabulous sense of style, it looks like you like to shop as well. Do you have any tips on how to find the best deals while shopping?
I'm the wrong person to ask for deals because I don't always go for the deals. But my favorite place ... Honestly, I shop online. Revolve and FWRD are the two big brands that I go to. They're the umbrella of all the different brands underneath it.
They will have their sales sections. I will go under there sometimes and find deals under the umbrella of those stores ... When you're online, [go] to the sales section, and you never know. Sometimes, what I'll do is — it may be something that's on sale for summer, but I'll still get it because most likely you'll be able to wear it next summer. I'm in Atlanta, so a lot of the summer stuff I can still wear until October if it's still hot out. My fall stuff doesn't start until October [or] November. Even if it's on sale, and it's summer — we're moving on to fall, but I'll still grab the summer sale items.
That's a helpful hint. In Atlanta, you guys have a lot more summer.
[It] depends on where you're at, or you could still get the summer stuff for next summer because the trends don't go out that quick.
Where do you see the trends going in fashion, moving forward?
That's a great question. For the fall I see a lot of big, oversized blazers. I still see that happening. I still see baggy pants — baggy like joggers, jeans. I still see all those trends out there with crop tops and stuff like that. Plaids, I see. It's going to be a lot more of those bold fall tones that are going to be out.
I love it. Another season of color.
Exactly.
New episodes of "Married to Medicine" air Sundays on Bravo at 9:00 p.m. EST/PST.
This interview was edited for clarity.