The Surprising Reason Soccer Fans Just Booed Prince William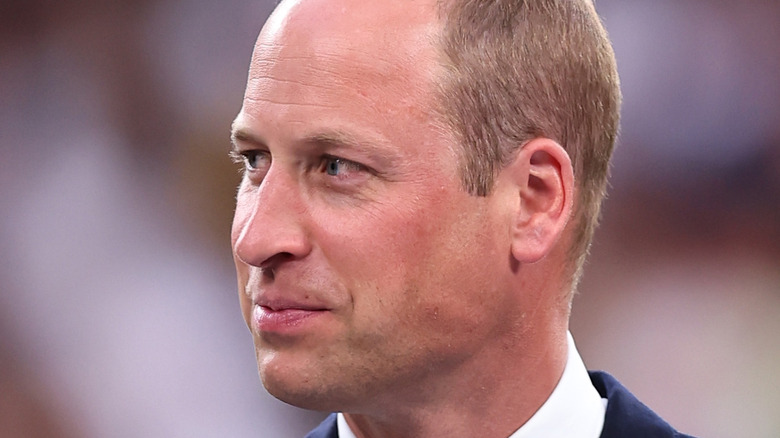 Robbie Jay Barratt - Ama/Getty Images
Prince William is a much-liked member of the royal family. Although recent polling indicates that his popularity cannot surpass that of his wife, Catherine Middleton, or the Queen for that matter, who is the most beloved to be sure, the Duke of Cambridge was voted third in terms of the royal with the highest approval rating (via Ipsos).
That William has largely carried on much of his mother Princess Diana's legacy may have something to do with why Brits generally embrace him. A recent example saw the dad of three going incognito on the streets of London to sell newspapers to benefit charity.
The duke is also the royal patron of an organization that supports the needs of people experiencing homelessness and pledged to expose his children to the plight of those less fortunate than himself — just as the Princess of Wales did for him.
But these boons did not stop soccer fans in a bar from booing William this weekend, perhaps for a reason that will raise a few eyebrows among his fans.
The crowd wasn't necessarily booing Prince William personally
As a now-viral Twitter video shows, soccer fans in England who were watching the women's final loudly and collectively booed at the screen upon seeing Prince William standing on the field (via Newsweek). One person commented that fans at the stadium were also booing the royal.
So why is the future king getting negative reactions from sports fans? It couldn't be because they considered him bad luck, as the Lionesses won on Sunday. Rather, as poster Josh Davies posited to Newsweek, ​​"My feeling was that it was a general anti-establishment mood — people had come together to support the women's team at a time where we're all struggling with our bills and it felt like an aristocrat was coming on TV to take our moment away from us."
He added the crowd would have reacted similarly if disgraced Prime Minister Boris Johnson had shown up, or if it were potential future PM Rishi Sunak.
It's worth noting that as president of the Football Association, the Duke of Cambridge has been booed many times in the past, notably at a men's final in May (via Marie Claire).