Twitter Stands Divided On Ron DeSantis' Complaint About A Drag Bar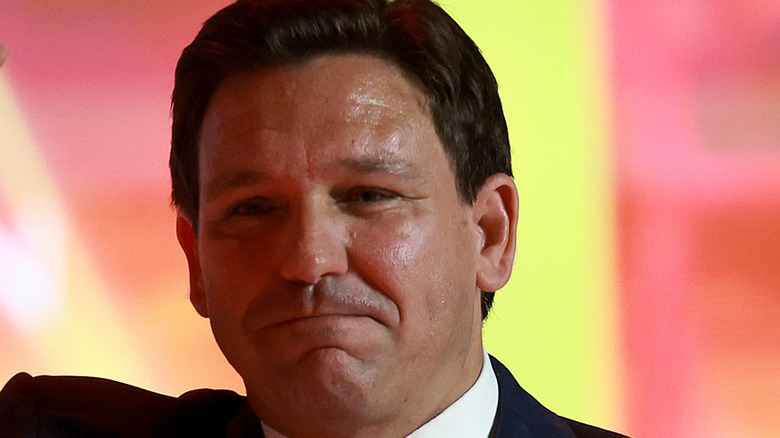 Joe Raedle/Getty Images
Florida Governor and likely 2024 presidential candidate Ron DeSantis has a bone to pick with a Miami drag bar that allowed children to take in a show that featured faux breasts. The incident was caught in a TikTok video that has now gone viral on Twitter and shows families including young kids sitting in the audience as a performer dances while wearing an inflatable chest. At one point, you can see the entertainer interacting up close and personal with a little girl.
In reaction to the video, DeSantis filed a complaint against restaurant owner R House, according to Vanity Fair, with the lawmaker noting the instance was "manifestly injurious to the morals or manners of the people."
As the outlet reports, a 1947 Florida Supreme Court ruling was also cited which notes that "men impersonating women" in a "suggestive and indecent" way would qualify as a public nuisance under the law. 
But DeSantis had more to say on the matter.
Ron DeSantis takes a tough stance on the issue
Taking to Twitter, the conservative underlined his disgust with the encounter, tweeting that his state supports parents' efforts to protect their families. He added, "Exposing children to inappropriate sexualized content is wrong and the state will hold accountable those establishments that transgress this clear boundary."
In an accompanying video, the Republican called instances like the one in the video "a disturbing trend in this country." Governor Ron DeSantis also incredulously noted that in the case of the Miami bar, a children's menu was available for patrons with little ones.
Not surprisingly, Twitter users had a lot to say about the complaint, both in support of the governor's actions and in protest. And let's just say that their opinions are all over the map, with policy correspondent Brad Polumbo tweeting, "As a gay person, I want absolutely nothing to do with this." He added that drag is okay for adults but we should let kids be kids.
Twitter largely supports Ron DeSantis' view but not everyone is on board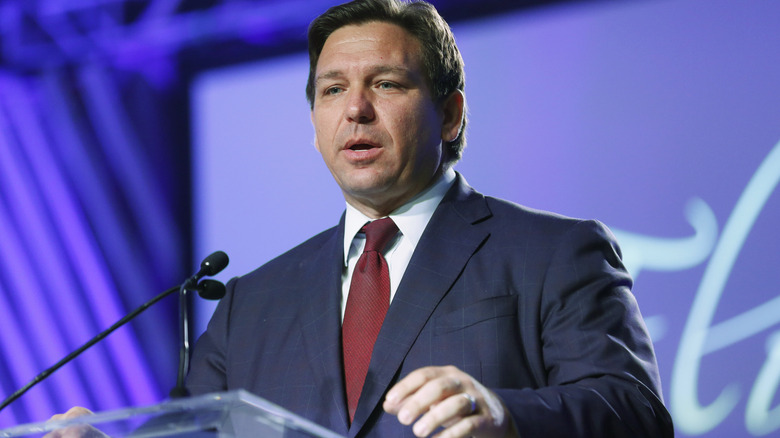 Octavio Jones/Getty Images
While many Twitter users expressed similar shock and revulsion to seeing the video of the drag performance in front of kids, plenty of folks were of the mindset that this person shared: "It's pretty much to each individual parent if they think this is funny, and if they think their kid can handle it...and it's really none of your business."
In a similar vein, others on Twitter saw Ron DeSantis' statement against the drag establishment as an encroachment on personal freedom. Another segment of folks on the social media platform defended the restaurant's performance and blasted the idea that drag is sexual.
For its part, R House told the Miami Herald they were working with the Department of Business and Professional Regulation. "We are hopeful that Gov. DeSantis, a vociferous supporter and champion of Florida's hospitality industry and small businesses, will see this as what it is, a misunderstanding, and that the matter will be resolved positively and promptly," the statement said.